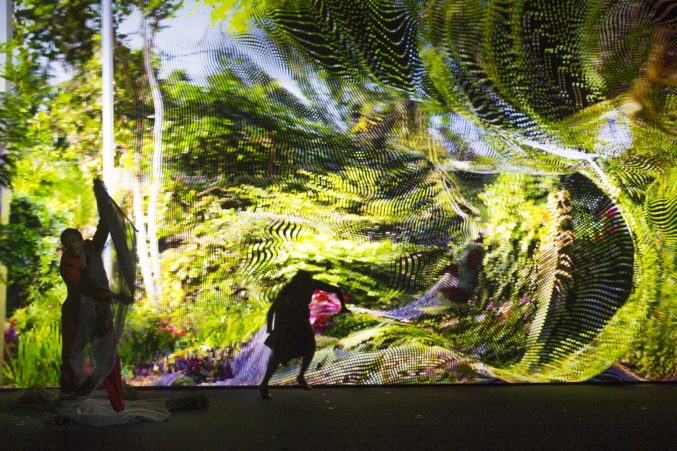 Things To Do In Dallas This Weekend: March 8 – 11
Fashion, film, theater, and opera mark a rather high-toned weekend in Dallas arts.
Thurs. March 8
The Dallas Contemporary's Mary Katrantzou exhibition, a sea of gowns and separates as recognizable as the particular light in the eyes of patrons upon seeing them, closes in 10 days. Annette Becker, the director of the Texas Fashion Collection, will lecture on prints and fashion as fine art before a free window for viewing Mary Queen of Prints. Read our writeup of Katrantzou's ten-year retrospective here. The talk, also free, begins at 6 p.m.
On the subject of awe, majesty, and International Women's Day, woman of international renown and influence Michelle Obama is at the Winspear. Find tickets for the 7:30 p.m. talk as part of AT&T Performing Arts Center's Hear Here series.
Fri. March 9
TITAS: Lucky Productions follows has-been superheroes as they try a comeback at fighting evil by forming, of course, a nonprofit think tank. It becomes more of a cluster than a solution as they wade through the resulting politics. See it tonight or tomorrow at Moody Performance Hall, 8 p.m. 
Bomb City, a movie about the cultural battle that ensued in Amarillo after avowed punk Brian Deneke was killed in 1997, ends its theatrical run with a party. It was made by Dallas filmmakers Sheldon Chick and Jameson Brooks. D's Alex Macon talked to them early in the game about the tragedy and their interpretation of its impact.  Cj Ramone, TOTAL CHAOS, and Akkolyte are among the acts billed to follow a screening at Texas Theatre. Doors at 8 p.m.
Sat. March 10
Lyndon B. Johnson left a conflicted legacy, and the second installment of Robert Schenkkan's charged documentary-theatre piece enters the chaos of his presidency as Johnson puts a pen to Civil Rights legislation as the war in Vietnam rages on. The Great Society is at the Wyly, 8 p.m.
Sun. March 11
The multimedia opera-libretto mystery Sunken Garden centers on a filmmaker who, in trying to solve the disappearance of a young girl, discovers a garden that stands between life and death. It's the fourth effort by experimental Dutch composer Michel van der Aa. Winspear, 2 p.m.
French pianist Lise de la Salle played a live broadcast on Radio France when she was nine. She spent 20 more years recording the likes of Liszt, Prokofiev, and Shostakovich, and her reputation for precision brings her to Dallas this weekend. Our Eve Hill-Angus talked to her about Beethoven's Piano Concerto No. 4. You can, too, after she plays that piece with the Dallas Symphony Orchestra, as Meet The Musicians sessions convene each performance this weekend near the Ellsworth Kelly panels on the east side of the Meyerson lobby.