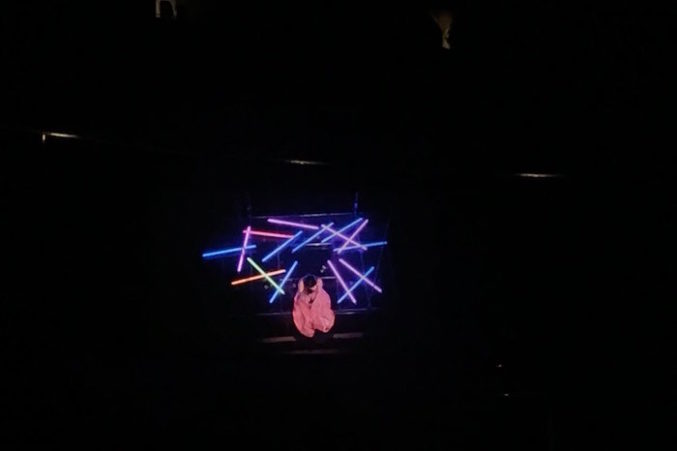 In Dallas, Lorde Builds Out The City She and Her Fans Longed For
Lorde used recent songs and early work to serve Melodrama in a production that followed the album's dream logic.
New Zealand artist Ella Yelich O'Connor began as Lorde cloaked in disillusion, out to define herself by everything she questioned. Lorde's first hit was "Royals." The outsider anthem relied on the same tropes of excess it criticized: Crystal, Maybach, diamonds on your timepiece … we don't care. Listening to the seasick chorus felt like hate-watching teens rake through famous people's closets in Sofia Coppola's Bling Ring. Both came out in 2013, the year Justin Bieber announced his retirement.
But Lorde's unbelievability then was a tender misunderstanding. (She was 16, after all, pressing headlong against assumptions of naïveté.) Her slow-rolling pop single "Team" came next, a note passed to young women. She did know something about their lives, which, she insisted, was also her life. We live in cities / you'll never see on screen, she sang, her longing vague but felt.
Those hidden cities— the complex emotional landscapes she shares with her fans—became arena-pop cinema Sunday night at American Airlines Center. Lorde built them out with Melodrama, the full-length released last year that punctuates a phase of teenhood and introduces her as an artist. Onstage, Lorde used those recent songs and early work to serve a straightforward manifestation of that latest album by way of contemporary dance, evocative camera choreography, and simple, recurring props to match the record's dream logic.
The arc of Lorde's production was so strong it swallowed the openers. In hindsight, they played roles in her movie. A sportive Tove Stryke, in the same day-glo green that Lorde would wear to close her set, warmed to the crowd with a bright percussive cover of "Liability," the first single from Lorde's latest. Run the Jewels manned the dark side.
"You lived until 2018. It's the future motherfuckers! You made it!" El-P shouted to a sea of mostly young women and their plus-ones. Some of those guests were parents whom the pair of rappers, introducing themselves as Jamie (El P) and Mike (Killer Mike) warned with a language disclaimer early in their set. "Ladies-you-are-worth-your-absolute -weight in mother fucking gold!" Killer Mike implored from the stage with uninhibited sweetness. RTJ launched then into the relentless "Stay Gold" with its Wizard of Oz reference and directive to "piss on power." A stack of lights like amps blinked ecstatically from behind them.
Mike then went straight to the emergency zone among unseen struggles in the crowd, to preface "Thursday in the Danger Room."
"As fucked up as shit is … do not take your beautiful, valuable self from this earth … suicide is not an option for you guys," he said.
Much later, Lorde would assess the crowd more gently. "How've you been spending your time?" she asked. "Dallas, we've got a lot to catch up on. Are you dating anyone?" Tense laughter rippled through the arena. "No? You're like … 'that's why we're at your show.'"
The self-destructive impulse and romantic trouble seen by Melodrama are at the center of its confessional power. But, unlike the recent output of Lorde's friend Taylor Swift, pain is not framed like some glamourous rite of passage. Lorde enacts catharsis by naming seemingly minute stings that add up to a loss of self: the obsession with punctuation in a text message; getting stuck mentally in the front seat of someone's car after a breakup, unable to move on.
The cycle of romantic obsession and doomed lust is most palpable in "Sober." Lorde opened with it Sunday. Her dancers swathed in an opaque blue glow around her; Lorde flickered in and out of view under a spotlight until the second chorus. With the rhythmic bait of that song — like a darker "Faith" by George Michael — Lorde established her reign over the audience. She launched into "Homemade Dynamite," pausing in the second line due to a malfunction with the lighting. "I want things to be perfect for you, Dallas," she crooned, and the stage went black.
She started completely over, opting to sing "Sober" — the hardest song on Melodrama to nail vocally—a second time, keeping the theatrics of the slow reveal.
Then the stage started to clear out. The warped opening of 2013's "Tennis Courts" brought fans back to Lorde's goth entry, with its disfigured "yeahs." A single dancer in white on a platform writhed behind her as she sparkled in black.
A painstaking loyalty to the recordings allowed the audience to fully enter the story, which was told with props, dance, and live camera edits onstage. As Lorde trounced through the mistress confessions in "Magnets" with one of her most summative lines — pretty girls don't know the things that I know — a video of women driving through the city checking a cellphone with dread played, obscured by four black horizontal bars like censors. The visuals, whether horses and beaches or silhouettes of bodies dancing, were never abstracted, but always blocked.
After "Ribs" ("a song about a pah-ty," Lorde said), Lorde retreated to a display case at the back of the stage where her dancers waited. She carefully changed out of her black unitard into a rose-colored satin bodice and full skirt in the shadows while a camera lingered in close shot.
Then, she eased into the most vulnerable moment on Melodrama, "Hard Feelings."
Lorde's articulation of the title in the chorus was pored over by she and writing partner Jack Antonoff. They settled on a shattered delivery: Hard – fee – lings. It serves the breathless recall of its images: a couple drifting through grocery aisles, one calling the other from underwater.
Throughout the two-hour set Lorde's vocal delivery only got stronger. A cover of Frank Ocean's "Solo," then "Liability — "another song about being alone" — required more vocal gymnastics than Lorde has endeavored in the past. Aerial camera views of lit wands like pick-up-sticks arranged in a ritual pattern set a fearfully reverent tone. Lorde positioned herself as a goddess in the center of the show, admitting before "Writer in the Dark" that she'd written it on her phone as someone lay in bed next to her.
"Supercut" put Lorde on stage in a pas de deux with a male dancer. She pleaded with him as if praying and then detached, dancing ecstatically like a student of Kate Bush. (She is, and the stadium's PA even played "Running Up That Hill" before she took the stage.) It was here, and with "Loveless" as she played a drum machine alone on stage, that the crowd saw Lorde's artistic maturity in bloom.
She climbed into the crowd for the last encore with "Team," chanting "so there, so there, so there," as confetti rained over her Dallas fans. The cameras cut generously to the crowd. The angles until then had been gauzy, intentionally filmic; the last few caught the artist and her fans together for the first time all night, the imagined city where they first met made real.