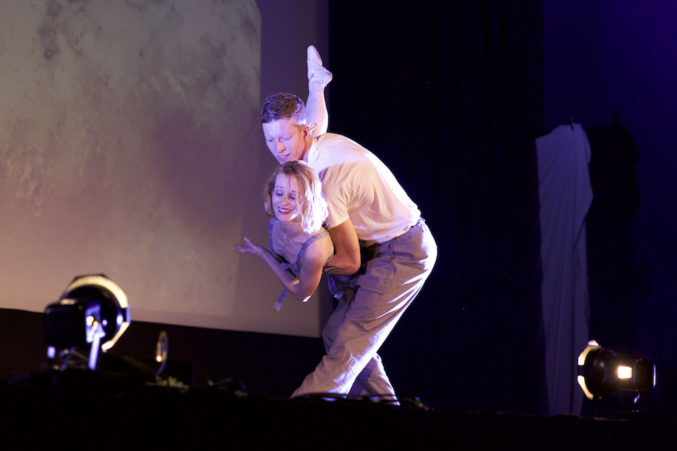 French Director Chris Marker's Technological Fantasies, Danced Out
The Dallas Neo-Classical Ballet's futuristic redux Revenir prefaced a screening of La Jetée at Texas Theatre.
Seen in rare 35mm format at the Texas Theatre Saturday, legendary filmmaker Chris Marker's 1962 sci-fi featurette La Jetée remains essential in its ground-breaking exploration of identity, memory, and loss. Even the Criterion Collection sent a videographer to a three-part event centering the film, which began with a performance by the Dallas Neo-Classical Ballet led by artistic director Emilie Skinner. Five female dancers in space costumes banded together for a neon-lit performance. Then, a duet brought the narrative of La Jetée's love-torn couple to life, ending with the fall of the male protagonist who witnesses his own death through time-travel. Short films by Dutch Rall played behind the dancers; SMU professor Lane Harder scored the piece. 
Shape-shifting identities and fragmented reality were emerging concepts in Marker's prime. The French director made his final film in 2011 and died a year later, leaving crumbs of digital interest with Sans Soleil (1983) and later films like Immemory (1997). Today, his imaginings are part of our everyday psychic landscape, as an infinite scroll of social media manipulates time and space. The performance and screening brought together a modern interpretation of Marker's dreams with his original, prescient work.