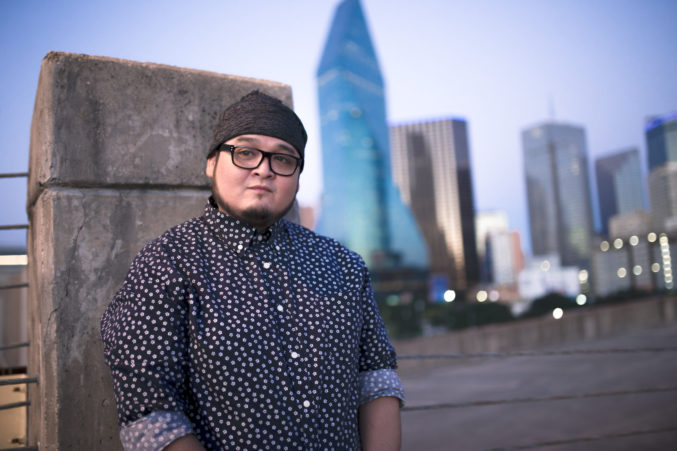 For This Dallas Producer, Friendly Competition is a Way to Help Survivors of Violence
Joel "Sikwitit" Garcia gives his peers visibility by organizing beat battles. He's extending his reach at SXSW.
Dallas hip-hop producer Joel "Sikwitit" Garcia defeated 1500 of his peers at the iStandard Battle of the Beats competition in 2015. Steady tournament victories — he racked up nine others — gave way to production credits for Snow Tha Product, 21 Savage, Lil Yachty, and recent Def Jam signee Bobby Sessions.
Garcia's encouraging producers to unlock the success he did through the beat competition circuit. This weekend, though, his support for the platform will extend help to others.
Saturday he'll co-host the first Hard Knock SAFE Charity Beat Battle in Austin along with iStandard, an online community for producers, and Kaotica Eyeball, a mobile sound booth equipment company. The event is at Flamingo Cantina from 3-6 p.m.
SAFE stands for Stop Abuse For Everyone. The Austin-based organization helps survivors of domestic violence and sexual assault across lines of age, gender and race. They're also advocates for preventive programming that addresses the cycle of abuse within families.  
Garcia found himself drawn to charity work after an EF-4 tornado destroyed his family's Rowlett home in 2015. The tornado was part of a massive storm cell that produced 12 others in North Central Texas, killing 13 people.
Still overwhelmed in the storm's aftermath, Garcia was asked to participate in a charity beat competition. Initially he didn't want to. He changed his mind.
"I enjoyed it so much and it was a pivotal moment for me where I decided to start focusing on giving back," Garcia says. "Since the event is in Austin, we wanted this to benefit an organization in Austin. We're also doing a silent auction for studio equipment and all of those proceeds will go to SAFE as well."
Beat battles are all about competition. For this one, Garcia opted to go with a team format that kept the versus factor while promoting a communal environment conducive to networking.
"Usually with beat battles you lose and you're out," he says. "This one is set up to where everyone can basically go into the finals and you just accumulate points for your team. You can lose a round but that doesn't mean you're done."
As Sikwitit, Garcia will serve as one team captain, and producer Decap, who's crafted beats for Talib Kweli and Royce Da 5"9, will lead the opposing team. Each group will have eight producers. (The captains pre-selected four team members each and the remaining 8 slots were filled via open submissions.) The team captains will not compete. If there is a tie, Sikwitit and Decap will go head to head to decide which team wins. "We just wanted to make it more fun and get more people involved," Garcia says, smiling.
According to Sikwitit, SXSW typically has one big event geared towards producers whereas the programming is plentiful and diverse.  The Hard Knock SAFE Beat Battle itself is under the umbrella of Trakhouse SXSW, a full day of events that start at noon and go until 2 a.m. "This year is our test run because next year we want to go bigger and possibly do 2-3 days of events under Trakhouse," Garcia says.
Events like Trakhouse can be invaluable to producers, considering the current state of the music industry. Long gone are the days of big budgets and frivolous spending during the late 1990s through the mid 2000s. It takes a village to sustain a career these days, and producers have to be innovative when it comes to finding different methods to do so. "Right now, because everything is so internet-based, if you play it smart you can become a successful just by being an internet producer," Garcia says. "Whether you're doing type beats on YouTube, or if you team up with a company like Beatstars or Airbit and sell your beats online. That can be lucrative … I have friends that make over $100,000 a year just doing that."
He clarifies that this isn't the norm and it can be difficult to achieve. Garcia's advice:
Go commercial.
"I've been teaming up with different companies and brands. Last year is when I started working with Kaotica, Machine Masters, and I did some work with Adidas. I like working with brands because they, in many ways are like the new record labels [in terms of budgets]," Garcia says.
Pursue placement.
As original programming via the large number of cable channels and streaming services has increased, so have opportunities for music placements on television, movies and online advertising. Garcia designs sound kits as well.
Get out there.
According to Garcia, the biggest challenge for producers is overcoming themselves. Producers tend to be reserved, and isolated due to the nature of their art, and he encourages them to get out of their comfort zone. "There's a lot of different ways to make a living but you really have to challenge yourself," he says. "As producers we're studio rats, we're hermits, who don't really get out much. Today's producer has to go out and network. Or if you're not going to do that, at least be extremely well represented online. Your website and social media outlets are just like going out every day and meeting people," he says.