On Thursday night, a group of artists from Dallas took inventory of their roles in the city's growth and the ways redevelopment has affected the neighborhoods where they grew up. The setting alone spoke volumes—this panel on art and gentrification in Dallas, the first in a month-long series curated by Dallas Morning News architecture critic Mark Lamster and SMU professor and journalist Lauren Smart, was held inside a business, in gentrified Bishop Arts, that was once someone's home.
In 2013 Spaniards Paco Vique and Javier Garcia del Moral converted a run-down, two-bedroom, one-bath 1940s craftsman home into the bookstore, coffee shop, bar, and casual performance venue known as the Wild Detectives. It's a friendly host to culturally aware conversations and readings by internationally known authors; sometimes they require a translation from Spanish to English for the neighborhood's patrons. During the past five years, the place has thrived just off the main drag of the Bishop Arts District where even last week plans for more new residential and mixed-use buildings were announced.
More than 50 people crowded into Wild Detectives' main space, sitting at warmly lit communal reading tables, standing in aisles or crouched on the floor. Panelist Tamitha Curiel, an artist and educator from Pleasant Grove, said her family relocated every year until she was 10, forced to by poverty and displacement. Her work embodies a desire to stay.
"I haven't come back to help anybody get out of Pleasant Grove," Curiel, a mother, said. "I want Pleasant Grove to be a place they don't want to get out of. I don't want to go back there and be like, I've come back to save my community. I don't know what everybody needs. I do know that when I was there, I would have like to have seen more art. I would have liked to have seen artists in my neighborhood living their life, going to the grocery store and doing their laundry … if [developers] are coming here to spend money, we're going to tell you how to do it. I don't know if you're going to listen to me, but I'm going to keep talking."
Curiel, along with artists like fellow panelist Giovanni Valderas, produces art in public spaces aimed at raising awareness of longtime residents who are at risk of being displaced. Their efforts have become more visible thanks to the site-specific works of Decolonize Dallas, to which Curiel contributed by bringing spoken word and images to a DART station in homage of her childhood neighbors in Pleasant Grove, and Valderas' Casita Triste project. Casita Triste has become a star of local news spots as Valderas (or, sometimes, just the reporter) sits next to giant, sad-faced piñata houses he's placed all over the city at construction sites for high-rises and in the corners of city meeting rooms.
Valderas looked out at new faces on Thursday and hoped the discussion wouldn't end when the night did.
"Imagine if all of you guys sent off emails to your city council that said, 'We want affordable housing. We want community benefits agreements or ordinances so it's mutually beneficial to the community as much as the developer," Valderas said. "Imagine if you guys showed up to City Hall, wanting that, chanting that. I was taught a long time ago that to get anything done in this city, you have to shame them."
The conversation is a broad one that's happening well beyond the realm of artists. Activists and public officials alike are wrestling with these tough questions—what policies can the city put in place to protect longtime residents from the increase in property taxes and rents when new development pours in? How can development be managed to encourage mixed incomes and uses? The city of Dallas is even producing its first citywide housing policy, which will attempt to answer these questions. The gentrification panels are happening as the city solicits public comment on this very thing.
As much as the patterns of gentrification in Oak Cliff have calcified, there are still victories that prioritize longtime residents. The Dallas Landmark Commission yesterday heard residents' pleas to protect a mural outside Maroches Bakery on Davis Street in North Oak Cliff. The owner gets another chance to obtain a letter from an arts community member explaining the mural's significance. While protecting public art is important to those fighting for preservation, directly addressing the scourge of housing inequality in Dallas has become item one.
That's why artist and educator Vicki Meek invited New York artist Betty Yu to Dallas for a discussion called Disrupting Displacement: Art Vs. Gentrification. As a co-founder of the Chinatown Art Brigade (CAB) and an award-winning documentary filmmaker, Yu embeds herself in the efforts of those who use their work to prevent or address displacement. CAB itself was formed at the request of Chinatown Tenants Union. In a multi-year project called "Here To Stay," the group collects messages from tenants in Chinese, Spanish and English and projects them at night on the sides of buildings where residents who've worked late can see them, often in spots visible from the Lower East Side, which shares a plight of displacement with Chinatown. Yu and her cohorts lead place-keeping walks, making sure the original stories of storefronts and people live on.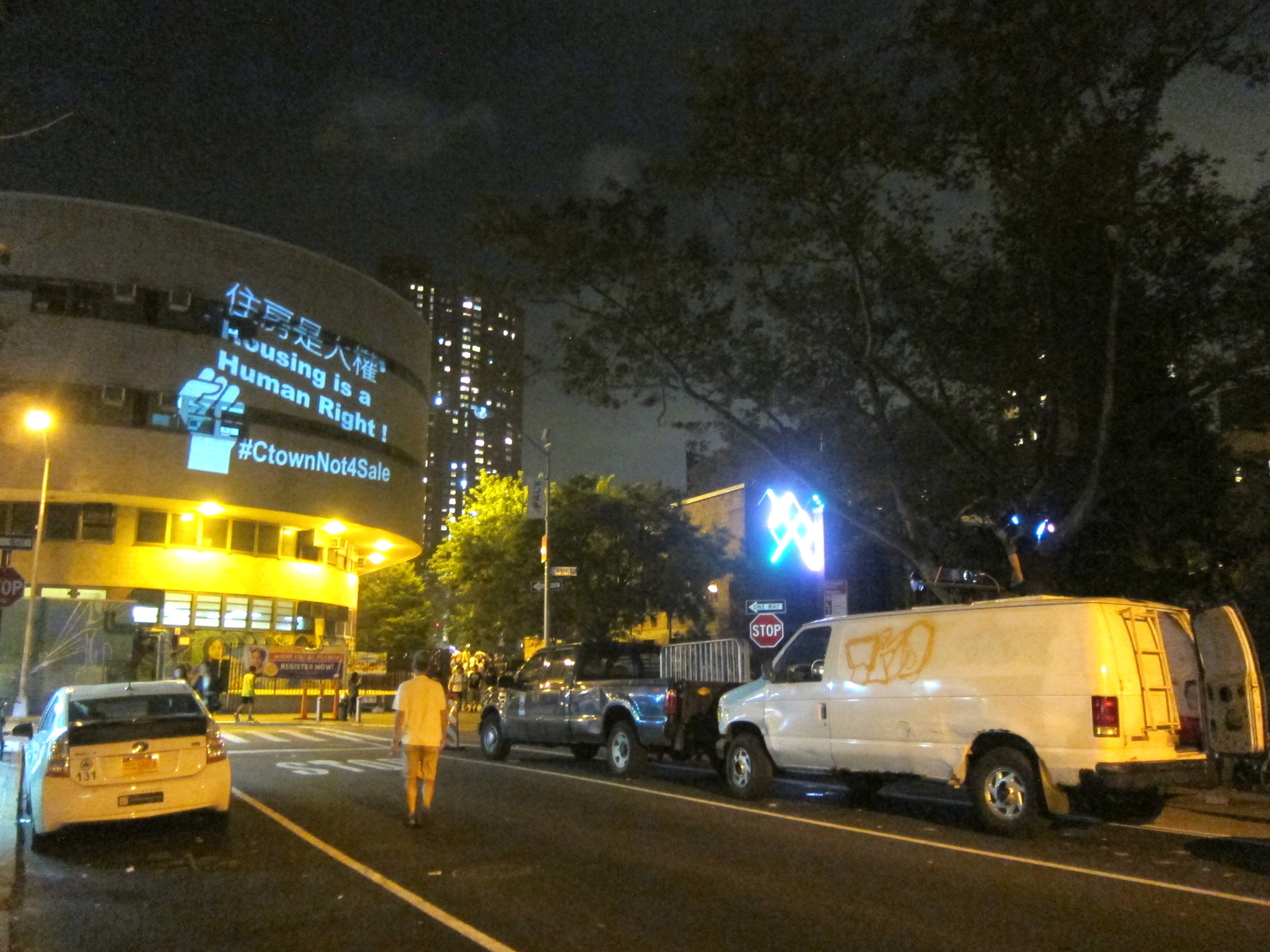 "For us, in what we do, it's not just about the aesthetics — it's a community event," Yu says. "The other thing that's happening in Chinatown and in other places — this 'authentication,' you know, keep the original awning, whether it was a sign in Chinese, or something else. They think they're paying homage, but that's just again part of this hipster narrative, of, 'Oh yes, we've come in, we've displaced you … but 'that's how we're honoring you."
Yu understands the power of art on both sides of the coin. "Developers bring in galleries and artists as a first wave in a very, very calculated way as Trojan horses," she says. "We have 130 galleries now in Chinatown, that all used to be former businesses, places that my mom and dad used to go to. But now they're all hipster places where the rent went up from $2,000 to $5,000 a month."
As the conversation about art and displacement all across the U.S. bends toward direct civic engagement, Meek and fellow artist Edykah Chilomé reached out to Sandy Rollins, the founder and Executive Director of Texas Tenants Union, staff from the homeless community resource hub City Square, and local artists to participate. The huddle is free, and takes place in the same complex where CitySquare serves low-income and homeless residents, at 610 S Malcolm X Blvd in Dallas.
If Thursday's introspection was any indication, the tone amongst Dallas artists is steadily conflicted and searching as they enter this phase of movement. Like Curiel, Rafael Tamayo went to Booker T. Washington High School for the Performing and Visual Arts. Now he lives in Deep Ellum. Tamayo gawked at the quick slip between new white neighbors' respectful acknowledgement of culture and a "Dia de Los Muertos-slash-Halloween party led by a white DJ on Lower Greenville."
"For the most part the community is cool with loaning a little culture," the actor who manages the Oak Cliff Cultural Center and is part of the De Colores collective, said. "When you mark up the price tag and exclude us from things, it gets difficult to mobilize."
Get the FrontRow Newsletter
Get a front row seat to the best shows, arts, and things to do across North Texas. Never miss a beat.