Annie Clark's St. Vincent immerses listeners by telling dystopian stories disguised as sweet-nothings, underlined by guitar riffs that shift between melodic and vehement. Anyone who's followed St. Vincent through the years is familiar with Clark's dedication to visual performance, complete with choreography, costume, and color. Dallas Morning News music critic Thor Christensen seemed confused by the concept.
His review of the Lake Highlands High School grad's Bomb Factory tour stop this weekend starts by posing this question: "When does a rock concert become performance art?" He then spends a fifth of the review commenting on Clark's backside and her choices of clothing, apparently regarding her approach as a puzzle.
Really, it's not. Glam rockwear against entrancing backdrops, calculated stage moves, and dancing lights revealed—drumroll—a performer.
Clark ascended in front of midnight curtains dripping in neon pink, her bodysuit accentuated with fuzzy accessories, boots that climbed over her knee, and a matching fluorescent signature guitar. The News' writer saw this as a query to the audience. "Clark walked onstage wearing a thigh-baring hot-pink outfit that seemed to ask the audience, 'Can a brainy feminist artist also be a sex symbol in the male-dominated world of rock 'n' roll?'" 
Her presentation was not a question mark. It was an exclamation point. The rock concert became performance art when she walked onstage in altitudinous, thundering boots and a pop-art color palette of pinks and greens and reds and teals.
Clark positioned herself across the stage throughout the night, dedicating her body to a single spot for each song, angling herself to show how much space one woman can take. It's difficult to accept that she stood at an angle in front of those dark curtains in hopes of "spotlighting her derriere," for Christensen or anybody else. A screen behind the stage did that for her, alternating, among other things, close-ups of her face and lips and rear to create abstraction and, if anything else, to point at the way critics like Christensen commodify women. If seduction was even an element, it was her delineation of it from her performance.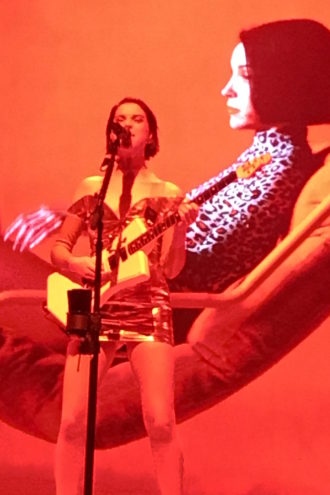 The News' review briefly praised Clark's ability with the guitar. It noted the slew of axes she sported that night—each of which she co-designed with Ernie Ball to fit her form, as well as other guitarists with breasts. But the guitar, electric or no, is hardly the "most phallic of instruments," as the piece argues. Regardless, this had nothing to do with her performance. Does the guitar become a homoerotic symbol if a man holds it?
The objectifying analysis of the St. Vincent show arises from the misconception that women, by default, create lesser-than music that claws for attention from established menfolk. This framework is not only tired and false, but willfully ignorant.  
In September the New York Times published a package on the notion that "Women are making the best rock music today." Twenty-five acts were cited as examples, from Daddy Issues to UV-TV to Downtown Boys — most of them in phases of emergence, with a couple mid-career acts like Cherry Glazerr in the mix. The list of far-flung bands from different scenes showed how many thriving rock groups fronted by people who aren't men are to be reckoned with.
None of those in the Times list have quite the same reach as Annie Clark, who could be considered a pop artist—perhaps a pop-art musician who employs an electric guitar. When does a pop show become a rock show? Is it when a display of power with said axe becomes too male in the perception of the viewer to be pop music? What is so perplexing about a person who presents as femme and shows command of an instrument?
Could St. Vincent's supposed teetering on performance art be less perplexing had she been distinguished as a pop star? After all, the idea of "spectacle" often correlates with pop music while "skill" gets paired with rock. Women are far more accepted when they present as pop artists instead of braving into the guarded territory of rock. St. Vincent repudiates any hint of this ideology by embracing all angles of musical execution and providing onlookers with rhythmic pageantry, which Clark herself is cognizant of and acknowledges in the lyrics of her recent single "Los Ageless."
In an attempt to grapple with the concept of a rock musician who happens to be female, Christensen not only constructed a narrative for St. Vincent that displayed how the performance served lusting men, but also compared St. Vincent to easier-to-swallow acts like Ziggy Stardust-era David Bowie and the Talking Heads.
No doubt the musician takes cues from these artists and would fit a little neater into this realm of music than that of classic or alternative, but her work advances beyond identification, asserting that rock music does not have to be constant or predictable. 
Like she's told you, Annie Clark is not the pawn to your king.
Get the FrontRow Newsletter
Get a front row seat to the best shows, arts, and things to do across North Texas. Never miss a beat.