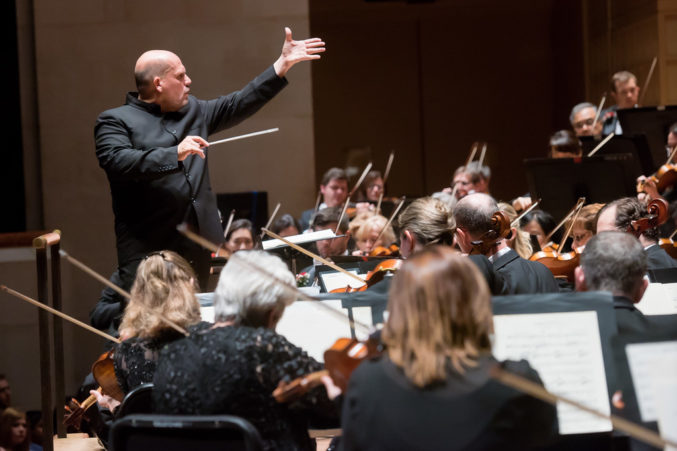 Soloists Shine in DSO's Rachmaninoff-Haydn Concert  
A last-minute switch changed the program for the better.
For the series of Dallas Symphony Orchestra concerts Thursday through Saturday last week, the absence of guest cellist Harriet Krijgh led to a last-minute program shift. Had all gone according to plan, however, we would not have enjoyed the particular Haydn—Sinfonia Concertante in B flat minor—a 22-minute piece that began the program. And that would have been a loss.
Of the masterfully interpreted pair of pieces I saw Saturday, the first was an example of the beautiful interplay, so particular to a sinfonia concertante, between orchestra and soloists, in this case bassoon (Ted Soluri), oboe (Erin Hannigan), cello (Theodore Harvey), and violin (Nathan Olson). The Classical-period form, the melding of a concerto and symphony, is beautifully designed to pull out the soloists' virtuosity, when it's well-executed. It was.
In first movement (allegro), arguably the most lovely, van Zweden brought out the intimacy among the quarto of soloists, as well as the ticklish interplay between the chamber-music-size quartet and the rest of the orchestra. The strings were nimble, light as the foam of a wave, while oboe and bassoon solos, intertwining, added depth and gravitas.
The piece uses silence. In the first movement, a small cat and mouse game was crisply executed before the full orchestra came in, claiming the solo instruments with the warmth, richness, and fullness of sound that's possible in the Meyerson. The second and third movement brought out the soloists' voices (the violin has a dizzying jag), and the allegro con spirito had the drama of quick, short bursts. The piece was perfectly Haydn: playful, courtly, light, and full of grace.
The main event was the Rachmaninoff Symphony No. 2 in E minor, Op. 27, an hour long in four movements, a piece that premiered nine years after the disastrous reception of Rachmaninoff's first symphony. It's an exceptional spotlight for horns and woodwinds. Van Zweden typically gives shape to the Romantic era's swells; they crest like waves. And so it was here. The symphony's first movement begins intense and brooding, foreboding warnings sounded by the strings, then the voice of a lonely English horn. They rise into an evocative lyricism of strings singing a mournful melody. There was all the tremulousness that some find objectionable in Rachmaninoff, and a section I found beautiful and almost harp-like with plucked bass.
The quieter parts of the third movement proved the hardest to pull out — the sound occasionally got stuck in the slower and quieter eddies. The fourth and last movement (allegro vivace), clashing with glochenspiel, cymbals, and timpani, returned with vigor. In a movement in which the challenge is to make the chaotic feel textured, the horns were at their best.