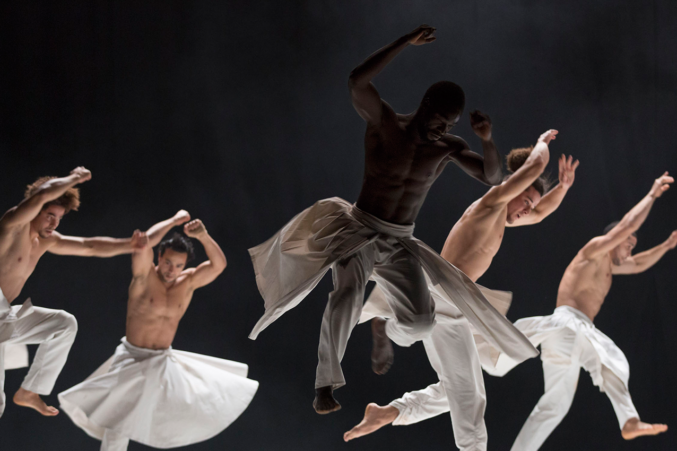 The 15 Things You Must Do In Dallas This January
Katy Perry with Carly Rae Jepsen, Joe Ely with Terry Allen, and a new comedy by Girls writer Tanya Saracho.
VISUAL ART
Mary Katrantzou, Valerie Keane, Enoc Perez | Jan. 14 – March 4 | Dallas Contemporary
A ten-year retrospective by a London-based Greek fashion designer, a young New York artist's first museum show and a painter's work made about and for eight area buildings and features designed by late architect Philip Johnson make this phase at the Contemporary one of the most anticipated of the year.
First Sculpture: Handaxe to Figure Stone | Jan. 27 – April 29  | Nasher Sculpture Center
This singular exhibition traces art's whole history back to the tools that make it, displaying ancient handaxes and figure stones as products of artistic thought. The goal is to mine humans' earliest intentions as much as it is to treasure the objects themselves. Los Angeles-based artist Tony Berland and anthropologist Dr. Thomas Wynn from the University of Colorado at Colorado Springs curate.
FOCUS: Nina Chanel Abney | Jan. 27 – March 18 | The Modern
In new work composed from and for our gluttonous mode of scrolling, Nina Chanel Abney's bold, fragmented figures call attention to narcissism, obsession with celebrity, and instances of racism and police brutality. She paints as if she has the viewer's eyes for a few seconds. The result calls up Jenny Holzer's circle of a slogan: "Use what is dominant in a culture to change it quickly."
THEATRE & DANCE
France's Compagnie Hervé Koubi | Jan. 20 | Winspear
The French male company featuring Algerian dancers drew a standing ovation at its Dallas debut in 2015 with ritualistic, formal displays of strength.
Small Mouth Sounds | Wyly |  Jan. 31-Feb. 4
Bess Wohl's characters seem painstakingly assembled as opposites of one another and find themselves alone together, a bit like the reality-TV influenced cast of Lost. Except these six strangers meant to run away from the city. They make vows of silence and contend with the most existential of questions.
Dallas Theater Center's Fade  | through Jan. 7 | Studio Theatre
This layered comedic drama by Girls writer Tanya Saracho follows a Mexican-born novelist to Los Angeles and her new life as a TV writer. Lucia finds it easier to bond with Abel, an American-born Latino on the janitorial staff, than anyone working on the show. The protagonist is written like a study of imposter syndrome as it relates to cultural identity; the novel she has to her name is The Definitive Guide To Nothing, one of the details that makes Saracho's narrative so telling.
The Very Hungry Caterpillar Show | Jan. 19 – Feb. 25 | Dallas Children's Theatre
Come for the Caterpillar, stay for the Blue Horse and The Very Lonely Firefly. This Southwest premiere of a staged montage based on Eric Carle's illustrations, complete with 75 giant puppets, would be an exquisite first theater experience for patrons who still need help turning the pages.
MUSIC
Shakira | Jan. 28 | American Airlines Center
Shakira's vocal stylings take the toll you would imagine. She postponed this tour in November to rest her instrument, making European fans wait for the spectacle of technically astounding dance for which she's treasured as much. The visual tradition of her part-Lebanese heritage — belly dance, which never goes out of style  — is paired still with effusive musings on love and her ideals of womanhood. [Editor's note: This show has been pushed back to August.]
Destroyer | Jan. 16 | Club Dada
"Every day, you cancel the parade," Dan Bejar sings under his breath to open Destroyer's latest. If the album were emptied of its vocal tracks, it'd have been among the best releases of 2017, with its thrumming New Wave bass lines and lush production.
Katy Perry & Carly Rae Jepsen | Jan. 14 | American Airlines Center
Join two superstar products of the Punky Brewster '90s at this all-inclusive beachside resort of a concert. If you're looking for the bridges where all drops out for an ambient beat and a simple line of resolve: they're all here, building again to eleven for open-hearted fans. Purity Ring opens.
Joe Ely & Terry Allen: Song Swap | Jan. 20 | The Kessler  
In a relative sense, country staples Joe Ely and Terry Allen are outsider artists. The latter contributed some voicemail recordings to an album by the young experimental guitarist Hayden Pedigo.  Their collaboration well expresses the gifts that come from Stockholm syndrome induced by the hard land; Ely and Allen's teamup for this intimate exchange will do the same.
Bon Iver | Jan. 23 | The Bomb Factory
For Emma, Forever Ago is ten years old. Before "Skinny Love" became a song on a coffee shop's shuffle playlist that encouraged the use of headphones, Justin Vernon devastated an audience anesthetized to common indie-folk with his injured prayers from northern forests. It was a healthy sort of wince, then, and his experimentation of late shows again that capacity for elevating tired forms.
Jason Isbell | Jan. 5 | The Bomb Factory
The Nashville Sound finds Jason Isbell playing it safe. For his most devoted followers, this is good news: Isbell and the 400 Unit make soul searching comfortable with relaxed country, and they're a sure bet live.  
Say Anything  | Jan. 30 | Trees
Say Anything's Max Bemis has been living with his wife Sherri Dupree (Eisley) in Tyler; the band has been riding the quiet wave behind its latest record Hebrews which leaves guitars completely alone in favor of orchestral arrangements. Bemis and his crew get loud and revisit their roots for In Defense of The Genre's 10th anniversary tour, a reentry to Say Anything's prime during the pop-punk and emo era.
Wolf Parade & Charly Bliss | Jan. 28 | House of Blues
Indie-friendly, post-punk revivalists Wolf Parade are making records again after seven years without a release, and they're bringing Brooklyn power-pop quartet Charly Bliss on tour.