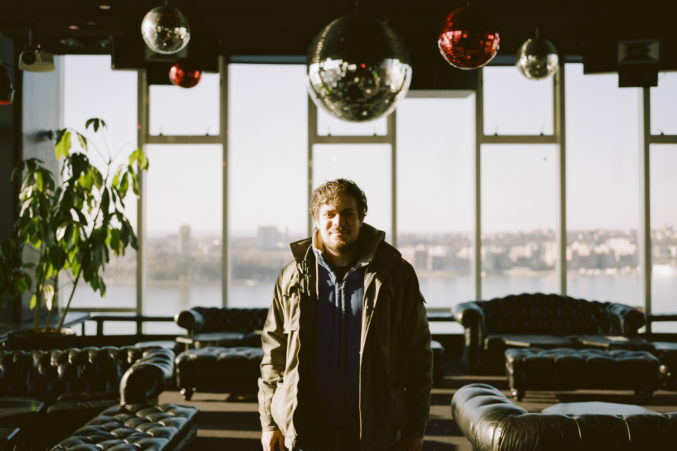 Ten Songs To Make Your Music Plans By
Dallas venues hit the jackpot these next few months. Here's a guide to what's coming.
This week has already seen its share of exciting announcements: Jack White's coming to Dallas, and so is David Byrne — behind his first solo LP in 14 years, no less. Catch up on what they've just released, get acquainted with the breakout solo work of DIY punk rock favorite Jeff Rosenstock and hear what the buzz on Denton locals Razorbumps is about. There's some bonus new music within, as well; whatever mood you're feeling, there's a song for it.
Jack White – "Connected By Love"


The first proper single from Jack White's third upcoming solo album 

Boarding House Reach

 takes it back home to White's Nashville roots.

"Connected By Love" 

is about weathering dark times to find the light despite bridges that have burned. In a plea for forgiveness, "Connected By Love" finds balance in the gospel and rock sound Jack White fans have come to love. L

egendary Nashville gospel trio

The McCrary Sisters

 feature on guest vocals, too. While the release date of

Boarding House Reach

is still forthcoming,

Third Man Records expects to put it out in March

. 

Jack White will perform in Dallas April 27 and 29 at The Bomb Factory. More info

here

.



2. Frankie Cosmos – "Jesse"
Shortly after announcing a new home on Sub Pop's roster, Frankie Cosmos revealed their studio album, Vessel, will drop March 30. In "Jesse," frontwoman Greta Kline sings about conflicting emotions at the end of a relationship: like our love is my world / but so is my heartache. The song revisits similar twee-pop aesthetics and motifs as the 2016 success Next Thing. You can preorder Vessel here.


3. Jeff Rosenstock – "Melba"
While many of us were ringing in the new year, artist Jeff Rosenstock was releasing the first major punk rock statement of 2018. Recorded in a marathon session over the last few days of 2017, POST- is a beacon of hope. Rosenstock lyrically disentangles himself from day-to-day bummers of boredom, anxiety, and loneliness. Only his raw, crackling voice and buzz-filled guitar can do the album's sentiments justice. Polyvinyl currently has different formats of POST- available for pre-order. Bonus: The good people at Polyvinyl will also be donating 10 percent of their mailorder revenue one Friday per month to a deserving cause or organization. Rosenstock will be at Club Dada March 7 along with Laura Stevenson and Chris Farren. Details here.


4. Razorbumps – "Go With the Flow"
Snarky guitar riffs and bass lines make many different shapes on Hellrazors, the debut full-length by Denton punks Razorbumps on Pop Wig Records. Brooklyn Vegan noticed the four-piece out of the gate. Razorbumps share the J&J's basement with Wiccans, Dress Code (Houston), Little Fish (Austin) and more for their record release party Jan. 27.


5. Karen O, Michael Kiwanuka – "YO! MY SAINT"
Amid news that the Yeah Yeah Yeahs will be releasing a new album and headlining Governor's Ball festival in New York, Karen O returns with a solo track featuring British singer Michael Kiwanuka. "YO! MY SAINT" is a creative project that fuses fashion, film, and music. The bluesy rock ballad was created to accompany a video campaign for Paris-based KENZO's Spring Summer 18 collection. Directed by Iranian-American filmmaker Ana Lily Amirpour, the film centers a photographer who's haunted by his muse. After photographing the model for ads, he starts to see her everywhere, even in a music video at a karaoke bar. You can watch the full film below.




6. David Byrne – "Everybody's Coming To My House"
David Byrne announced a massive 80-date world tour in support of his upcoming American Utopia. The tour will feature a twelve-piece band and Byrne's calling it the "most ambitious" stage show since the Stop Making Sense days of Talking Heads. American Utopia is out March 9 via Nonesuch Records and marks Byrne's first solo LP in 14 years. The newly released single "Everybody's Coming To My House" is an aspirational, dancey tune written with Brian Eno. Other credits on the song include singer-songwriter Sampha, TTY, and Onyx Collective's Happa Isaiah Barr.
David Byrne will be in Dallas April 24 at Winspear Opera House. Tickets go on sale tomorrow, Jan. 19. More info here.


7. Tune-Yards – "Heart Attack"
Tune-Yards' latest song "Heart Attack" is a quirky, clap-heavy number from the upcoming I Can Feel You Creep Into My Private Life. A colorful video complete with interpretive dancers accompanies the track. The LP drops Friday, Jan. 19 via 4AD.


8. Kali Uchis – "After the Storm" (featuring Tyler, The Creator & Bootsy Collins)
Columbian-American singer Kali Uchis teams up with Tyler, The Creator and Bootsy Collins for the funky track "After the Storm." Produced by BADBADNOTGOOD, "After the Storm" is a sultry and mellow ballad that easily sounds like it belongs on the soundtrack of a '70s movie. Kali Uchis' major label debut album is expected later this year.


9. Sylvan Esso – "PARAD(w/m)E"
Behind the groove-laden, synthy tune "PARAD(w/m)E" are dark lyrics that serve up the ominous setting for the North Carolina duo's new music video. "PARAD(w/m)E" comes shortly after Sylvan Esso released a cover of Mister Rogers' "There Are Many Ways to Say I Love You." A spring tour in support of their successful album What Now brings Sylvan Esso to Dallas March 20 at The Bomb Factory.

10. Rhye – "Song For You"
Transatlantic R&B duo Rhye are back with yet another single. "Song For You" marks the fourth from their highly anticipated sophomore album Blood. The song looks deeper into a romantic memory against warm, reverb-heavy guitars. For the long-time Rhye fans out there, here's a dancier take on recent single "Summer Days" that was remixed by German singer, songwriter and producer Roosevelt. Blood is due out February 2. Pre-order here.