Jake Schrock is 92 percent finished, he says, absorbed in a Japanese ghost story. Well, two of them. His assignment is to compose music for "A Cup of Tea," the final chapter of Masaki Kobayashi's Kwaidan. It's a tale within a tale narrated by a short-story writer who calls up a 17th century plot: a samurai, so he tells it, is visited by a man's image in his drink. It's spooky, but lighthearted, Schrock says, and there's more left to the imagination in this section than the rest. It's why Holodeck Records co-founder and S U R V I V E member Adam Jones chose Schrock for this one. His music conjures more steady bliss than dark turns. So that eight percent left to make before Saturday's re-score presents a challenge:
"There's a pretty intense fight scene toward the end, so I'm still working out the kinks on that," Schrock says. "For the rest I'm holding back a little, and being more eerie."
Before the original score for Netflix sci-fi horror mainstay Stranger Things brought music by members of S U R V I V E to an average of 4 million listeners per episode, Schrock knew well what the band was up to. They were his friends, especially Michael Stein, who studied with him in Dallas Sound Lab's audio engineering program circa 2007. And Jones asked Schrock — famously shy, never the self-promoter — to open S U R V I V E's album release party in September 2016, just two months after Stranger Things debuted with a score by Stein and bandmate Kyle Dixon. Barracuda Austin hosted a sold-out crowd that night. It was the first time Schrock played his music live.
"I always just thought it'd be way too complicated to perform live without some sort of backing track or a computer. I wanted to play whatever I was doing onstage," Schrock says, remembering the time he took in figuring out a solution. "I was thinking it was impossible to do it. I wanted it to be a completely live performance, the way I make music in my room. I like connecting all the gear together and making things trigger other things, and making them all communicate with each other, the pieces of gear that I'm using."
When he got home, Schrock didn't know for sure if he'd play live again, but people kept asking. Since that show he's performed about once a month on average, most recently last week with Lou Rebecca, another Holodeck artist. Of those shows he guesses one of them featured a bill he curated himself. For all the wealth he shares in projects for friends, like the score for this noirish Kim Dawson model search video, Schrock's own songs are scarce in the physical; they appear on two compilations and 50 copies of a self-released tape. Last year Jones enlisted Schrock to make an album Holodeck would release, also on tape, sometime in 2018. It's finished. Schrock's live score for Kwaidan will be his last appearance until a release show for that record.
"I kind of have a lot of friends like this, who are really good musicians working with analog hardware in their bedroom," Jones says. "Jake was kind of like that for a while. I just want to continue to bring that out into the world and promote him. He fits so well on our roster but nobody has sort of touched on his level of … carefree-ness, without sounding, like, cheesy about it."
It's true that S U R V I V E's rise offered just a peek into the range of devoted electronic musicians Texas is hiding in its lofts, warehouses and nocturnal apartments. Jones, whose project Troller scores another section of Kwaidan Saturday, wants to help listeners navigate the larger scene that begat synthwave and to help encourage its depth. So he teamed up with Austin Film Society and Hyperreal Film club, whose members showed him the 1965 Japanese horror/fantasy film for the first time. (Schrock was introduced to Kwaidan and this style of filmmaking, too, through the re-score project, he says.) The film is made of four shorts that can stand apart, which lent itself well to a bill of composers. Holodeck organized a re-score at SXSW last year and is now partnering with Alamo Drafthouse to bring it to more cities.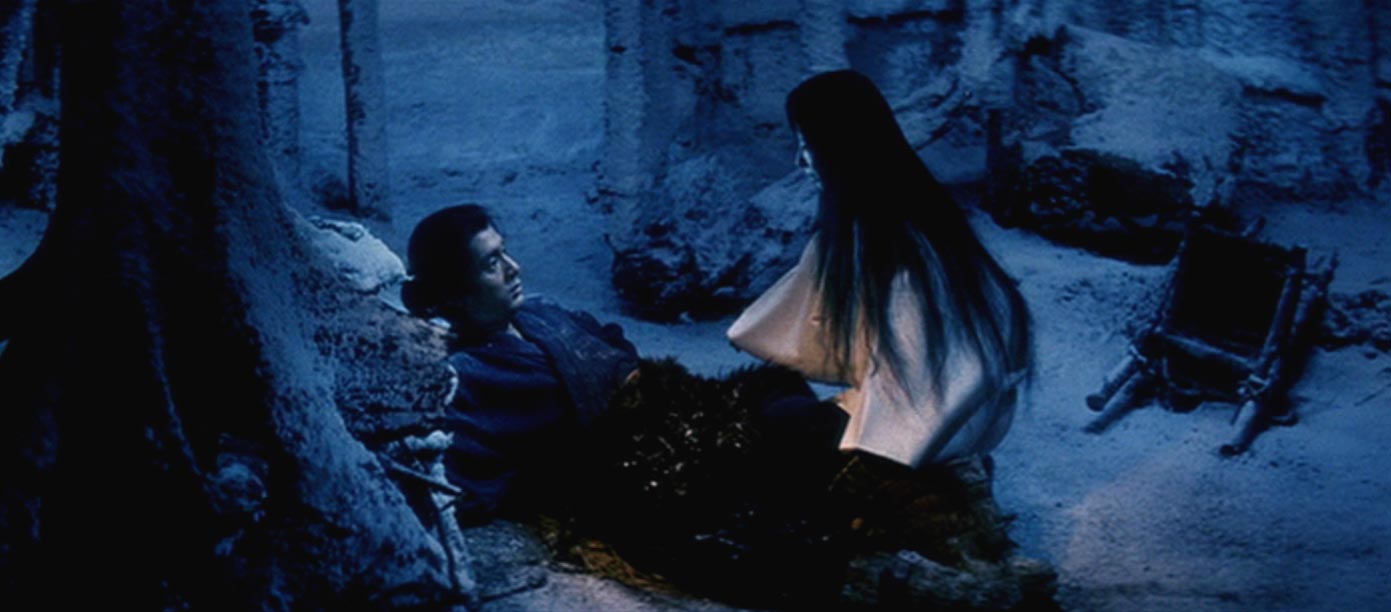 "I definitely saw the potential right away," Jones says. "Especially the one [section] that Troller has re-scored ["Black Hair"] – I've probably seen that like 60 times now. It's like a 40 minute-long film, so it's kind of like writing a whole new album for it. In fact, Troller as a band, we've been recording this material and we'll release it at some point. We want it to represent us in our catalog now."
For Schrock's part, he says, the soundtrack he's making will likely stay in "A Cup Of Tea," where two worlds combine in a meta-narrative to close the night.
"It's a really cool, like, mind game," he says.
———
The lineup Saturday at Alamo Drafthouse, courtesy Holodeck:
Troller (Austin) performs "Black Hair"
(electronic pop trio with guitar, bass and vocals)
Samantha Glass (Austin) performs "The Woman in the Snow"
(musique concrète soundscapes with electronics and vocals)
Curved Light (Austin) performs "Hoichi the Earless"
(experimental modular synth composer)
Jake Schrock (Dallas) performs "In a Cup a Tea"
(live vintage hardware electronics)
Get the FrontRow Newsletter
Get a front row seat to the best shows, arts, and things to do across North Texas. Never miss a beat.