The right side of the commercial Craighead Green Gallery is newly dedicated to Nature Flow, a collection of landscapes by Suzanne Kelley Clark. Perhaps because she's lived and worked in Dallas for over forty years, the artist, a slight white-haired woman with a soft voice and a ready smile, could not for a moment be found outside a lively bubble of admirers at a joint opening Saturday.
Clark is mostly spontaneous in Nature Flow, sharing a number of plein air oils that present a few wild corners of Texas and New Mexico. Suffused with the artist's sincere appreciation, these works in warm, earthy tones produce a sense of ready welcome that resonates with the viewer's own memories of sunlit countryside. The very first work displayed in Clark's part, however, is not a painting but a large charcoal drawing of a forest path — the sole drawing in the entire exhibition. Its lack of colour only serves to intensify the dance of busy lines which unmistakably link this work to Clark's raucously precise photorealistic paintings.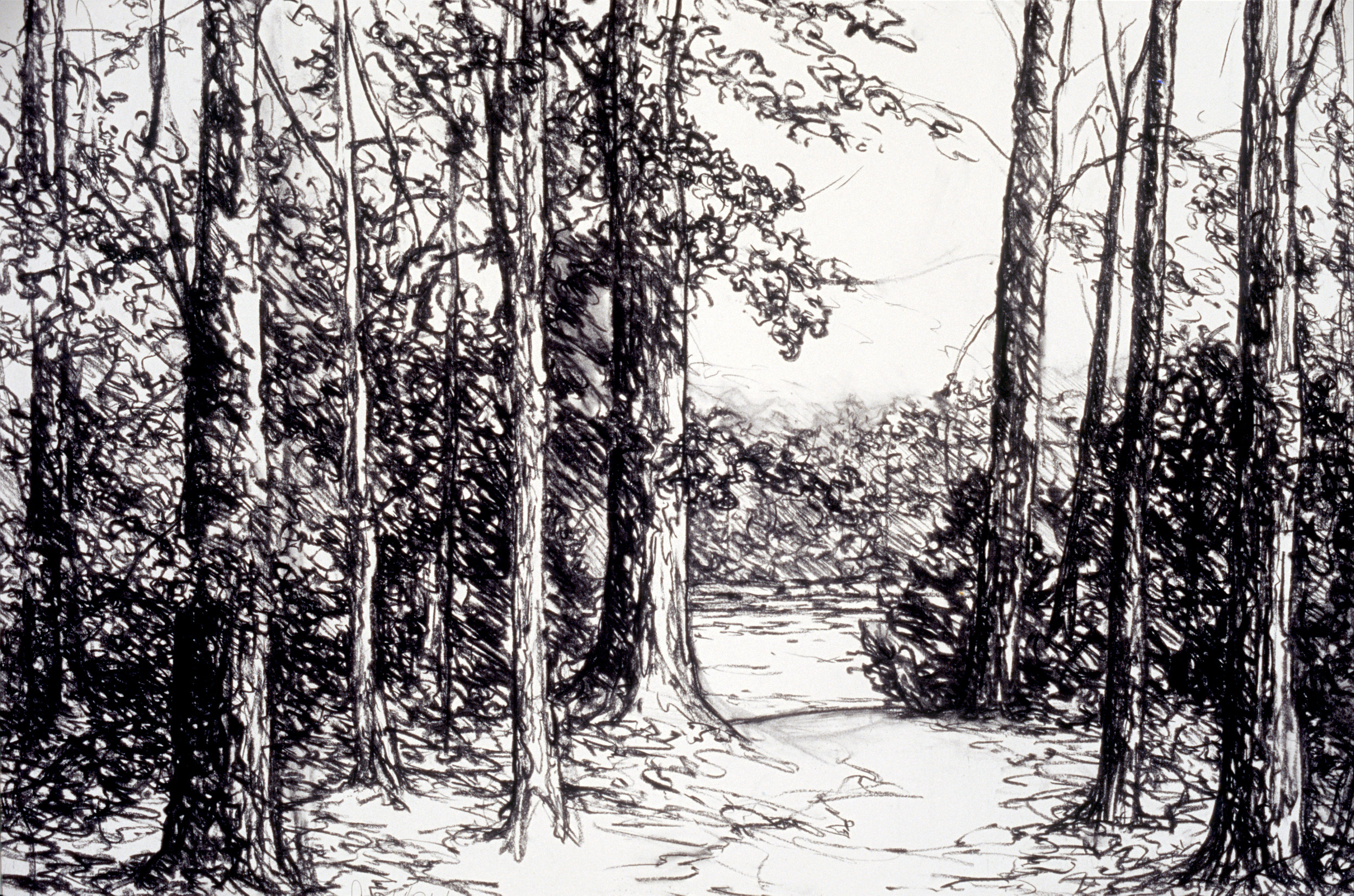 Her artistic focus is derived from the endless complexity and variety of the natural world. Although an enthusiastic photorealist, she presents only two such works in this show, each an elaborate study of autumnal foliage, standing out against the diffuse background of a humid forest in one painting, and the other an explosion of riotously tangled leaves, vying for attention in the thick underbrush.
Right across the gallery's entrance, the visitor is greeted by two works by Arturo Mallmann, a man with an unassuming demeanor and the soul of a philosopher. Far from any dismal expectations the show's title Dystopian Dreams, might evoke, Arturo Mallmann's paintings instead invite the audience to a hypnotically alluring world, at times calamitous and disturbed but more often tranquil, innocent, introspective, and invariably multidimensional. The all but tangible depth is not quite an illusion: it is the result of the artist's favored technique of applying translucent resin — each layer equal to about fifty those of regular glaze — in between the coats of paint, culminating in a manifestly stereographic effect.
Dystopian Dreams occupy the central gallery space, and wherever these paintings are in view, they engulf the beholder in their brightly beckoning private realms without return. Mallmann, born in Uruguay and now living in Los Angeles, says he lets the colors lead him as they please in bringing him closer towards a nebulously universal inner truth, rather than setting out with a plan for a new work.
Tyler Butcher, a young Georgia-based painter whose series Empty Kingdoms finds home on the left side of the Craighead Green Gallery, arrived to the opening accompanied by his tiny daughter, appropriately dressed to the nines to match her be-suited father. In contrast to Arturo Mallmann, Butcher is a man with a plan: not only does each of his works emerge at the conclusion of numerous preparatory sketches, but his whole exhibitions are conceived well in advance along with deliberate symbolism and unified meaning.
Empty Kingdoms is an exploration of the transformations that the human soul endures. We each of us hold a kingdom within ourselves, explains the artist, and callous indifference to the suffering of others leaves these kingdoms desolate and sterile — no earthly riches are worth this fate. To accentuate the point, Tyler Butcher headlines the exhibition with an arrestive portrait of a refugee girl who gazes bluntly at the viewer while shadowy figures lurk in the back. In continuation of the theme, dramatic gold paint is judiciously slathered over two of the other paintings, representing the cruel temptations of the fabled "land of milk and honey."
Tyler's work greatly differs in size, tone, and style, some of the paintings reminiscent of the traditions of Romanticism, others verging towards graphic design, and the final canvases conveying the cool and airy light of uncertain hope for a soul's future. But regardless of the original conception, Butcher admits to relishing the alternative significance each viewer may find within his work.
Suzanne Kelley Clark, Arturo Mallmann, and Tyler Butcher show at the Craighead Green Gallery through February 10.  
Get the FrontRow Newsletter
Get a front row seat to the best shows, arts, and things to do across North Texas. Never miss a beat.