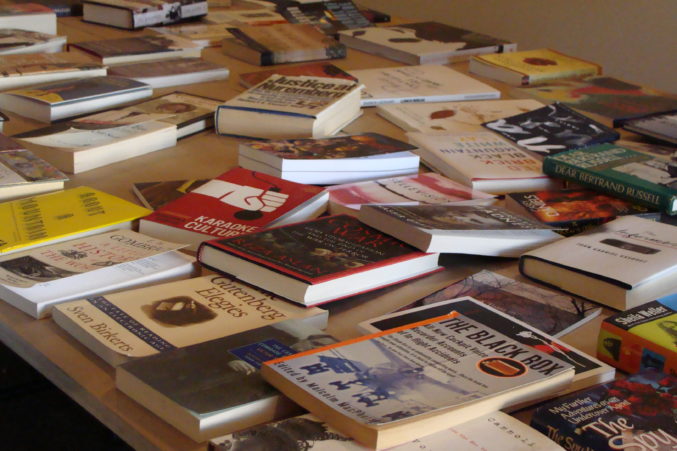 At The Reading Room's Book Swap, Little Turns Of Fate
Micro readings tomorrow by visual artists, historians and others stretch from afternoon to evening.
During five successful book swaps at her Expo Park enclave, Karen Weiner has seen patrons leave collections of esoteric poetry, all manner of artist biographies, and niche cookbooks on the ritual table, to be carried away by others. Shockingly, there have been no takers for a book about asthma.
It'll be part of of the starter collection tomorrow. Weiner's helping supplement with books from her own shelves, which is one reason there's no Dallas venue more fitting for such a trade than The Reading Room, a quiet incubator where artists and writers can test new material or show work outside the bounds of their usual repertoire. This is the spirit Weiner encourages with her work for larger institutions; last year she organized a communal reading of Roni Horn's book Another Water inside the Nasher amid Horn's pooling glass sculptures. Once she arranged a 24-hour reading in conjunction with Piero Golia's Chalet Dallas at the same museum.
For tomorrow she's lined up seven readers and given them each five minutes. Weiner's careful attention to the goings-on of Dallas artists informed her choices. She made suggestions for some, but the material they bring is up to them.
"It's always a surprise, and it always works," she says. "I've noticed Greg Ruppe's writing has become so lyrical when he sends out things for the Power Station. I have no idea what he's reading – he did ask me if it was ok if it went a little over five minutes."
Weiner knew Ruppe's been organizing conversations and capturing speech for sound art in the Power Station's underground Culture Hole bunker and was intrigued by what he'd pick to read. She  asked Cynthia Mulcahy to read text from the censored plaques written by her and artist Lauren Woods to clarify Dallas' segregated history as part of their Negro Parks project, a sharp testament to the power of language. When Terri Thornton made work for 500 X based on poet Maggie Nelson's opus for the color blue, Weiner was captivated by it; she suggested Thornton read a selection from Bluets for this exercise. (Weiner first considered a read of Bluets straight through the day.)
Comers can bring at least one book from 3-7 p.m. to trade for something on the table, in a one-to-one honor system.
"It's amazing how random it is," she says. "I'll run into people a year later and they'll say, 'This book I found at book swap, it's so great.'"
The Reading Room is located at 3715 Parry Ave. Tomorrow's reading schedule is as follows:
3 PM: Paul Galvez
4 PM: Cynthia Mulcahy
4:30 PM:  Greg Ruppe
5:30: PM Daniela Cruz
6 PM: K Yoland
6:30 PM: Terri Thornton