No Halloween Costume Yet? Teddy Georgia Waggy Gets You Covered
The designer and Midnight Opera guitarist welcomed us into her inspired sewing lair. As for her tips: no sewing required.
Raised on Oak Cliff estate sale finds and 1970s fabric patterns, Midnight Opera guitarist and vocalist Teddy Georgia Waggy knows how to spot magic in the scraps. Her grandmother made comfort staples from the heart, but certainly not by the book.
"There was this stuffed animal, like a lamb, but she was bad at sewing, so it had, like, these lobster claws on it. They were supposed to be hooves but they just looked like lobster claws," Waggy laughs. "She chose this weird cloth, like an old vintage set of sheets with a floral design. She made it for me and of course I loved it."
From her, Waggy learned the basics of sewing and the musician still quietly makes her own clothing, like these chic separates she wore to show me and photographer Ellie Alonzo, and takes commissions.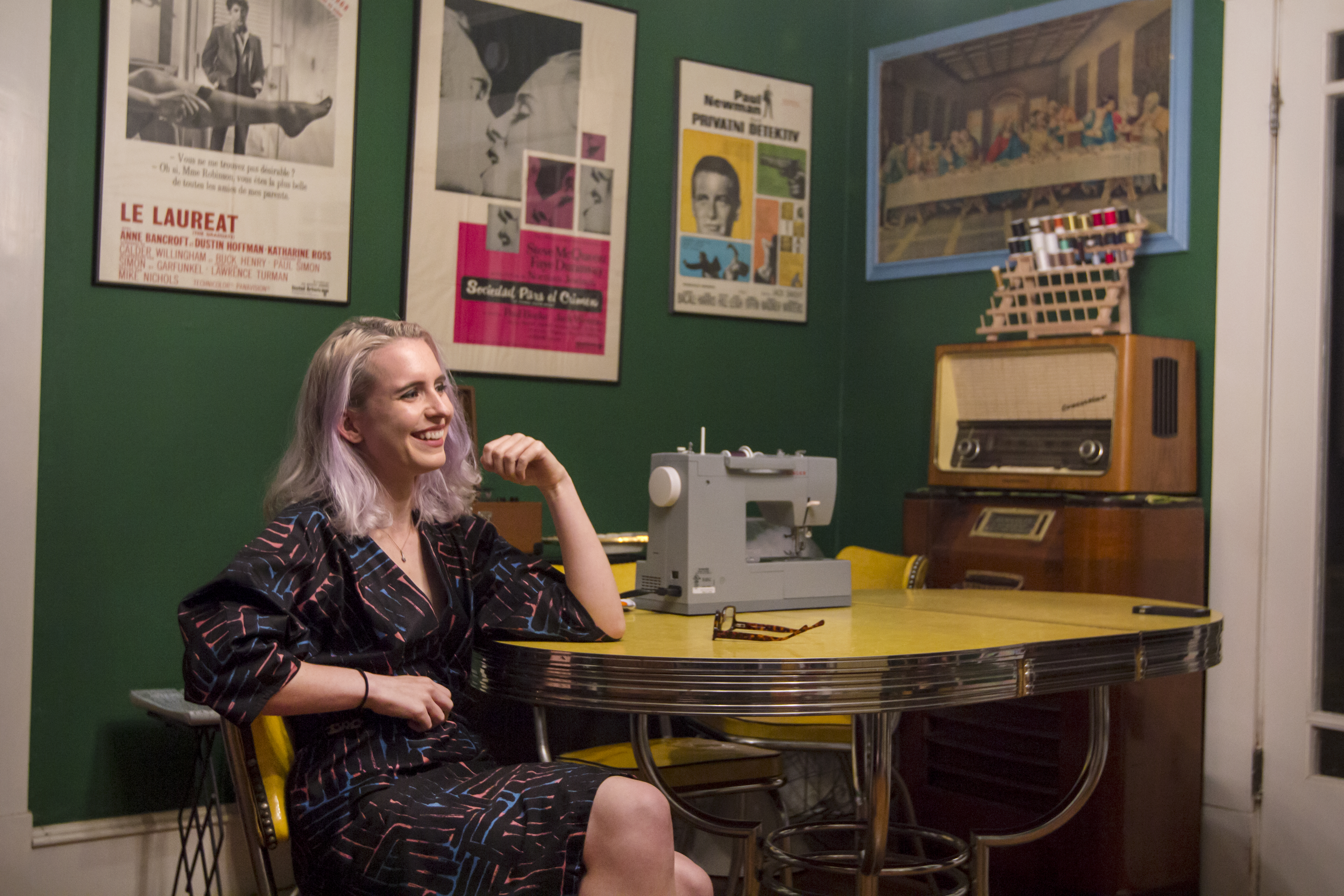 Less quietly, Waggy designs costumes for her band Midnight Opera, often in accordance with elaborate stage shows, and just as often employing makeup that matches the wattage. Her current fantasies for the band rest somewhere between 1940s sleek Katherine Hepburn-esque, floor-dusting silhouettes and shiny satins reminiscent of '70s glam rock, she says.
"I've never had an occasion to wear about 60 percent of what's in my closet," she explains.
This was the reason we came to Teddy's house: it's pre-Halloween season, when time and ideas are suddenly short for many who've RSVP'd to parties. She relates.
"I was really into science and astronomy and Neil DeGrasse Tyson four or five years ago, and I hadn't thought of a costume idea yet. And I was like, 'I'll be Space!' Waggy says.
She promptly acquired a full-body zentai suit – think Blue Man group — to which she sewed glow-in-the-dark stars, spray-painting glittery nebulae to finish.
"I went to this party and this other girl was also Outer Space. But she did a bunch of black tulle and neon greens and pinks, and these battery-powered LED string lights that she covered herself in."
This was more a moment of expansion than a failure. After all, here we have our first idea: Outer Space, with lots of room to customize and just as many aesthetic meanings to play with. See, that wasn't so hard, was it?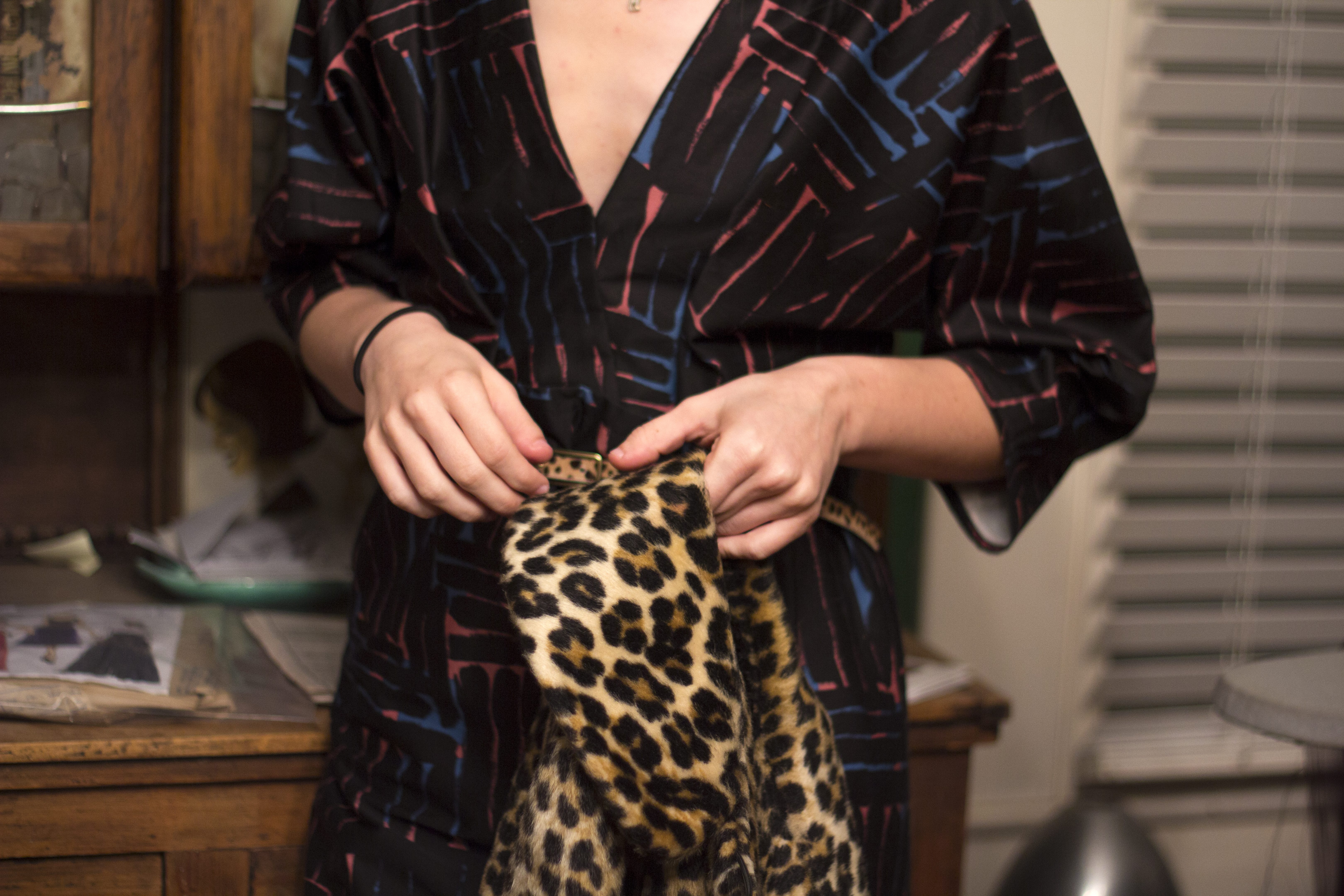 Waggy shares two more such tips for low-to-no budgets, with unlikely suggestions that sort of subverted the prompts I gave her. First step to making a more interesting costume decision: discover the interchangeable nature of gore and glamour.
What you want: CLASSIC HORROR + GORE
What to do: Find a fur coat and think Blade Runner.
"Those movies make me feel that way. There's no overt gore but there's a sense of slow horror to them because they're in this extremely dystopian environment. Especially Pris, the character from Blade Runner that I was thinking of – her life sucks. You're in this dirty Metropolis and people are hunting you," Waggy says.
Pris wears a leopard print fur coat, and Waggy pulled out her own classic version from Dolly Python. Her affinity for the print is a channel of actress and model Edie Sedgwick.
"She was one of the first instances of me looking at [the New York Pop Art '60s] and being like, 'Oh, I can just wear a dress that's too short for me, and I'll just put on shorts underneath it. Just these little bits of freedom that you don't realize you have sometimes, in fashion."
"Dolly always has a really strong vintage '70s fur coat selection with lots of options. In this new Blade Runner there's a character similar to Pris, Mackenzie Davis' character [Mariette]. She also has a similar look, and her version of that is this bright pink faux fur thing. To me embodying Blade Runner isn't looking exactly like Pris, but if you have this iconic, cool, weird coat on and then the black mesh dress or top underneath and the stockings that she wears – oh, and the wig," Waggy says.
What you want: AN EXCUSE TO LOOK GLAMOUROUS
What to do: Find a few yards of white tulle.
"My ideas at first were based off the "glamour" stuff I have in my closet – Mad Men-type stuff.
I also had this idea to do a glamourous version of a ghost. I have a bunch of tulle lying around the house because we bought 80 yards for a backdrop we did earlier this year. Tulle is maybe a dollar a yard, you can get it at JoAnn's for super cheap. Golden Dior fabrics is my favorite local fabric place. They have really cheap tulle. It's easy to get a bunch of it."
This is a prime route for intense makeup, Waggy says, recommending Norcostco's inventory. She disappears to get the material.
"I wish I could sew," Alonzo says longingly.
Our coach returned to demonstrate with the icy white-blue sheer fabric, no stitches required.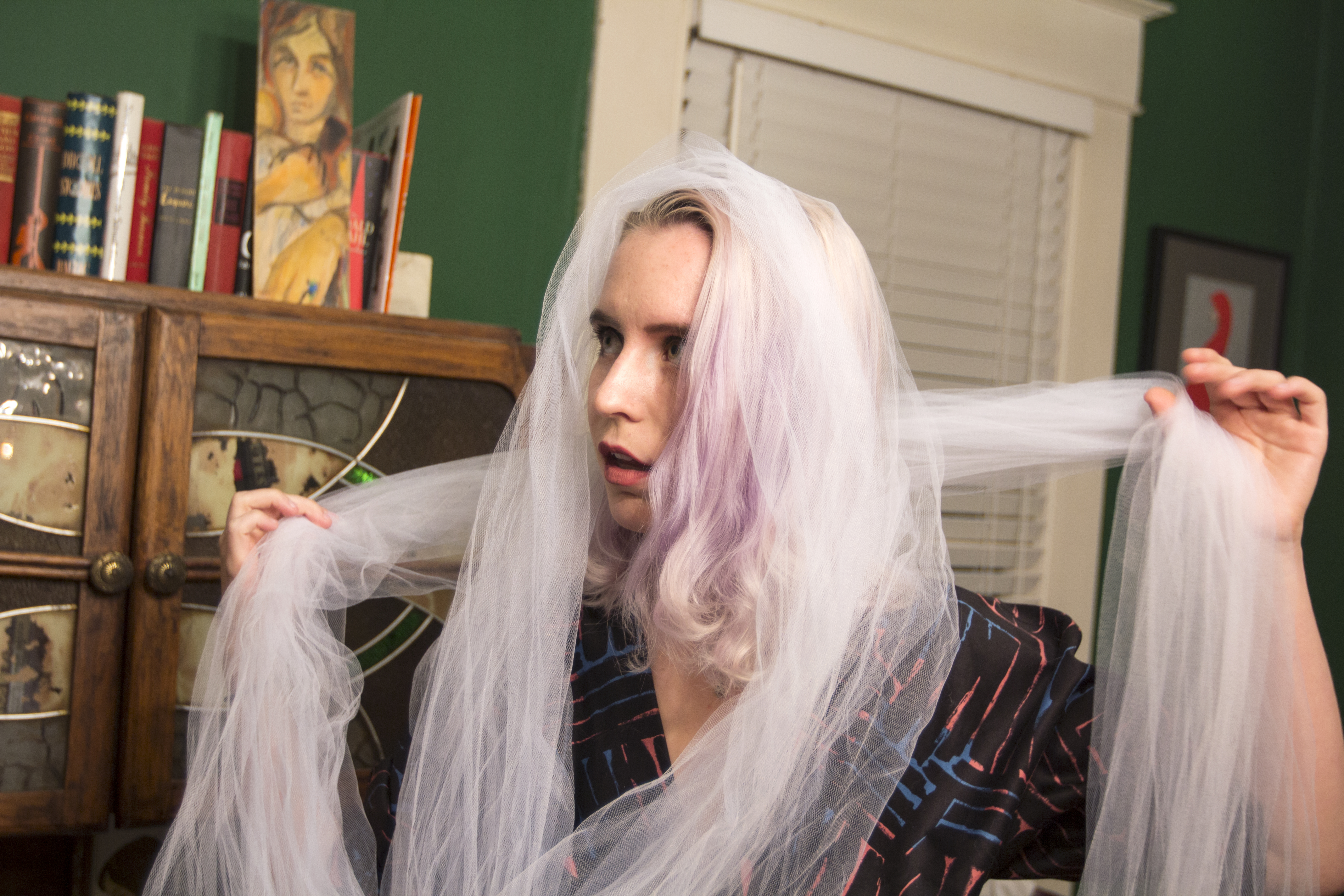 "I was playing around with it earlier today and was just realizing how many ways there are to make it – weirdly – fashionable and ghost-y," she says. "You could wear it almost like a veil.  If you just wear a white slip or something underneath you can have free reign to drape it; you can cut it up into strips and have it be more gown-style, pin at the bodice and [arrange it all around] like that," Waggy says, motioning to her skirt in a circle.
"Play around in the mirror until you find something you like."
Midnight Opera will play Texas Theatre on New Year's Eve.