A countless number of origami cranes is sent to the City of Hiroshima every year. These are tokens of peace and solidarity sent from all over the world, containing messages of humanity and hope for a gentler existence, a tradition that began in homage to a young victim of radiation exposure following the atomic bombing of Hiroshima and that continues today. With well wishes received with gratitude and reverence, the City of Hiroshima is now faced with a practical dilemma: what to do with so many paper cranes. The city's solution, efficient and unceremonious, is to categorize these mementos as non-burnable trash, so that they may be kept in waste facilities, intact but out of site. These paper cranes, shown in unexpected light, comprise one of many works featured in the exhibition Non-Burnable.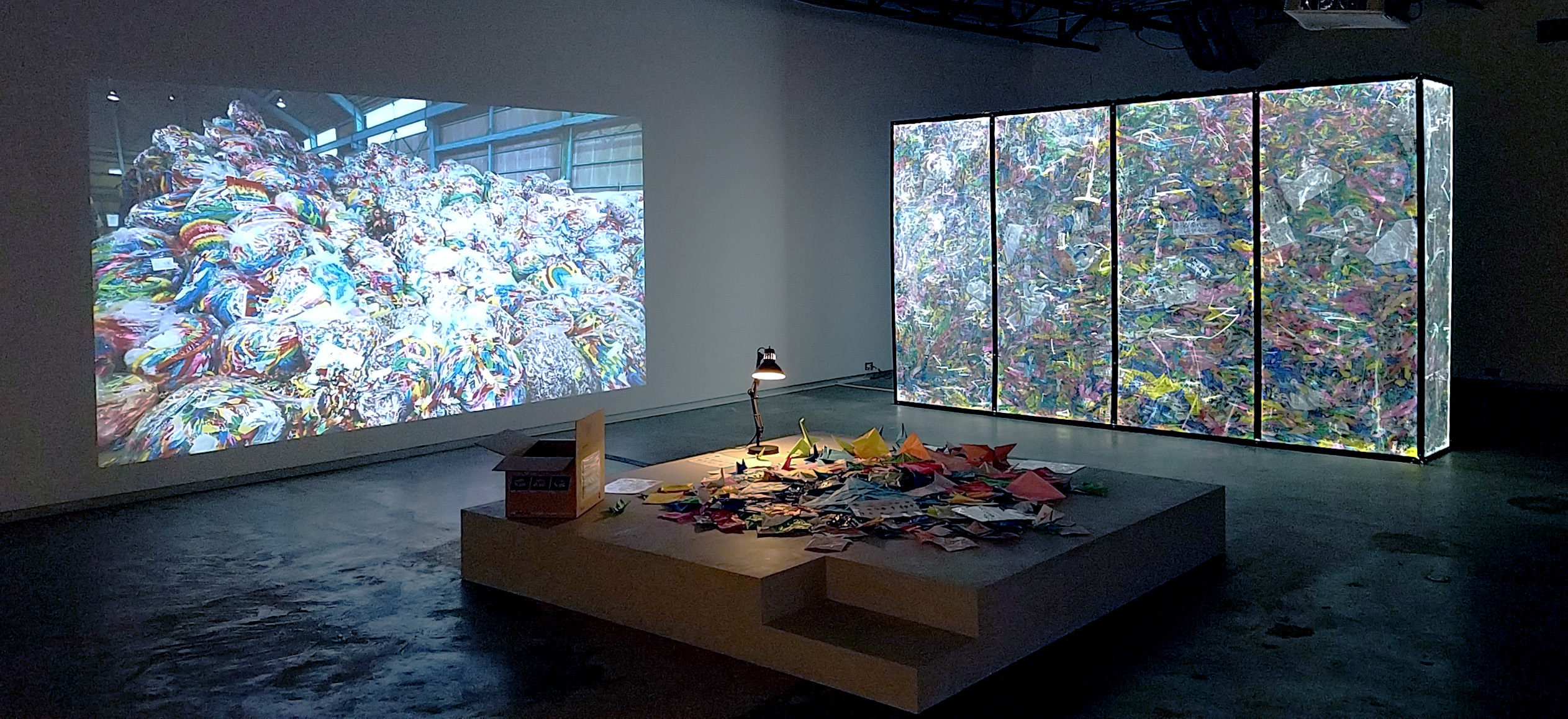 This exhibition is as succinct as it is rich, spotlighting a decade of notable work from the Japanese artist collective known as Chim↑Pom. Each work marries novel forms with refreshingly penetrable statements. At the center of the room, a platform strewn with crumpled and creased bits a paper, those precious cranes, imbued with sentiment, unfolded and tossed about, accompanied by laminated instructions inviting visitors to again fold these bits of paper, returning each sheet into its previous crane shape. Behind this platform, a large plexiglass box filled with more precious paper cranes, a dense mass stuffed tightly like compacted garbage. Then, seen on video projected on the adjacent wall, seated atop a colorful and absurdly large accumulation of clear plastic bags filled with origami cranes, Ellie of Chim↑Pom hastily unfolds each crane and reads messages written within. The whole exercise, at first seemingly flippant, very quickly reads, instead, as honest, curious, eager. She clamorously undoes the product of mindful craft and then just as readily tosses its remnants aside. "They all write the same thing," she notes aloud, "everyone opposes war."
Each work featured in the Tokyo-based art collective's exhibition Non-Burnable, currently showing at Dallas Contemporary in collaboration with The Crow Collection and the Moving Image Archive for Contemporary Art (Hong Kong) as one part of many featured in the series Invisible Cities, will read in this manner: seemingly flippant, but ultimately invested. Chim↑Pom prefers honesty over propriety, but doesn't seem interested in shocking anyone. Formed in 2005 by the group's leader Ryuta Ushiro, The group has for more than a decade impressed an international audience with decidedly satirical work, copping a principled attitude of mischief and resolute honesty.
Chim↑Pom's most well-known work, a series of installations titled SUPER RAT, is particularly striking to see in person. With a concept as grotesque as its depiction, the work displays taxidermied rats, painted in the likeness of Pikachu and posed dramatically inside a diorama of a destroyed Kabukicho. Next to this a television loops video of members capturing with gleeful apprehension those very rats with fishing nets in the streets of Shibuya. This work is as upsetting as it is fun to witness, and the title itself is at once a cheeky reference to the rampant proliferation of poison-immune rats in Tokyo, as well as a likely jab at Takashi Murakami's postmodern movement SUPERFLAT. Without context, the piece readily challenges sensibilities. Given context, the work relinquishes its provocative nature and instead inhabits a more honest conceptual space, an evocation of hardship, change, destruction, and survival; this is made clear in the collective's own statement on SUPER RAT.
Their project "Making the Sky of Hiroshima 'PIKA!'" was itself the subject of controversy when originally performed in October of 2008; captured on video, an aircraft skywrites the word "PIKA!" (ピカッ) in the sky above the Hiroshima Peace Memorial. "PIKA!" being the expressive term for FLASH, the performance drew vehement criticism, spawning a subsequent debate in Japanese media. Chim↑Pom would later publish a book titled Why Can't We Make the Sky of Hiroshima "PIKA!" in collaboration with their own vocal critics, investigating and documenting that very debate, as well as contextualizing the greater topic by contrasting the American attitude and understanding of the atomic bomb with that of Japan.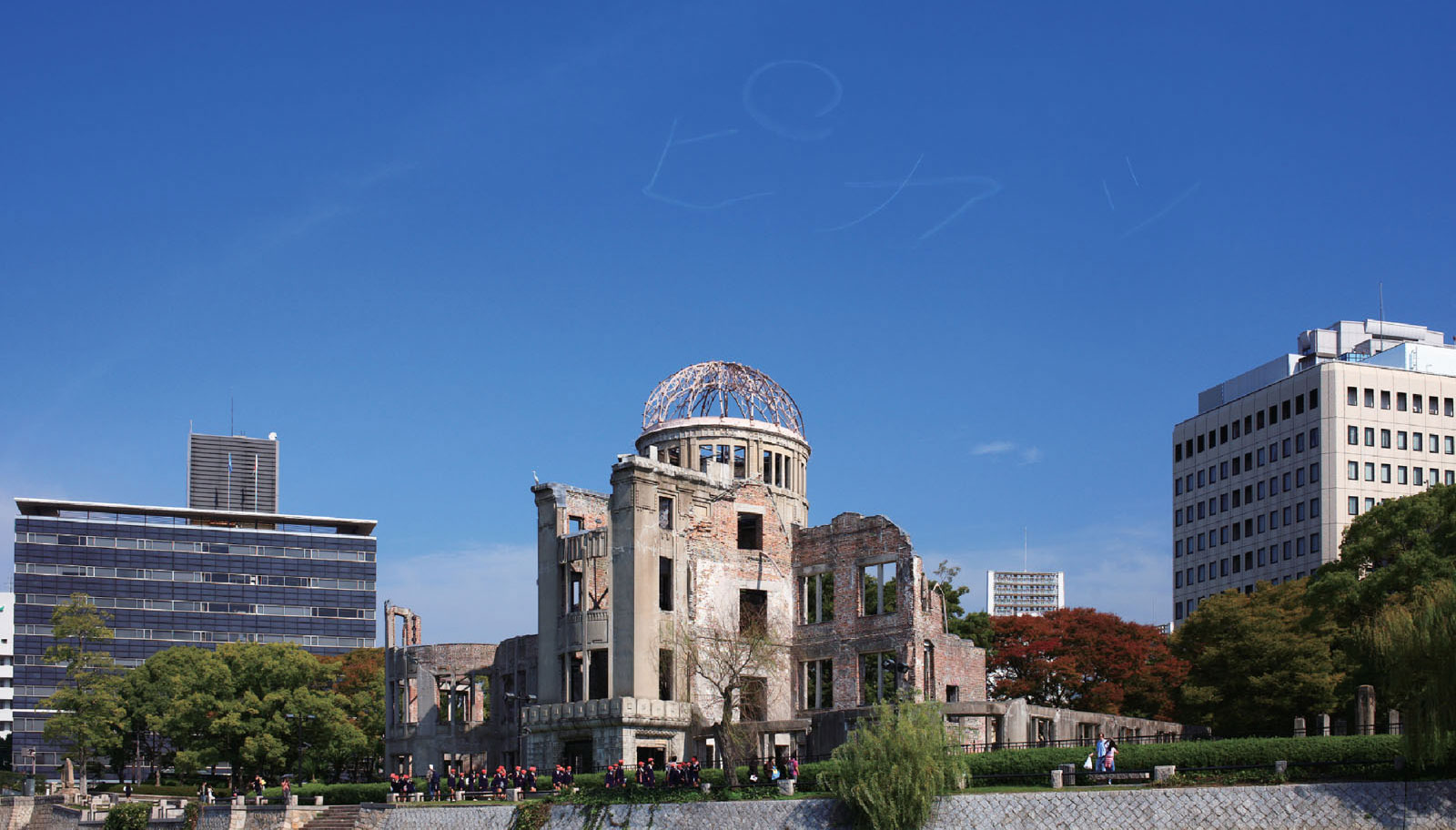 Chim↑Pom's mindful relationship with sincerity is evident in every work. In the video piece titled KI-AI 100, perhaps their most sincere work in exhibition, Chim↑Pom joins a group of kids in shouting one hundred successive expressions of encouragement, kids who survived the Great Tōhoku Earthquake and remained in destroyed Soma City, Fukushima for two months, likely exposed to dangerous levels of radiation following the explosion at the Fukushima Daiichi Nuclear Power Plant, all against a surreal backdrop of toppled buildings and debris-filled streets bestrewn with large fishing boats. This is filmed in the very exclusion zone in which these kids were first exposed to the deadly radiation, an endearing display of encouragement, resulting in a bold show of solidarity, as members of Chim↑Pom willingly and enthusiastically enter the exclusion zone at risk to their own health. Juxtaposing without irony, the timbre they strike is precise.
The installation titled Non-Burnable, the exhibition's namesake featuring those very many precious paper cranes, employs this juxtaposition without irony just as effectively, communicating honesty without misplaced reverence; watching Ellie hastily unfold each crane, surrounded in the mountain of sacred non-burnable waste, flattening and pulling apart each item with seeming irreverence, it quickly becomes clear that the performer is being honest, sincere. The plexiglass box filled with cranes makes the understanding visceral, its tonal affinity, the busy accumulation of crumpled paper, becomes distinct upon closer inspection, with messages of peace and lamentations of war peeking through the compressed mass of like-minded wishes.
Chim↑Pom makes a clear point, even if it's that there's no tidy or concise point to be made. There is rather big messy reality; that observation would almost be silly to make aloud, as that could be inherently the strength of any contemporary art concerning itself with topical material, if it weren't for Chim↑Pom's knack for doing this so damn well. They challenge sensibilities by framing this big messy reality; a catastrophe occurs, and then we move on with vigor, not in spite of catastrophe, nor because of it, but rather for something in-between, an understanding that catastrophe has occurred and here we are to have known it.
Visitors can see Non-Burnable at Dallas Contemporary through December 17, alongside "Moving Images from Asia," a series showcasing several video works from prominent and emerging contemporary artists from East and Southeast Asia. Chim↑Pom is Ryuta Ushiro, Yasutaka Hayashi, Ellie, Masataka Okada, Motomu Inaoka, and Toshinori Mizuno. They work and reside in Tokyo, Japan.
Get the FrontRow Newsletter
Get a front row seat to the best shows, arts, and things to do across North Texas. Never miss a beat.