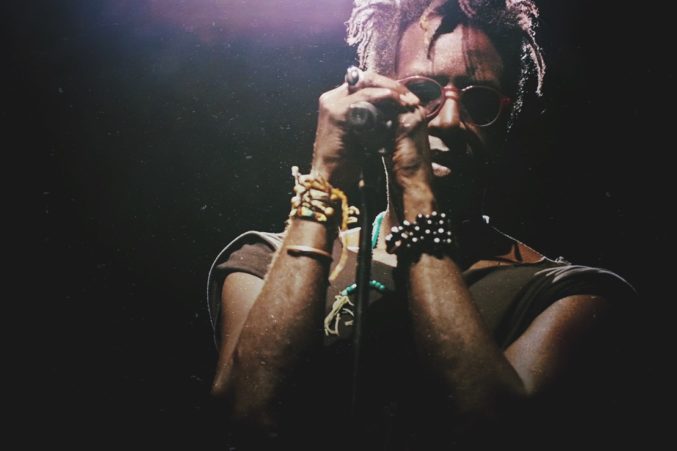 Backstage With Saul Williams, and a Response Via Digital Art
The poet who rearranges internal landscapes performed his spoken word bare of music at The Kessler.
Poet and performer Saul Williams arrived in Dallas Thursday, courtesy of what we were nudged and reminded were the tireless arrangements of Wordspace, Dallas Poetry Slam and The Kessler Theater. I don't know that Williams had ever stepped foot inside the historic Oak Cliff venue. I hadn't. Meandered in the lobby and floated about the entrance on occasion, per assignment, sure. But never deeper than that.
This is a long-unfulfilled prerequisite for Mr. Local Over Everything, I know. The Kessler is no later than the fifth stop in the City of Dallas starter kit – short of Dealey Plaza but, as part of both the historic and constantly redeveloping Oak Cliff socioeconomic landscape, ahead of fairweather attractions like Fair Park, and an oversaturated Deep Ellum, depending on the night.
A contextual understanding of my city kept me from the whiplash typically brought about by an unfamiliar space. Williams, for his part, looked out from centerstage at a configuration of chairs, tables and balcony seating familiar to venues that carried his words and work into a space equivalent to viral in a time before the term's present definition. Rooms such as these catapulted both slam poetry as an art form and Saul Williams, the genre's messianic poster child, into the mainstream.
A documentary, semi-biographical feature film, five studio albums, several appearances and collaborations across genus and genre, a broadway production, national and international tours as both a supporting and headlining act, and myriad writings later, he greets us with a certain still humility reserved for a studied master – morseling his powers between digestible bits of cool, thoughtful reserve and raw mouthfuls of artistic possession.
There he exposed himself, short of shame and full of grace. Williams stretched his arms and invited the dense audience into his most intimate places – sometimes as roaring narrator of worlds he creates and reflects, sometimes as a muttering observer, more alongside his listeners than ahead of them.
"Are feelings as important as thoughts?" he once asked us in a string of expressions, allowing the audience to absorb his queries in temporary place of accepting his definitives.
Wrapped in a single spotlight, Saul Williams twisted and spilled over thoughts and journal entries as a student of language showing himself worth the cost of admission, worth the more than two hours of sitting and listening in less-than comfortable chairs and proximity to your neighbor. Worth a Thursday night in Oak Cliff.
But also, with his single whipping and thundering voice, rearranging the landscape inside and thrusting his sensory captives into worlds, settings and perspectives beyond the comfort and pleasantries promised by the evening.
"Science can only prove me right," he once righteously assured.
And as Williams' rhythm, energy and focus reached its highest swell, just as easily as he wielded it, he handed it to his audience, offering an opportunity for showgoers to pick his brain for as much time as he'd spent performing. Here, in simpler language, he answered questions of love and war and the day and age we occupy, human connections, LGBTQ rights, growing up a pastor's son, his first kiss(es) and the now-tickling trouble that followed.
He offered something rarely seen between the stage, an artist and his art: an opportunity to humanize Saul Williams. To separate the art from the man only to realize no such separation exists. These radical and abstract thoughts are the growlings of a real radical. Not a man who will gun you down, but absolutely one who embraces and investigates every image he authors.
"Too much reverence in kneeling," he said, with both respect for the principles of and in radical opposition to the mainstream means by which many have chosen to protest police violence in America.
When it seemed everyone else in the room had heard enough of their own voices, the attention returned to Williams who, like a soldier into battle, resumed form, raining down extended metaphors, consonance and triple entendres with an eloquence and a chestiness of a man who knows, if any can, A TRUTH – his own.
"Whatever you're looking for in life, is looking for you," he promised us.
After the show Williams received warmly members of the Dallas Poetry Slam, encouraging them to be artists who are called poets, not the kind who make pronouncements about what they are. "I wrote poetry for 12 years before I used the word," he told them.
Then under a light by the stage door he smoked and talked with me about his father the pastor, about being in a room at age 13 with Al Sharpton and other leaders discussing whether they would ever allow a woman to be at the pulpit. Most agreed on a firm "no." That struck young Saul as ridiculous.
"It's horrendous what people are encouraged to bottle up, what people are encouraged to deny in themselves under the name and banner of masculinity," he said. "We need to encourage the disassembling of all our ideas surrounding masculinity."
What's the opposite of that? What does it look like? I asked.
"It's called humanity, it's called love. It's called realizing that the greatest power is vulnerability … it's in the acknowledgement of growing, of learning."
Below is an excerpt of the night I've attempted to describe in words less adorned than those of the subject. In collaboration with Saul Williams and D Magazine, cinematographer Mo The Bear, digital artist and internet entity Lee Android and myself, we present a digital collage, post-performance experience like you've never seen in this space before, brought to you by alreadyDTX: the shared multimedia platform and supergroup, championing the arts and culture of Dallas, Texas through meaningful original content. The following leads with Saul Williams' performance of "Coltan as Cotton" (MartyrLoserKing, 2016) as performed at The Kessler Theater, Thursday, Oct. 19.