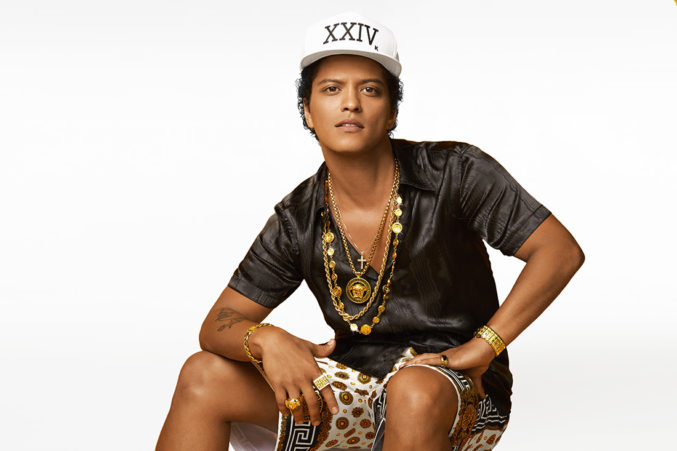 The 25 Things You Must Do In Dallas This October
Fall is here, Bruno Mars is at the American Airlines Center, Dave Chappelle is in Irving, and so much more.
LCD Soundsystem
Oct. 30, 7 pm
The Bomb Factory
LCD Soundsystem's first single was about a washed-up cool kid clinging to old cultural touchstones, and the band's never hid its reverence for the ghosts of musical icons past. So maybe it's appropriate to our hyper-referential, nostalgic times that James Murphy and his group's return — seven years after what was then billed as a final tour — is being greeted now with much more excitement than we recall during that premature farewell. (We were there.) Maybe absence, as they say, made our hearts grow fonder. Maybe the distance between Dallas and Brooklyn has since grown smaller. Or maybe LCD Soundsystem and its yearning, playful hybrid of post-punk and dance music are just never going out of style.
Michael Chabon
Oct. 2, 7:30 pm
Horchow Auditorium at the DMA
That rare author able to please Oprah's book club, the Pulitzer committee, and science fiction geeks (re: the great Yiddish Policemen's Union), Chabon will speak here about his new family drama, Moonglow.
Kibbutz Contemporary Dance Company
Oct. 27 & 28
Moody Performance Hall
The Israeli dance company soars with the guidance of director Rami Be'er, whose intensely personal choreography hints at how love can overcome the world's divisions.
Triplets of Belleville
Oct. 12, 7:30 pm
Strauss Square
The 2003 film was a wonder of French animation, but it's the score of The Triplets of Belleville that lingers. Relive both, as the composer conducts a live orchestra during a screening of the movie.
Paper Into Sculpture
Oct. 14–Feb. 4
Nasher Sculpture Center
Those paper airplanes you made in middle school may not count, but don't underestimate the potential of paper as a tool for sculpture. The artists in this exhibition reimagine the fragile medium.
Wilco
Oct. 3, 7:30 pm
The Pavilion at Toyota Music Factory
Acoustic or electric, we always have time for Wilco, still touring on the back of last year's quietly beautiful Schmilco. With a band as confident as this, though, prepare for any country-rock contingency.
Wild Spaces, Open Seasons: Hunting & Fishing in American Art
Oct. 7–Jan. 7
Amon Carter Museum of American Art
The natural beauty of the great outdoors has long been a fertile subject for artists, whose work in this exhibition pays powerful tribute to the importance of getting away from it all.
Walter Isaacson
Oct. 26, 7:30 pm
First United Methodist Church of Dallas
As a biographer, Isaacson specializes in the lives of famous inventors, from Benjamin Franklin to Steve Jobs. His latest, about Leonardo da Vinci, deepens our understanding of great creative minds.
Ted Leo
Oct. 27, 8 pm
Club Dada
The venerable punk songwriter's first album without the Pharmacists, The Hanged Man, is out this year thanks to a crowdfunding campaign that showed just how badly fans needed to hear more from Leo.
Bruno Mars
Oct. 27, 6:30 pm
American Airlines Center
His retro flair and undeniable pop hooks have made a star with tweens, seniors, and the generational divide between them. His need to impress has made his show one of the best on earth.
Truth: 24 frames per second
Oct. 22–Jan. 28
Dallas Museum of Art
If Jean-Luc Godard was right, and the cinema delivers the truth of photography 24 times a second, then this exhibition of film and video work by 24 artists has all the truth we can handle.
Take Me to the River Live
Oct. 1, 7:30 pm
Strauss Square
The sound of Memphis' legendary Stax Records, the fearless soul of the Mississippi Delta, is honored and refreshed in a performance with William Bell, Bobby Rush, and Charlie Musselwhite.
A Lost Leonardo
Oct. 13–Nov. 5
Amphibian Stage Productions
After a 2015 staged reading under the name Daedalus, this premiere about a frustrated da Vinci taking a soulless day job as a military engineer gets the full production it deserves.
Chris Stapleton
Oct. 28, 7 pm
Starplex Pavilion
Stapleton's among a cohort of country songwriters bringing some much-needed grit back to a genre buried too often these days in post-production gloss — his voice is too powerful for ProTools, anyways.
Invisible Cities | McDermott & McGough | Kiki Smith
Oct. 1–Dec. 17
Dallas Contemporary
This trio of exhibitions covers a lot of ground, with shows including, respectively, video installations by Asian artists, obstinately old-fashioned photography, and Kiki Smith's bold feminism.
An Evening Celebrating Two Giants: Juan Rulfo and Cardona Peña
Oct. 30, 7:30 pm
Dallas Museum of Art
Marking the Day of the Dead as well as the 100th birthdays of two of Latin America's greatest writers, Teatro Dallas stages a production inspired by Rulfo and Peña's magical realism.
Alvvays
Oct. 18, 7 pm
Trees
The jangly pop band's sophomore album is called Antisocialites, an apt description of music as shyly ingratiating as this. Alvvays writes songs for all of us to be alone, together.
Run the Jewels
Oct. 17, 8 pm
South Side Ballroom
Killer Mike and El-P are two of hip hop's greatest trash talkers, and the duo's all the more commendable for the targets of its upward punches: institutional racism, hypocrites in power, and, of course, wack rappers.
Spoon
Oct. 12, 7:30 pm
House of Blues
The Austin band has been one of indie rock's most consistent acts for more than two decades, but Spoon's longevity can be attributed to how it continues tinkering with its sound in surprising new ways.
Occupant
Oct. 5–21
Bath House Cultural Center
WingSpan Theatre's latest adaptation of the work of playwright Edward Albee is a cryptic biographical sketch of the sculptor Louise Nevelson, whose talent and will launched her into a male-dominated New York art world.
Dave Chappelle
Oct. 26 & 27
The Pavilion at Toyota Music Factory
Any fears that Chappelle, during a long absence from the spotlight, had lost his ability to provoke laughs and controversy were put to rest this year by two blisteringly funny—and divisive—Netflix specials. We'll take a stand-up comedian at the top of his conversation-starting game over anything as safe as a sketch TV show.
Skate or Die Fest
Oct. 22, 1 p.m.
Gas Monkey Live!
Bowling For Soup and Frankie Cosmos are among the musical acts performing at this celebration of skateboarding, so learn how to bob your head and hit the halfpipe at the same time.
Sheer Mag
Oct. 10, 7 p.m.
Club Dada
Sheer Mag combines punk's wild abandon and classic rock's mercurial swagger, giving us all the confidence and recklessness of a teenager behind the wheel of their first car.
Oct. 11, 7:30 p.m.
Dallas Museum of Art
The cartoonist for the New Yorker, whose illustrations have peppered that august journal long enough to have helped define its look, picks a familiar subject matter for her new book: New York. Going Into Town is an illustrated guide to the city that makes the streets of Manhattan seem as wonderful and bizarre as anything Dr. Seuss ever cooked up.
Harry Styles
Oct. 10, 7 p.m.
The Pavilion at Toyota Music Factory
Rather than set off directionless without his mega-popular boy band, Styles has found his own Timberlake-esque lane as a solo act that appeals to both teen girls and a more mature audience.