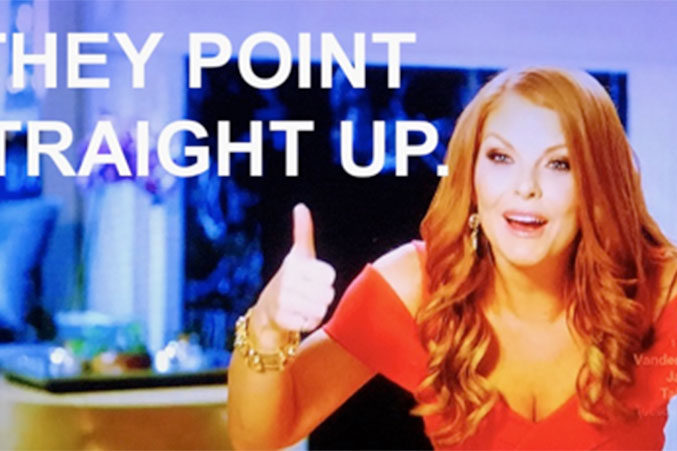 Real Housewives of Dallas Recap, Ep. 7: Plastic Surgery, Gobblers, and Fur Bags
Sometimes you watch to get away from the real world, and you learn a new word for your private parts.
This week, in the world, Puerto Rico continues to be devastated by hurricanes. Meanwhile, our President is busying himself with creating the perfect nicknames for every other leader in the world. And, your uncle is extremely Facebook Pissed about NFL players kneeling. Or not kneeling. And flags. So many three-paragraph comments about flags. And your aunt is mad they're renaming elementary schools and parks because she apparently has a severe and sudden fondness for a park she's never been to and a statue with which she never once took a selfie.
Luckily, for one glorious hour a week, we can escape all of this and focus on the lives of Dallas women who are not only Real, but also Housewives. Well—maybe most of the cast is neither of those things just shut up and watch the show and drink your wine already. Geez.
In an effort to live up to her casting requirements, Cary Deuber spends this episode telling her husband Mark (forevermore referred to as Doobs) that she is going to be a stay-at-home mom, and that she has plans to leave her position at his plastic surgery playground.
She admits that she is having a hard time balancing everything. She's just like us. "The working mom struggle is real," she says, as she leaves work to go to yoga.
"I'll just do all the work myself," Doobs yells at her shadow as she leaves. He is a first-rate pouter, this guy. I am reminded of Will Ferrell in Anchorman every time he is upset. If Doobs could just get a mustache rocking and a polyester suit, he'd be a dead ringer. He's in a constant glass case of emotion, this poor guy.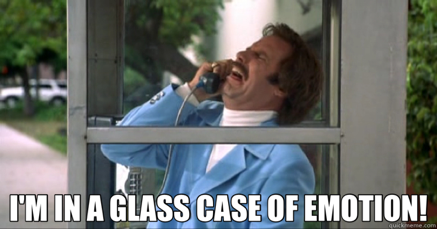 While Cary goes to yoga, we cut to Stephanie and Travis touring their new home with their kids. Stephanie says the words, "It's going to cost over $1 million to make it into something that works for us." Yeah. I mean, that house is pretty much a total bean-and-cheese-enchiladas-dump as is. At the very least, those vaulted ceilings and glorious custom-made chandeliers have to be stopped. And—I know this is obvious—but you need at least 18 indoor swans and swan handlers to make this place even remotely habitable.
It's finally time to take LeeAnne to get her boobs re-boobed. Brandi picks up LeeAnne, and to make conversation, she brings up the fact that LeeAnne's plastic boob doctor is also an OBGYN. Brandi then asks LeeAnne if she is getting her vagina rejuvenated—except she uses the proper medical terminology and says, "your gobbler." She then attempts to mime the exact part of the female anatomy that is "the gobbler." Happy Thanksgiving, y'all.
In her doctor's office, LeeAnne disrobes, and while the camera appropriately fuzzes out her honkers, Brandi gives us a detailed report of what LeeAnne's jugs look like. Both LeeAnne and Brandi describe the positioning of LeeAnne's nipples as entirely wrong. Apparently, they point to the sky. Brandi says she would keep them. "They're like a statement piece. I would go on America's Got Talent like, 'Who has this, bitches?'" Yeah, I really do feel like Darci-Lynne would have been screwed if LeeAnne had actually shown up with this act.
And now, dear Reader, here's where the season actually starts. We finally get something that could catapult into actual drama and fights and wine-glass-breaking and screaming-while-wearing-lots-of-diamonds: The door closes behind LeeAnne as she readies herself for surgery. Brandi is alone with her, and she begins to yell-whisper. It's like the Ying Yang Twins "Whisper Song," only instead of whispering "be-yam-be-yam-be-yam-be-yam," LeeAnne is whispering terrible gossip about Cary and her husband, The Doobs.
LeeAnne's claims include that she has hands for hands and not knives for hands. She also claims that The Doobs has been at The Round-Up receiving donations of mouths to his private parts from other guys. It is my hope that she was very much pre-op drugged at this time.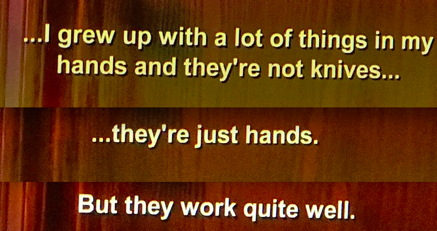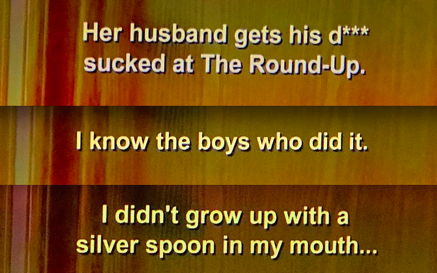 In any case, I'd like to take this moment to say that this is not the first time the sexuality of The Doobs has been brought up on the show. It's a part of the storyline of this season for some reason. Either Cary is bragging about how much sex she has with Doobs, or someone is saying Doobs likes guys and doesn't like chicks. The question of his sexuality was even brought up from a member of the audience during a question and answer break at the premiere event I attended that LeeAnne and D'Andra hosted.
Doobs, I hope you're taking all of this as a compliment. These chicks REALLY want to know what their chances are with you. Cheers to you for whatever it is that you like to do, as that is and shall remain your damn business. It is my hope that this storyline is dropped soon, as it is already really tired. I'd much rather watch Stephanie fall into her 2-foot-deep living room pool on a loop.
We hard cut to D'Andra kicking ass at the gun range, and teaching Cary how to kick ass at the gun range. The Doobs and Cary are bickering on their way into the gun range. D'Andra asks, "Are y'all having problems?" And Doobs, this time giving me more Danny McBride from Vice Principals, pouts and says,  "I'm just kind of irritated with her." Then the two make jokes about shooting each other with guns. D'Andra responds with the appropriate face.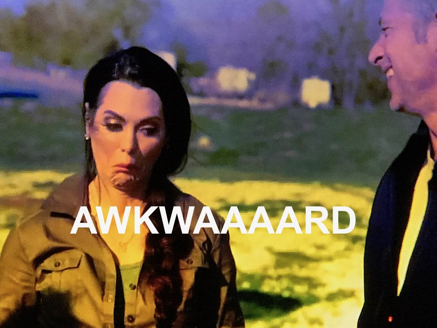 Cut to Doobs being terrible at shooting guns. Zoom closer in on Doobs as he misses the target over and over. You're tight in on his eyeball now. One single tear falls out of his eye, onto his cheek. Now you zoom into his brain, where there are a million Doobs just crying and crying despite every Doobs being very well-dressed. Zoom out and Doobs clears his throat and stands up and brushes off his pants. Poor Doobs.
Hard cut to Kameron packing for the girl trip to Mexico. Kameron is concerned about flying commercial, because that means she might have to take normal person luggage. "I don't know what I'm gonna do, because Mexico's gonna roon my furry bahg." Her husband looks at the bag and then back at her. "I always prefer flying private, but who woont." Who woont, indeed, Kameron. Who woont.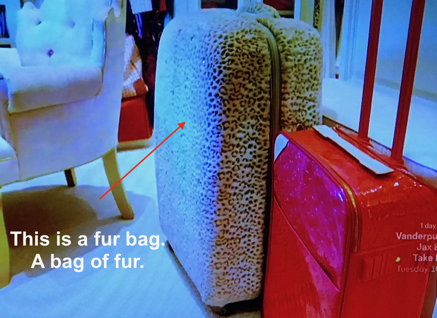 The ladies arrive in Playa Del Carmen and are taken straight to the Presidential Suite. Now, here's where Bravo shows us where these ladies are on the totem pole. Spoiler alert: they're at the bottom. The very bottom. Just below Real Housewives of New Zealand. That's low, y'all. I know this because they are all staying in the Presidential Suite at that hotel. The one suite for six ladies. And they all acted extremely thankful and cordial for this suite, too. It's a test, ladies! You're supposed to fight over your rooms like Ramona and Sonja and complain that you never sleep on anything smaller than a California King and bitch about the furniture and the view and it's supposed to be beautiful for us to look at and terrible for you because it's your version of a Motel 6. Where my Kameron at? C'mon Kam. Surely you have something to say about this terrible room-sharing situation? No? Nothing? Just thankful? Dammit.
At the end of this episode, Brandi tells more people what LeeAnne whisper-yelled at her. And she does the exact impression of what I thought it looked like. This girl's impressions are on point. At least we have that to hold onto. I can't wait for next week when none of this explodes into anything. I hope D'Andra at least brought her shotgun so she can shoot it at the sky to shut people up.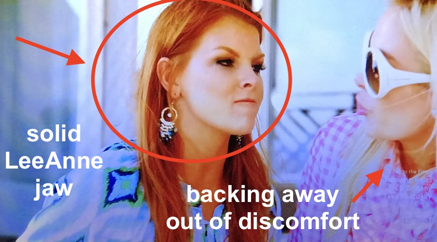 Drinking game for next week: Every time Brandi does an impression of another housewife, drink. Every time Cary looks shocked, drink. Every time LeeAnne tries to pretend that she never said any of that stuff behind the door, chug. And a big cheers to The Round-Up. Hope y'all got some good business after this week.