There's one more weekend to catch Matthew Paul Olmos's play so go the ghosts of méxico, part two, the second in his ongoing trilogy about drug wars at the U.S.-Mexico border, at Undermain.
A surreal effect takes hold the moment you step into the theatre. Music and intricate set design surrounds the audience on every side. The production immerses viewers in a dreamlike, surreal, beautiful, and weird way, creating discomfort and slight confusion in the enjoyable way that only good theatre can.
"The cycle … is tied together by the use of music and hyper-realism," Olmos says. "I generally describe [the genre of] my work as hyper-realism, that is just a term that I've always felt better describes what I do. I certainly don't mind if people use the term magical realism as there are roots in that to my work, and I know for many the distinction is not so tangible. This is a topic that writers discuss a lot, particularly those in the Latinix community, though what we mostly discuss is how interesting it is what sort of writers find themselves naturally drawn to creating worlds where the impossible happens, where the dead have agency, where animals or other 'objects' have free will and speak. My personal take on it is that there is this want to find beauty and poetry particularly when the real life situation is difficult or feels impossible to overcome."
In a long list of good things to say about the production, the acting is at the top. Five women play men to explore machismo and masculinity in Narco culture.
"My hope is that audiences consider the world of these cartels in a different way with women in the roles, so we are looking less at the reality of the situation, and more asking why and how it exists to begin with," Olmos explains.
Gloria Vivica Benavides portrays the business-minded El Jefe; Stephanie Cleghorn Jasso is the power-hungry, hyper-violent El Azul. They're convincing in their movement and speech.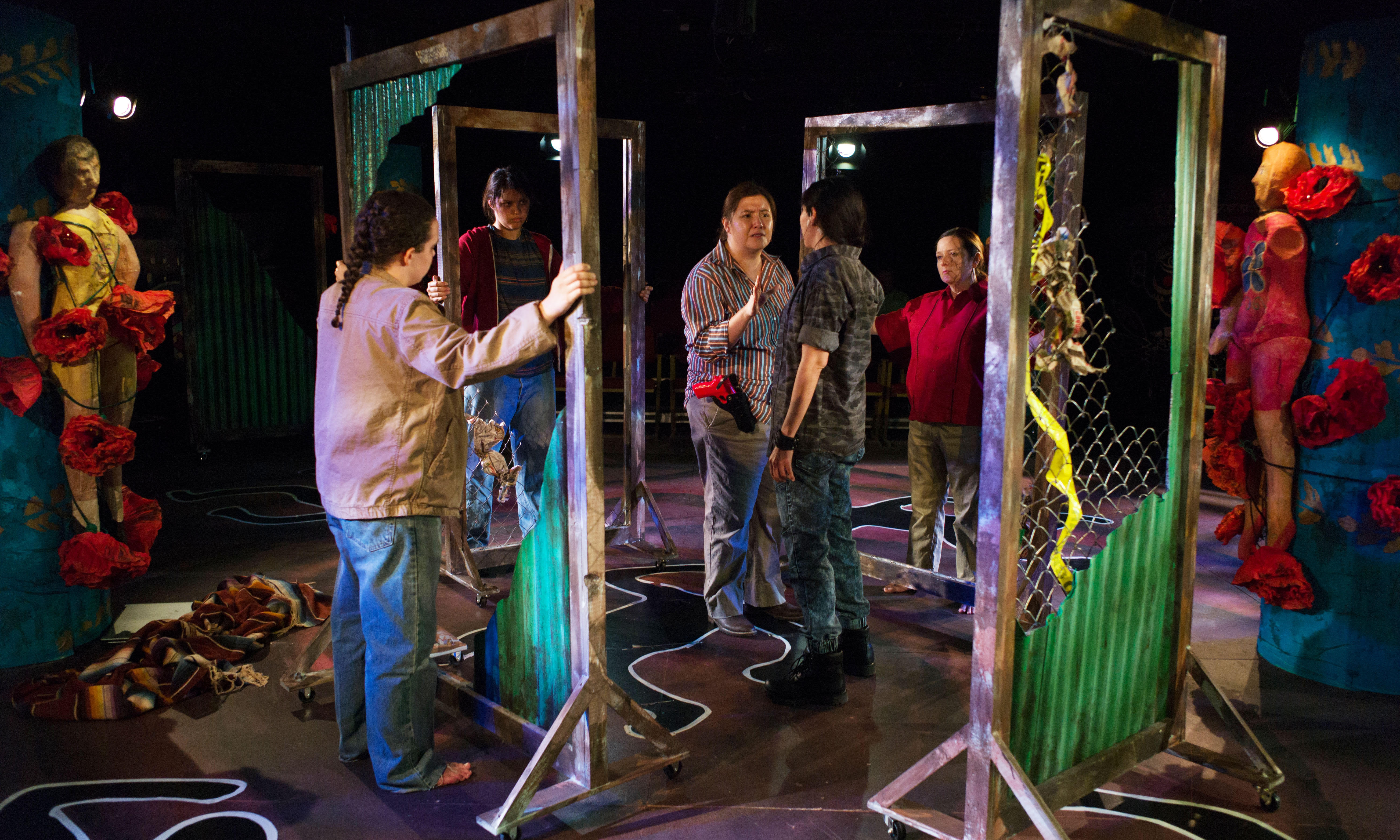 "Matthew has a poet's ear for language. He's really gone in and listened to that language of Machismo, the language of the border. The landscape is described in their voices," director Katherine Owens says.
"My writing a play just showing cartels how they are to me seems better left to a documentary, but commenting on the male-ness or machismo of that world is something the theater can do in a more interesting way," Olmos says.
Songs, otherworldly music, ghosts, and abstract dances run through it. Only come to this show if you are willing to fully invest. Olmos takes on big, intimidating questions.
"In all three plays, the concern of what will happen to our children and for their children after is at the heart of the injustices of the drug war," he says.
Get the FrontRow Newsletter
Get a front row seat to the best shows, arts, and things to do across North Texas. Never miss a beat.