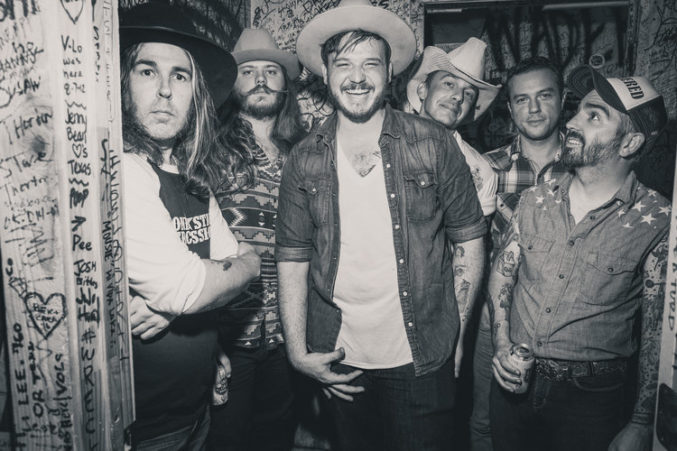 Vandoliers Are a Texas Band
A little bit punk and a little bit country, the Dallas band is all Texas. As the group enjoys a breakthrough year, the rest of the country is taking notice.
Even though he's seeing more musical success than ever before in his life, veteran frontman Joshua Fleming is terrified. On the heels of sophomore album The Native, Fleming's band, Vandoliers, is rapidly becoming one of the most exciting new acts in all of Americana, lauded by American Songwriter, Rolling Stone, and Vice. Which means that now, Fleming and his five bandmates are finally treating their gritty Texas tunes like a full-time job. 
"I had to quit my day job, and so did everyone else in the band," Fleming says. "This is our career now, and it's very scary. We're only a two-year-old band, and I'm a little freaked out. It hasn't really caught up to me yet that things are actually going well. I've been playing for 16 years and I've never seen this kind of support or this kind of reaction to my music. I don't have a country music pedigree. I consider myself a transplant from rock and punk and coming into a new genre, I'm just happy people are listening to my music." 
Before forming Vandoliers alongside Dustin Fleming, Cory Graves, Mark Moncrieff, Guyton Sanders, and Travis Curry, Fleming fronted The Phuss, known for high-energy, blown-out punkish tunes. Fleming brings plenty of that influence to Vandoliers, whose equally kinetic tunes have been described repeatedly as a modern revival of cowpunk. But one listen to The Native is enough to prove that there's more going on here than some retread of '70s country punk.
On The Native, Tejano and traditionalism and Bob Wills-style Western swing are all shaken together into a musical Molotov cocktail with rockabilly and Willie Nelson-era outlaw country. "For better or worse, it's Texas music. I'm obsessed with the different sounds that came out of our state," Fleming says. "We wanted to pay tribute to that, but our sound is really mostly about my life and my travels and where I've been and what I've done. There's a couple of boot scootin' songs, but that's about it. This is our attempt at making a truly Texas record."
But Vandoliers' sound doesn't fit squarely into any genre-shaped box, much less Texas country, and it's easy enough to think that the band might struggle amongst the frat boy crooners and honky tonk heroes that currently dominate the state's expansive music scene, but that hasn't been the case. "I've felt a lot of support through other bands," says Fleming. "I'm very thankful to be in this scene, wherever I am in it." 
Coming from a punk background, Fleming says that fellow Texas musicians, like Paul Cauthen, the Texas Gentlemen, and the Old 97s, were surprisingly welcoming to a complete newcomer. "Punk is real competitive and everyone talks shit about each other," he says. "There's a lot less idol worship in Texas music, which is really great. Everyone is really welcoming and everyone is a really cool dude and I can come up to anyone and ask, they'll give me their two cents. There's a really cool camaraderie in this scene." 
But for whatever reason, considering the broad popularity of local country music in cities like Houston and New Braunfels, Dallas hasn't been much of a breeding ground for country acts in recent years. "There ain't no country about Dallas, it's a mega-city," Fleming says. "I called the band Vandoliers because that's what my dad always called urban cowboys. If I wanted to be a straight-up, 100 percent traditional country guy, I would have moved to New Braunfels or Austin or Nashville. But this is where I'm from. It may not be a country music community, but we have a great music community in Dallas. Our biggest supporters are garage and punk rock fans."
As such, it isn't surprising to see Vandoliers share a bill with anyone ranging from Shooter Jennings to Charlie Robison to San Antonio punk band Piñata Protest. With country music's popularity in decline, Vandoliers arrived at just the right time to introduce an entirely new crop of music fans, whether they're into punk or Tejano or folk, to traditional Texas music. 
Vandoliers still call Dallas home, unlike other bands that have left the city for more fertile musical pastures. That decision has everything to do with Fleming's own personal connection to the scene. "When I was a kid, everyone went to local shows. If you had a band, you were cool. Being in a band gave me a place," he says. "My first rock show was Suspicious Delicious. No one will remember them, but I do. That's important for my cred, here." 
Now, though, Vandoliers are poised to be one of the year's biggest Americana breakouts, and the group is looking beyond Texas. In the last two and a half months, the band has played in 38 states. Last week, The Native cracked the top 40 on the Americana Music Association's chart, and earned attention on radio stations in Europe. It's undoubtedly been a huge year for the band, and it's only going to get bigger.
"There's a lot less idol worship in Texas music."
For much of the summer, Fleming and company have been on the road opening for the Old 97s, introducing their frenetic Texas sound to audiences across the country. "The Old 97s are from our backyard so of course they're a giant influence on us," he says. "They play high-tempo, countryish music, and they kind of took us under their wing. Ken [Bethea] called us two years ago to come hang out with them and Turnpike Troubadours in Helotes at John T. Floore's. We stayed in touch, and then Rolling Stone writes about us. I'm still kind of reeling from that, and then I get a call from Ken and he asks if we're available in June. I cancelled everything we had in June and said yes."
What happens next is really anyone's guess. Vandoliers will continue to tour throughout the year, with plans to maybe head to Europe in the coming months. Toward the end of 2017, Fleming will start writing the band's third record, but he isn't quite ready to think about that just yet. "I'd like to get that worked out so I can relax a little bit, because I still have another record on my contract," he says. "The plan is to stay on the road, keep making records, and hopefully the universe and the industry will allow that to happen."