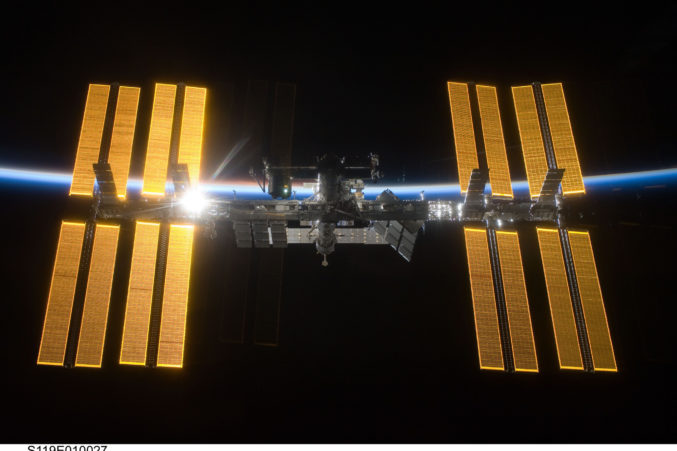 Upcoming Perot Museum Exhibitions Feature Space and Dinosaurs
Two traveling shows in the museum's 2017-18 season take you into the future and the past.
You won't have to go to the Johnson Space Center in Houston to get a glimpse at life in low Earth orbit. Just stick around to see a full-size simulation at the Perot this fall. The 10,000-square-foot Journey to Space exhibition coming to the museum in October includes two rotating labs that simulate the look and feel of an International Space Station module, along with a number of astronaut objects from NASA, according to a press release from the Perot.
Other interactive features of the exhibition include, most promisingly, a robotic arm similar to the one used by the space station's residents. Its run coincides with the museum showing the Journey to Space 3D documentary, in which Patrick Stewart narrates a lesson in NASA's upcoming missions.
After exploring the present and future of space exploration, Perot guests can next year travel into the past with the Ultimate Dinosaurs exhibition, which will showcase a newly discovered breed of dinosaurs that evolved in South America, Africa, and Madagascar. These dinos' remote evolution — this is not your familiar Jurassic Park menagerie — serves as a case study for ancient geological trends, particularly the slow and dramatic breakup of the supercontinent Pangea into the distant landmasses we know today. What the exhibition's missing in fossils it makes up for in "augmented reality technology" and interactive features.
Both traveling exhibitions will cost an extra fee for museum members and non-members. Journey to Space makes its way to Dallas from Oct. 21 through May 6, while Ultimate Dinosaurs is here from June 23 through Jan. 26, 2019. Here are details on the rest of the museum's 2017-2018 season, taken from the press release:
3D FILMS IN THE HOGLUND FOUNDATION THEATER, A NATIONAL GEOGRAPHIC EXPERIENCE. Fly high, dream big and blast off to space! Pop on some 3D glasses, and get ready for a wild ride. To view trailers and film times, go to perotmuseum.org. Films are presented locally by Primrose Schools.


HURRICANE 3D (Sept. 8, 2017-May 24, 2018). A force so powerful, ancient civilizations revered it as a deity, Hurricane: A Wind Odyssey is the journey of a storm named Lucy as it transforms from bubbling clouds to a raging monster covering 500 miles. The view of this storm is from space, through the eyes of animals, from the emergency agencies meant to warn and help, and ultimately from the ground – as it explodes and unleashes its fury. Run time 20 minutes.


JOURNEY TO SPACE 3D (Oct. 19, 2017-May 6, 2018). Narrated by Patrick Stewart, Journey to Space 3D explains how space exploration didn't die with the end of the Space Shuttle program. Rather, some of the most exciting missions of our time lie ahead – from capturing asteroids to landing astronauts on Mars. Run time 20 minutes.

DREAM BIG 3D (through Nov. 22 and returning Feb. 17-May 24, 2018; Supported by The Hockaday School). From the world's tallest building to underwater robots and a solar car race across Australia, Dream Big 3D – narrated by Jeff Bridges – celebrates the human ingenuity behind engineering marvels big and small, and reveals the heart that drives engineers to create better lives for people around the world. Run time 40 minutes.

LIVING IN THE AGE OF AIRPLANES (Nov. 24, 2017-February 16, 2018; Presented in 4K Digital by American Airlines). Produced and directed by Brian J. Terwilliger and narrated by Harrison Ford, Living in the Age of Airplanes weaves together the profound ways that aviation has transformed lives, connecting countries and cultures while expanding horizons and minds. Run time 47 minutes.


PROGRAMS. The Perot Museum's popular National Geographic Live! Speaker Series kicks off Jan. 17, plus family-friendly Discovery Days, unforgettable sleepovers, amaze-your-brain architecture tours, adults-only nights, seasonal camps and more equates to plenty of enriching experiences to fill your calendar over the coming months.


2018 NATIONAL GEOGRAPHIC LIVE! SPEAKERS SERIES. Every year, a trio of National Geographic's worldly explorers is tapped to lead the Perot Museum's National Geographic Live Speaker Series. Kicking off the 2018 series on Jan. 17 is Albert Lin, a National Geographic Emerging Explorer and research scientist/engineer who has spent 10 summers trekking solo through remote regions of the world making it his mission to collect vast amounts of data without disrupting the land or cultural beliefs of indigenous people. Then on March 21, the series continues with Terry Virts, a celebrated NASA astronaut, space shuttle pilot and International Space Station commander. Virts helped to install the 360-degree observation module on the ISS, and made good use of it, taking more photographs than any astronaut who came before him. Wrapping up the series May 9 is National Geographic Emerging Explorer and natural history photographer Anand Varma, who has a knack for capturing intense images of the world's tiniest creatures. From zombie parasites to mites that prey on baby bees, Varma sets out to amaze, not disgust, with his brilliant minute images while revealing the science and stories behind these complex creatures. All three talks will take place at 7 p.m. in The Hoglund Foundation Theater, a National Geographic Experience. Tickets on sale Oct. 6. Season ticket packages are $75 for Museum members and $90 for non-members. Individual tickets are $30 for Museum members and $35 for non-members. National Geographic Live is presented by Charles Schwab & Co., Inc. and The Great Courses.

ARCHITECTURE TOUR. Did you know that 20 percent of the Perot Museum is made of recycled materials … or that you can see the visible result of a concrete truck snarled in traffic (during construction) behind the Box Office? Learn these fun facts and more on a Perot Museum Architecture Tour. See this award-winning Museum – lauded for its bold artistry and sustainability and designed by 2005 Pritzker Prize Laureate Thom Mayne and his firm, Morphosis – in a whole new light. Tours, which last 1-1.5 hours, are available for groups of 1-20 at a fee of $5 per person and free for members. The tour is only available with the purchase of Museum general admission tickets and must be purchased in advance.

SOCIAL SCIENCE. Sans kids, Social Science lets adults party and play at the Perot Museum while unlocking their inner geek! Exclusively for the 21-and-older crowd, the quick-to-sell-out evening event makes for a cool and quirky date night, complete with eclectic cocktails, craft beers, food by Wolfgang Puck, performances, innovative experiments, engaging discussions and unique inventions. Upcoming events are from 7-11 p.m. on Oct. 20 (Cosmic), Jan. 26 (Experimental) and April 27 (Formulate). Tickets are $15 for members and $25 for non-members. Social Science is presented by Riveron Consulting and supported by Brown-Forman. Please drink responsibly.

FAMILY-FUN EVENTS – DISCOVERY DAYS AND SLEEPOVERS. Spend the day (or night!) at the Perot Museum. The family-fun Discovery Days offer engaging themed activities throughout the Museum on the second Saturday of the month from 10 a.m.-4 p.m. Plus, Perot Museum sleepovers will have young minds dreaming big as kids and their adult chaperones explore the entire Museum, enjoy a live science show, catch a 3D film (before catching some z's) and more. Discovery Days are free to members and included with general admission for non-members. Sleepovers start at $45 per child and $30 per adult chaperone. Visit perotmuseum.org for dates and themes.

DISCOVERY CAMP. School-aged kids (K-6) can get a dynamite dose of science while school is out at the Perot Museum's Discovery Camps offered fall, winter and Spring Break and featuring STEAM-inspired activities. Plus, tots ages 3-4 can partake in half-day camps featuring interactive investigation and exploration with hands-on science experiments and creative projects led by expert camp instructors. Visit perotmuseum.org/camps for dates, themes and prices.