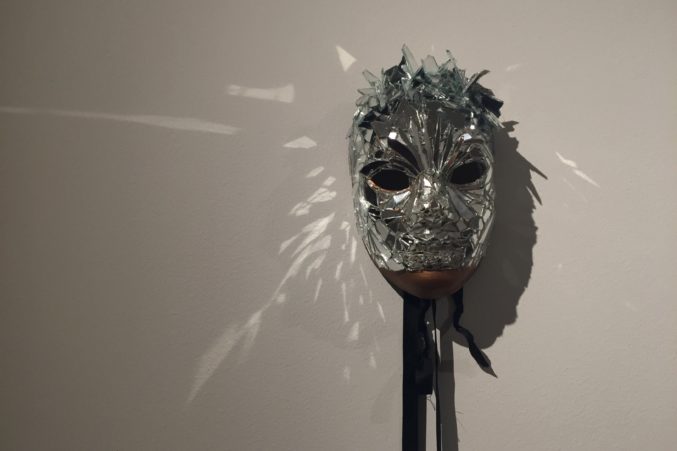 Fifty Artists Go 'Mask Off' At South Dallas Cultural Center
An exhibition and silent auction enters the masquerade - and precedes a ball based on 'Gossip Girl.'
Darryl Ratcliff is moving between chat circles in an art gallery, which is what you can find him doing most any Saturday evening. But this opening is his. A substantial crowd gathered to browse 50 artist-made masks that Ratcliff—who, full disclosure, is an occasional arts contributor to D Magazine—commissioned with a special grant from the city of Dallas. It's getting so hot in the South Dallas Cultural Center space that those wearing blazers wish they hadn't. Something catches Ratcliff's eye past the minglers in the back – a glimmer. He moves past some friends to reach a mirrored face leaning ominously forward on its nail.
"A little precarious," he says, tipping the mask back to steady it against the wall.
The light its reflective pieces cast is reset, making a different shape, and steadied again. All the while, its eyeholes keep watching from their post. It feels a bit like all the masks are watching from the walls. Their varied flamboyance is a suggestion of presence, but with no faces to host them, there's an absence. No cards mark the pieces; they're instead labeled by numbers. Silent-auction bid guides at the front connect each mask to its maker, but the presentation is anonymous unless you page through those notebooks. Ratcliff named the show "Mask Off." It's a nod to the so-titled Future song, with the lyrics of its ubiquitous hook standing ambivalent toward our day-to-day performances: F— it, mask off.
References to that same song circulated earlier Saturday as white supremacists in Virginia raised flags bearing swastikas, their arms in Nazi salutes, clutching tiki torches in an en-masse gesture of racial violence in Charlottesville. It's important to understand what the symbols mean. But to imply those men took their masks off in using them – that they were ever wearing masks – is naïve. Make America Great Again caps were clearly dangerous enough in their Trump-echo. So whose masks came off, really? White Americans who'd insulated themselves from the truth of that danger, perhaps. Ratcliff knows veils work both ways – they can keep people from seeing, and the wearer from looking.
"I love the "Mask Off" remix with Kendrick Lamar," Ratcliff says. "There is this moment where Lamar channels Prince and exhorts the listener to take their masks off so they can see."
The "Mask Off" exhibition is a precursor to a masquerade ball Ratcliff is planning for November. (He's imagining a series of Gossip Girl parties centered instead on people of color.) So gallery-goers who bid on and win masks at the closing on September 2 have a theoretical place to wear them. And the experience of actually putting them on would be wildly different depending on the piece. Montoya Williams' mask is heavy with moss and seashells. Keer Tanchak's towers at least a foot above the head. Ratcliff's open call for masks makes this exhibition different than other contemporary uses of the form, which have ranged from Allison Smith's subversion of gas masks from World War I and World War II to specific re-imaginings of traditional African masks and masquerade performance.
"As the show came together, the thematics definitely expanded and are still expanding for me," Ratcliff says. "In many ways, almost every layer of the show invokes a mask in some way—from my Facebook status call to the installation at the gallery and the audience for the show."
Proceeds from the silent auction will go directly toward the artists, although a few have decided to donate theirs to the South Dallas Cultural Center and Friends of the Oak Cliff Cultural Center.