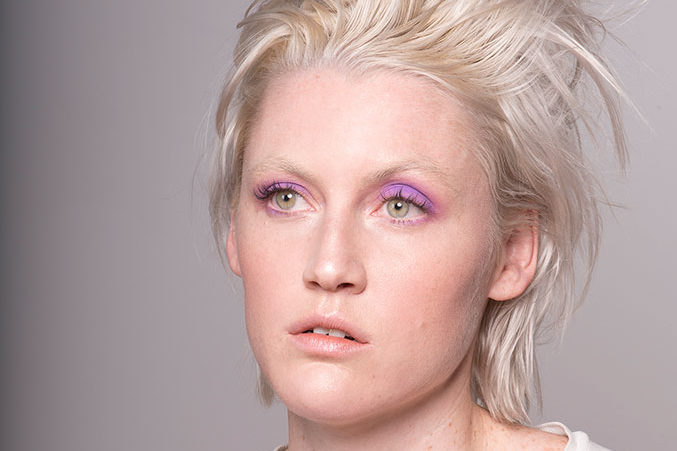 Sarah Jaffe Is Always Different, Always the Same on Bad Baby
The North Texas songwriter's new album is her boldest yet, but don't call it an evolution.
For fans who were first introduced to Sarah Jaffe by her moody 2012 track "Clementine," the artist's sound is barely recognizable today. Since 2014's Don't Disconnect, Jaffe has moved in a decidedly poppier direction, experimenting with vintage synth grooves and extensive sonic layering. Now, she's back with Bad Baby, out on Kirtland Records on July 7, and Jaffe's sound has never been stronger or more diverse.
The album comes after a bit of a lull for Jaffe, who found herself listless and unmotivated after the record cycle for Don't Disconnect was over. "With the time in between Don't Disconnect and this record, I was really just at this physical plateau," she says. "I hated this feeling of twiddling my thumbs but also knowing that I needed to be working harder, and I wasn't. When you start creating your own schedule and you're in between schedules, it's really easy to slide into complacency and sit on your ass every day."
And so Jaffe was, as she says, "fuckin' off," spending her days buying towels at Tuesday Morning and lazing around Denton. But then came a dose of brutal honesty from an unnamed friend, who essentially told Sarah to get her act together and start treating music like a job. "After that, the light bulb just kind of went off," she says. "For some stupid reason, I just thought the songs would come when they come, and that's bullshit. Songwriting is a muscle, and you have to exercise it. They overflow you in the beginning a lot of times, but once it's your full-time job, it doesn't come easy."
The backbone of Bad Baby is, as with everything she's ever recorded, Jaffe's impeccable songwriting. The album digs deep into the complexity of relationships on songs like "Synthetic Love," while "Doctors Orders" explores her own experience of growing up as a musician. The 13 tracks culminate in a maturation of Jaffe's uniquely raw lyrical aesthetic. But don't call it an evolution—that's a descriptor that Jaffe really doesn't care for.
"Do you listen to the same thing over and over again? Most people don't. It's the same way when we make music," she says. "I'm not going to make 'Clementine' over and over again. I have a hard time personally understanding it as an evolution. I still place a heavy influence on lyrics, I'm still going about it in the same way. I still start from raw grit, just me at home with a guitar or a bass. When I take it into the studio, it's in its rawest form, but it's how I dress it that makes the difference."
Bad Baby is a first in at least one major way, though. On her previous efforts, Jaffe tended to record alone and bring in musicians later to round out her songs. This time, though, she brought in her live band from the beginning. Jaffe and her band shacked up at a house right next door to Denton's Echo Lab Studios, and spent about two weeks laying Bad Baby down on wax. "We all kind of ping-ponged ideas off of each other, and some songs were a communal effort to hone in on what we wanted to do sonically," she says. "The studio for me is always my favorite part. My fullest and most confident artistic self is in the studio because you have this instant satisfaction of trying and layering and getting it right. There's this really dynamic satisfaction that you get, especially when you add in friends who are musicians."
Staying close to home, in Denton or in Dallas, has been rewarding for Jaffe. Here, the crowds who have followed her since she was a fresh-faced 22-year old songwriter have been uniquely receptive to her sonic growth, as she's evolved from the sullen, stripped-down acoustic chanteuse that made her a household name for Dallas music fans, into a bonafide electro-pop superstar. "I lucked out with Dallas crowds. They've been really open to everything," she says. "They've been a springboard that I can come home to and not really have to think too much. They want to hear their favorites, but they're very accepting of new material. We feel really lucky for the Dallas and Denton crowds."
"I still start from raw grit, just me at home with a guitar or a bass."
But of course, Dallas crowds always want to hear "Clementine," and Jaffe's more than happy to play it. It's a song that will probably never leave her setlist at home, even if she's occasionally left it off at tour stops outside of Texas. "I'm a people-pleaser. I'm not going to say 'fuck this, I'm not playing the song you've waited for all set long,' says Jaffe. "I look forward to it becoming an archival song, a cool artifact. If I were to play it exactly like we did on Suburban Nature and then fast-forward to play anything from this record, it might be weird. But lyrically there's still very much a common thread between the two. There's still my voice and certain essences that tie those things together and make them the same."
Despite that connection with her past musical history, Jaffe is always moving forward with an ever-strengthening confidence as a songwriter, arranger, and all-around musician. Bad Baby offers a more cohesive take on the bright and shimmering electronic-tinged sound that she introduced with Don't Disconnect, and may well be her strongest effort since Suburban Nature. But don't be surprised if she switches gears yet again in search of keeping things fresh and authentic. "It took a long time to find my niche, and I'm still finding it," she says. "I'm still trying to figure my shit out constantly. We all know when something sounds like bullshit or sounds forced. You know immediately, you feel it."