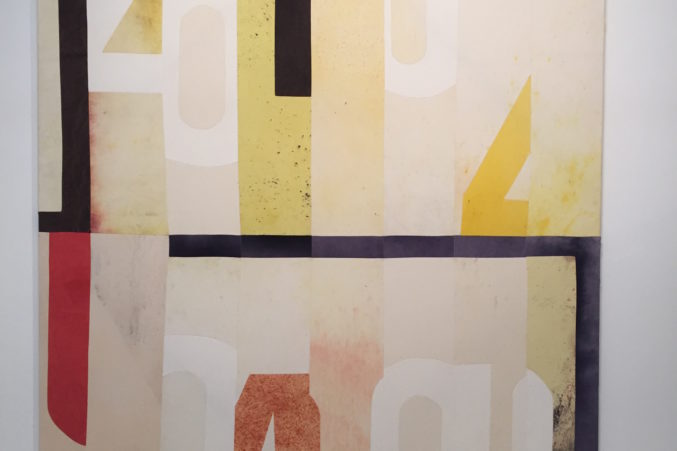 Pia Camil's T-Shirt Art Stitches Up the Excesses of Global Commerce
A trio of exhibitions at the Dallas Contemporary explore identity and the detritus of consumerism.
The Dallas Contemporary is currently featuring three exhibitions: Ambreen Butt's What is left of me, Pia Camil's Bara, Bara, Bara, and Keer Tanchak's Soft Orbit. The unconventional mediums favored by each artist help each show complement the other.
Keer Tanchak's work is placed in the Contemporary's smaller gallery. One could stand in the middle of the room and spin around to see the myriad of colors in succession as one piece flows into the next. Tanchak created her work by cutting aluminum sheets into odd shapes, defying the limitations of a more conventional canvas.
Ambreen Butt explores the concept of identity in a deceptive way. She casts fingers and hands in resin: A detailed red-and-white patterned design is revealed, upon closer inspection, to be a compilation of realistic looking cast fingers. I couldn't help but shiver a bit. She has created other designs with resin-casting, using items such as keys and locks. Other intricate messes of spirals and swirls are made from snippets and pieces cut from paper. The papers are from prosecution transcripts and other source materials that Butt has boiled down to short, indecipherable snippets, a striking comment on political oppression.
Pia Camil's installations are extremely captivating. Her hand-dyed fabrics, cut and pieced together, create distinct images. One of these, a long fabric hanging from a rod like a curtain, is mesmerizing. The billowing fabric feels fluid, but broken by the jagged geometric shapes of mismatched dyed textiles.
The real showstopper takes up one of the Contemporary's largest rooms. Tied with white rope, crisscrossing from all corners and suspended above, is a sweeping patchwork of hundreds of T-shirts, ripped and sewn together with the shirt holes gaping open. The installation, "Divisor Pirata," is interactive, allowing visitors to walk beneath it and even stick their heads through the openings. Camil collected these shirts over the course of several months from the markets of Mexico City's Itzapalapa, piecing them together as an example of the excesses of consumerism. Bobbing and weaving around the blanket of tees I spotted sorority logos, marathon mementos, and a tee emblazoned with Duck Dynasty marketing. The exhibition is called Bara, Bara, Bara, short for "barato," which means "cheap" in Spanish. These cheaply made shirts, shuttled back and forth from Latin America to the U.S., showcase the permeability of borders and the commodification of so much of our lives.