For decades, many Dallasites' first experience with contemporary art did not occur at the Dallas Museum of Art, but rather at NorthPark Center. I remember learning about artists in college, people like Frank Stella and Joel Shapiro, and realizing that I had seen their work in person at the mall that's sandwiched between Northwest Highway and Park Lane. When visitors come to Dallas seeking to understand our cultural scene, many art world types can't help but refer them to NorthPark.
And for good reason— there might not be anything more distinctly Dallas than a luxury mall built on a former cotton field, filled with art from a private collection, both a paean to cultural accessibility and big business. And in a capitalist society, a portion of the amount of wealth generated by business winds up benefitting the general public in some way—on its face, a win/win.
The Nasher Family would eventually establish the Nasher Sculpture Center to further cement the family's artistic patronage, but its legacy of art still continues at NorthPark. The collection now has a full-time curator and there is currently a show by Dallas-based artist Arthur Peña outside of the Coach store. Indeed, the legacy of melding luxury business and contemporary art is still strong in this city. Tim Headington, whose Headington Companies was behind the development of the Joule Hotel and ultra-luxurious fashion mecca Forty Five Ten, has most notoriously brought the Chicago-based artist Tony Tasset's huge Eye to Main Street. The billionaire oilman has filled the Joule with artwork by artists such as Tony Cragg, Noam Rappaport, Callum Innes, Richard Phillips, and Andy Warhol. He might be the successor to the Nashers of melding commerce with public art.
In April, Headington Companies opened a trio of restaurants in the Design District that includes Wheelhouse, Sassetta, and Go Go. The development included Daniel Arsham's Moving Figure—a sculpture that can be seen both from the courtyard between the restaurants and the bordering street of Oak Lawn. The sculpture, which is set into an off-white block that stretches 18 feet high from the ground, appears from one side as if a figure is trying to escape from the wall or has perhaps already escaped. Viewed from the restaurant side, you see only an indentation.
The piece produces a sense of movement, perhaps the feeling of bungee jumping. This is Arsham's first attempt at public sculpture; his last appearance in Dallas was a partnership with Pharrell for the world premiere of the Rules of the Game during the 2016 Soluna Festival at the Winspear Opera House. Arsham is a buzzy name, a young-ish artist who gives a bit of tongue-in-cheek digital cool to his many collaborations. Arsham's work tends to wink at you, and this sculpture is no exception; when I asked him about the possibility of narrative meaning, or even poetics in this work, he responded that he wanted to create "work that could be about nothing, anywhere." And it is true— like many artists who are inspired by our digital age, his work has no real sense of place, no there-ness. It has no meaning besides a knowing global wink, and thus can exist anywhere. In short, Arsham's Moving Figure is a capitalist daydream.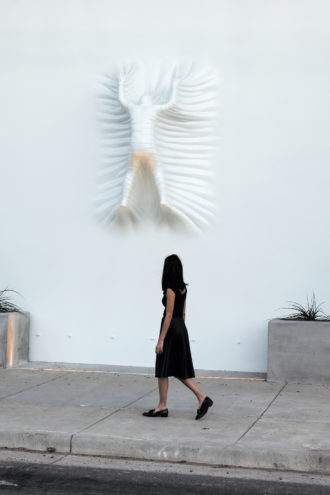 This might make it the perfect anchor for a luxury restaurant complex in the Design District, but does it make good public art? Should our public art—pieces that help define our neighborhoods, our built environments, and our city—be equally interchangeable with any urban environment anywhere in the world? Is this another sign of our local and regional insecurity when it comes to Dallas culture?
As a city we excel at form, but become gun-shy around content. It is exciting that more developers are including public art in their developments, and I hope more companies follow Headington's lead. Yet, as the business class continues its forays into the contemporary art world, I also hope they make it a standard practice to give first consideration to the many amazing Dallas-based artists (dozens of whom also have national and international reputations) that are working here. They could produce pieces that reflect the community in which they'd stand.
As such, whoever the wealthy commission in the future, I hope they encourage work that is distinctly Dallas. It should be work that relates to the people, history, environment, and future of this beautiful city. This is the type of public art that Dallas deserves, and hopefully the next generation of business leaders will embrace reflective, critical artworks as much as they embrace imported cool.
Get the FrontRow Newsletter
Get a front row seat to the best shows, arts, and things to do across North Texas. Never miss a beat.