The AT&T Performing Arts Center and the City of Dallas Office of Cultural Affairs have revived the Elevator Project, a program that offers small, independent arts groups opportunities to perform in Arts District venues. Danielle Georgiou Dance Group's 1960s musical romp
Donkey Beach
will cap the 2017 Elevator Project with a
June 22-25 run in Hamon Hall
. In this summer fling, the often experimental, politically engaged Georgiou applies her distinctive choreographic language to an iconic style and gives a distinctive spin to the genre of surf-boards and tanning-lotion frolics.
Q: You've got characters named Tad, Dooney, Bee-Bee … and the plot itself, which involves donkeys and magical beaches. How did all of this come about?A:
It came out of conversations. We had just finished a really heavy show in January, dealing with political issues and philosophy. We wanted to do something fun, an escape from the real world. I've always loved musicals. I was the kid who, during the summer, was renting
Beach Blanket Bingo.
So we were like, "We're going to make our own beach musical." I could use a mental break. I just wanted to make something fun. I've been involved in theater since I was a child and did a lot of musicals growing up. I have a running soundtrack daily, just walking to my job. I'm just one of those people who just skips places. And there's something surreal about a musical. I've always just wanted to do one, writing a show where the songs are part of the narrative.
Q: And the name?A:
We just though Donkey Beach sounded funny—two funny words put together. Then we started developing the storyline and characters.
Q: What were some of the challenges you confronted in working on the show?A:
Getting a grasp of that language. We don't talk that way anymore. People don't say, "Life's a gas" anymore. Translating how we talk now to a '60s laid-back dialogue was a challenge. It's also all original music, scored by a local composer. It had to be referential to rock 'n' roll and surf rock, but still modern and catchy. It had to have that quality where you can't get the songs out of your head, that fits into the musical genre, but still be funny and edgy. I [also] had to go and do research on dance styles in the '60s. I teach dance. I teach modern dance; I teach ballet; I teach jazz. But we don't teach that genre. What exactly is the mashed potato? Because we think we know the mashed potato, but it's actually more complicated. The watusi, the hullabaloo. We have a dance [in the show] that references the mambo. I'd never done the mambo. It was about creating a movement language that all of [the dancers'] bodies could understand and highlight what they're good at. It's been a really fun experiment. As a choreographer, it's been one of the most challenging and fun experiences I've ever had.
Q: The whole idea of a donkey and magic reminds me of A Midsummer Night's Dream. Did that kind of reference enter your mind?A:
It did. It did. Justin [Locklear, creative partner and part of the three-person live band] has a big background in Shakespeare and has worked for Shakespeare Dallas. We said, "We need to have a Bottom [the character who is turned into a donkey]. We need that character, and we need magic." So yes, there are clear references to
Midsummer
. Also, donkeys come into play in many plays and stories. I had someone say to me, "Oh, were you inspired by Pinocchio?" I didn't get it at first, but he goes to Donkey Island.
Q: I can't imagine that you'd write a show without your hallmark edge and a little bit of darkness. Is there an element of that?A:
There's definitely a twist in
Donkey Beach
. The show will take you to a place that you don't expect at the end of it. It's built structurally like a fairy tale. Those fairy tales tend to have a bit of a lesson at the end. And the show really looks at the heroine … the female hero … and what her role is. And kind of creates a balance between making a good decision and a bad decision, and what is good, what is bad. And it looks at the concept of revenge, first through this sort of sugary, happy-go-lucky lens. But it's not just fun and games at Donkey Beach. Something very serious happens. And to me that was very important. Because I looked back at these '60s films, and certain things weren't talked about. These characters were just very surface. And that's what makes [the musicals] so much fun. But we're living in a world with tropes and stereotypes—but with really catchy songs. But should we be?
Q: Any thoughts about performing in Hamon Hall?A:
We've performed in many venues, [most recently the Bath House]. So moving into Hamon, it's exciting because it's so tall. It just keeps going up. And it's a rectangle. We're used to boxes—black boxes. There are 17 in show, including the band [comprised of Justin Locklear, vocals and bass guitar; Trey Pendergrass, percussion; and Cory Kosel, vocals and guitar]. I hope that's really a draw: a big group coming together … and a live band.
_____________________________
Danielle Georgiou's go-to list of beach films:


Gidget


Muscle Beach Party


The Beach Girls and the Monster


Bikini Beach


Beach Blanket Bingo


The Ghost in the Invisible Bikini


Blue Hawaii


A Swingin' Summer


With an addendum: "The original 
The Parent Trap
  (with Hayley Mills) and 
Escape to Witch Mountain
. The sense of playfulness, adventure, surrealism, and magic from these two films sort of found their way in too."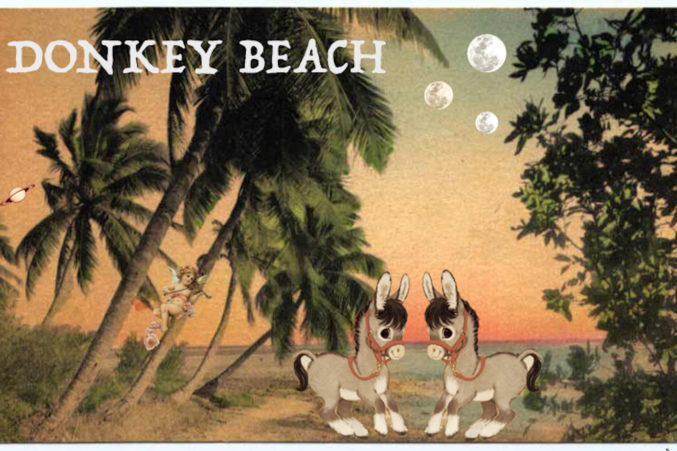 Get the FrontRow Newsletter
Get a front row seat to the best shows, arts, and things to do across North Texas. Never miss a beat.