You've seen Jeremy Biggers' work around town. It's hard not to. The multi-talented artist is involved in pretty much every channel of the Dallas arts scene. You've probably run into his murals in Deep Ellum, like the two-faced lady on Pryor Street, or the giant slice above Serious Pizza. Maybe you've received an event invitation that he designed. Watch any local music videos lately? There's a good chance he was involved. Between painting, photography, videography, and design, Biggers stays busy.
"I'm always working on something, whether it's painting, or music videos, there's always some iron in the fire," he says.
The renaissance man has been creating art for most of his life, beginning with the simplest medium.
"It started with just drawing, pencil and paper—that's all we could afford where I grew up in South Dallas. My mom would bring home reams of typing paper, No. 2 school pencils," he says.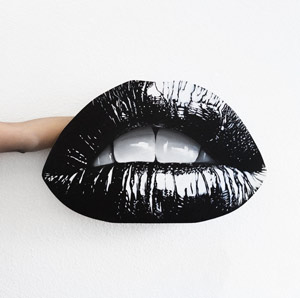 Biggers honed his drawing skills at Booker T. Washington High School, where he took up painting senior year. In college he added photography to his repertoire. Then he started shooting concerts and photographing his musician friends, who pushed him towards videography.
"They ultimately were forcing me into that realm. Because they were like, 'Man I love your photos. I would love to see what you would do with a music video, I don't care that you don't actually shoot music videos,'" Biggers says.
He has continued to collaborate with musicians, making videos for a number of local musicians like Sudie, 88 Killa, Blue, The Misfit, Dezi 5, and, of course, his wife Sam Lao. Another multi-hyphenate, Lao was a painter, sculptor, and graphic designer before she went into music.
"I love the fact that she and I both do similar things, but different enough so that we're not stepping on each other's toes creatively…" Biggers says. "She has a good eye as well. Anything that I might be missing, or be too lazy to execute, she comes in and is pretty straightforward. She doesn't sugarcoat anything, which I think ultimately helps a lot."
These days the artist divides his time between crafts, but he is especially focused on establishing himself as a painter.
Many of his paintings, like the mural on Pryor, give realistic portraiture a modern pop art twist. Take his series of lip paintings, for example. They look like lips, with all the imperfections and dimension of skin—but then they're dipped in gold, puckered, and made larger-than-life. Biggers has been selling these paintings through his Instagram page, where they are usually claimed within a few hours.
"Right now I've been painting a lot more than anything else," Biggers says. "I'm definitely trying to make a name for myself in the painting world, so I'm working towards having a certain look and a certain theme within my works."
Though he is giving most of his attention to painting at the moment, he says he always tries to keep a balance in his workflow.
"That's how I keep myself fresh, learning on the fly."
Get the FrontRow Newsletter
Get a front row seat to the best shows, arts, and things to do across North Texas. Never miss a beat.