Bonnie Jo Stufflebeam had begun to accept that she wouldn't be nominated for a Nebula award this year. Nominees for the prestigious science fiction literature prize are generally contacted a few days before the list is published, and other writers were already getting calls. The Denton writer knew that her novelette The Orangery was a contender. But no call came, and on the morning of her 28th birthday, the list of nominees was released—without her name.
She immediately began writing a new story, determined not to dwell on the disappointment. At 4 p.m., however, the phone rang. There had been a mistake. The Orangery was nominated after all.
William "Bill" Ledbetter, of Prosper, knew that The Long Fall Up, a novelette, was one of his most popular stories. A teacher friend even asked for permission to use the story in a writer's class. So a Nebula nomination wasn't an impossibility—but the call still caught him by surprise. After all, he didn't begin as a writer. His first love was space.
A child of the 1960s, Ledbetter watched the Apollo 11 moon landing and dreamed of being an astronaut. In high school, he learned that his poor eyesight disqualified him from being a fighter pilot and thus also from space travel. Still determined to get as close to space as possible, Ledbetter went into the defense and aerospace industry, where he's worked on rockets and parts for the International Space Station.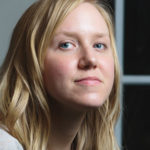 His first story was a high school writing assignment, scribbled out the night before it was due. Luckily, Ledbetter's teacher saw past the sloppiness and misspellings and read the story—the tale of a colony ship awoken from cryo-sleep, with a twist ending—aloud to the class. Their amazement stuck with him. He dabbled for years before deciding in the late 1990s to devote all his free time to writing. With no formal arts education, he honed his craft mostly from reading and by trial-and-error. He's published more than 50 stories and articles since 2000.
Stufflebeam—and yes, that is her real name—on the other hand wrote her first stories (hand-stapled books about the adventures of her cat) as a child. In middle and high school she considered herself primarily a poet. She wrote a few stories, but had trouble finishing them. It was in UNT's creative writing program that she caught the fiction bug. Realizing that other people enjoyed her work gave her the confidence to finish her stories. She went on to receive her MFA from the University of Southern Maine's Stonecoast program. Her fiction and poetry have been published in over 40 magazines and anthologies, and she has won or been nominated for a number of awards.
The two writers have known each other for about five years now; they travel in the same circles and go to many of the same conventions. For all their similarities, though, they are profoundly different. Where Ledbetter's fiction is gritty and detail-oriented, Stufflebeam's is lyrical, with clear poetic influences. Even their obvious shared distinction—writers of short science fiction—somehow fits each of them differently.
Stufflebeam is reluctant to call herself a science fiction writer, not out of any distaste for the genre, but because the term doesn't fully encompass her work. Her work involves fantastic elements, but it doesn't fit the androids-and-aliens stereotype. She enjoys playing with sci-fi and fantasy tropes, taking token devices from the genre and inverting them somehow. She also draws inspiration from mythology and fairy tales, with their characters who are both larger-than-life and somehow under-developed. "That, for me, is a very vibrant space to work in, because you can take those characters and you can round them out," she says. The Orangery gives desires and a backstory to a mythological character who has little agency in the original.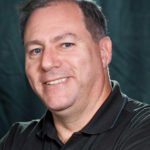 Ledbetter, though, is very comfortable with the sci-fi label. "The vast majority of everything I write is science fiction," he says. And not just any science fiction—he proudly prefers "hard" sci-fi, which emphasizes scientific accuracy. In many ways, his technical knowledge is a source of inspiration. While considering the effects of zero-gravity on human physiology, for example, he realized that in future space colonies, whoever controlled the artificial gravity would essentially control reproduction. That germ of an idea became The Long Fall Up.
The Nebula award winners will be announced on May 20 at the annual Nebula Conference in Pittsburgh, Pennsylvania. One of these North Texas writers may win Best Novelette, or it could go to one of four other nominees. Either way, both are already on to the next story.
Get the FrontRow Newsletter
Get a front row seat to the best shows, arts, and things to do across North Texas. Never miss a beat.