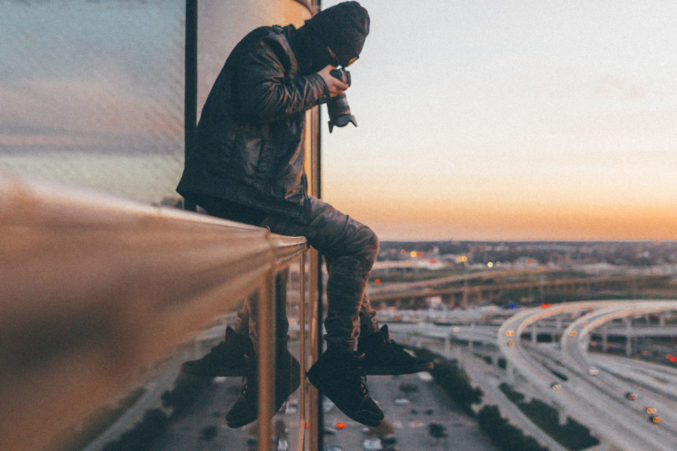 Dallas From Above
High Vis and his DTX Street collective are creating some of the city's best street photography from way over street level.
The photographer known as High Vis has harnessed the scenery of downtown Dallas and the influence of Instagram to spearhead a unique street photography movement. In less than 3 years, he's amassed a following of over 21,000 accounts via his personal profile and the popular DTX Street photography collective he founded. Gritty, vivid, urban imagery along with eye catching compositions are staples of High Vis's style. However, it's the stunning aerial views of the city he captures via scaling skyscrapers, construction cranes, and abandoned buildings that have fueled the rapid growth of his fan base.
He maintains some level of anonymity due to the fact many of his photos are not always obtained through, let's say, proper legal means. Because of that, he doesn't allow his government name to be shared. You'll also never see a photo of him where full view of his face isn't obstructed by a scarf, shades, a hat strategically placed just above his eyebrows. At times his camera is used as a shield.
High Vis, a native of Michigan, enlisted in the Navy right out of high school and was stationed for five years in San Diego, where he met his wife. The couple relocated to Dallas in 2010 and both went on to study graphic design. "I was initially going to study photography but my advisor suggested I do graphic design instead," High Vis says. "He told me I could probably learn photography as I went along, but having the graphic design background would be extremely valuable. And he was right because it's really helped my photography."
When High Vis moved to downtown Dallas the photography bug had firmly sunk its teeth in, and he was addicted to capturing all that his new surroundings had to offer. The moniker he adopted was short for "High Visibility" in the literal sense. The name, however, worked seamlessly into building his brand once he began taking the majority of his photos from high altitudes. "I just wanted my pictures to have a unique perspective. Everyone can get shots on the ground, but everyone can't get pictures from rooftops and buildings where you're not supposed to be," he says.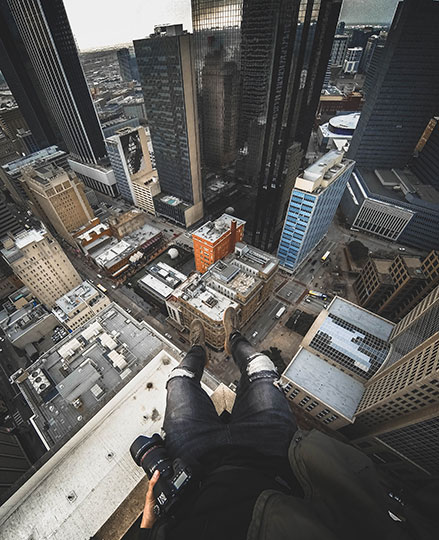 Word of his proclivity for risky shoots reached the halls of WFAA Channel 8. The news crew did a story where they tagged along for one of his unsanctioned rooftop sessions. The publicity came at a convenient time, as High Vis had just formed DTX Street not too long before the news feature aired. "DTX Street was started just over a year ago. I had built my own brand and I thought about all of the people I worked with who helped me," he says. "So my wife and I wanted to create something as a platform for other photographers to show their work and get exposure."
Exposure and creating inspired artwork is all fine and well, but High Vis never set out for this to just be a hobby. "I wanted to find a way to make money from something I love to do. People would laugh and say how are you going to make money doing this, and I'd tell them 'Just wait, you'll see,'" High Vis says. He's been contracted as a social media influencer for ZTE cell phones, MSTR watches, and Yums, to name a few. In January DTX Street held its first gallery show, titled "D-Tour" and plans for another show are in the works for later this summer.
The official DTX Street crew is comprised of seven core members, who are channeling their efforts into plans for a magazine. "Everything is going to be based around photography, but we're going to cover music, art and other topics. The initial version will be online but we plan on having a print version as well," he says.
Although High Vis admittedly enjoys the adrenaline rush he gets when capturing the city from above, he knows the danger is real, and doesn't take safety precautions lightly. "When it comes to shooting on rooftops I only do that with a small circle of people I know," he says. "I don't encourage others to do it and I also don't share certain locations I shoot from. Photographers shouldn't go out in big groups but you shouldn't go alone either. You're vulnerable when you're alone and you can get robbed easily. Also I always tell people when it comes to rooftops, if it's raining, don't do it. That's really dangerous."
Time will tell if plans for new ventures can be executed, but the pieces are definitely in place for High Vis and DTX Street to be ambassadors for street photography in Dallas.