Anastasia Munoz always wanted to create a sanctuary for artists, but she never expected her dream to take shape in an abandoned church. When the actress and arts educator began seeking a space for her project, an Oak Cliff building that once housed the Winnetka Congregational Church presented an intriguing opportunity.
"I was like 'a church?' I really didn't envision it in a church. Actually, I had my sights set on a space in Deep Ellum," Munoz says.
The dilapidated 88-year-old building was in need of saving, but it had everything Munoz could've prayed for. When Lola and Todd Lott got word of the project, they jumped on board as investors, and bought the property.
Two years and an extensive, ongoing restoration later, Arts Mission Oak Cliff is nearly open for business. The venue will host its first production—Cara Mia Theatre's De Troya—at the end of the month, and ease into full operation over the summer. When it's complete, Arts Mission will function as a community center, coworking space, and classroom for the arts. As a for-profit business, Arts Mission will be funded by the artists themselves.
"I had this idea, because I'm an actor and an arts educator, of creating a space where artists could all come together, and pay a little bit of money, and have space that they could share to teach classes, take classes, rehearse, create new work," Munoz says. Alongside coworking spaces and desks will be a library, a recording studio, a dance studio, a costume shop, pianos, and a private studio—"things that artists need but can't always afford."
Arts Mission will focus on the performing arts, but it will also offer a culinary arts program, a yoga and fitness program, and children's programming, including an after-school conservatory. Ultimately, the business is about developing a healthy and artistic lifestyle within the community.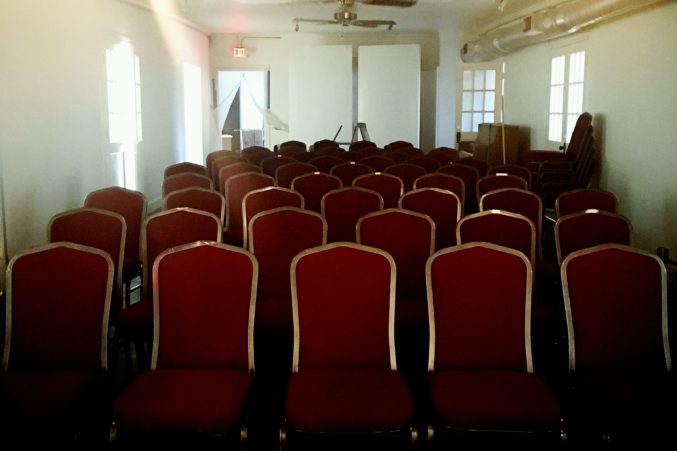 "There's nothing quite like this happening in Dallas, and it is in such a beautiful and incredible neighborhood," Munoz says. "We're excited to be a part of that fabric."
The neighborhood, on the other hand, was at first slower to warm up to the idea. After purchasing the building, the Arts Mission team faced a year-long struggle to rezone the property for commercial use.
"Oak Cliff is undergoing a lot of change, so people were skeptical about change coming into their neighborhood," Munoz says. "So it took a little bit to convince our neighbors and convince the city that this is a great thing happening in this church."
With many of Dallas' smaller art operations getting shut down in the past year, Arts Mission could become a mainstay of the city's arts scene.
"I think that having a space we know is safe, and that can always be open…I mean, it's a church, so we could call it the sanctuary theater, people can come and seek sanctuary and have the freedom to create," Munoz says.
Get the FrontRow Newsletter
Get a front row seat to the best shows, arts, and things to do across North Texas. Never miss a beat.