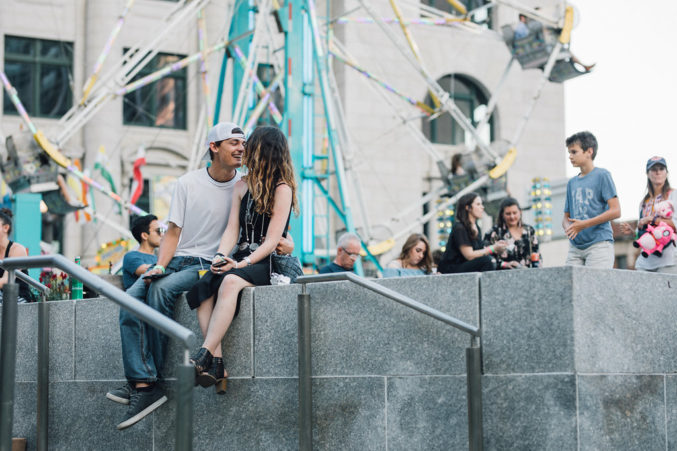 15 Festivals to Attend in Dallas This Spring
We've got festivals for everything here in North Texas. Like music, chocolate, books, margaritas, and Thai food, to name a handful.
We're in the midst of festival season in North Texas, here in the sweet spot where the days are long, but the temperature hasn't soared to its oppressive summer highs. Our unscientific research indicates that at least 15 festivals have already transpired in the last month. But it's not too late to get in on the action of outdoor music and food, typically condensed into one walkable area and the span of two to three days. Here are just a few upcoming festivals to put on your calendar.
Fortress Festival | Apr. 29 & 30 | The Fort Worth Cultural District
The inaugural edition of this festival hopes to make a splash with an impressive lineup (Run the Jewels, Purity Ring, and Flying Lotus, among others) and scenic venue, with stages at the Modern Art Museum of Fort Worth and the Will Rogers Center.
Dallas Book Festival & Dallas Festival of Ideas | Apr. 29 | Dallas City Hall and the Dallas Public Library
Taking place across the street from each other downtown, these symbiotic festivals have more on their mind than most. At the library's central branch, nationally acclaimed authors (Kristin Radtke, Jef Chang, others) speak while various panels pay testament to the city's ongoing literary renaissance. At the Kay Bailey Hutchison Convention Center (moved from city hall because of the likelihood of rain Saturday) thinkers from around the country talk about innovations in a number of fields — education, health, the arts — can be applied to better our city. The two festivals unite to hear from author Yaa Gyaasi, whose Homegoing was one of the most talked about books of 2016. You can also expect performances and other activities on the city hall plaza, including an evening show by the Polyphonic Spree. Both festivals are free.
Denton Arts & Jazz Festival | Apr. 28-30 | Quakertown Park
This long-running, free event in Denton is a testament to the city's love affair with jazz music, with a busy lineup and seven stages of local and national performers that will knock your socks off, as well as plenty of other options for festival fun.
Scarborough Renaissance Festival | Through May 29 | Fair Grounds in Waxahachie
The Renaissance and Late Middle Ages: like Game of Thrones without the dragons. The jousting, turkey legs, Renaissance dress-up, and mermaids (yes, mermaids) stick around every weekend through the end of May.
JMBLYA | May 5 | Fair Park
The hip-hop festival is back with its best lineup yet, with performers including Chance the Rapper, Gucci Mane, and Migos.
ChocolateFest | May 5 & 6 | Grapevine Convention Center
If the name hasn't already done it for you, know that North Texas chocolate-makers dish their best wares on both days. Wine and art help sweeten the deal.
Update: Sorry for getting your hopes up, Grapevine chocolate fans. This has been cancelled. If you're in that neck of the woods, consider the Grapevine Main Street Fest (May 19-21) instead, and enjoy the craft brew and carnival rides.
Texas Frightmare Weekend | May 5-7 | Hyatt Regency DFW Airport
The massive horror convention boasts a number of celebrity guests: famed director Dario Argento (Suspiria), actor Freddie Highmore, wrestler Sting. It also has movie screenings (The Shining, The Thing), lots of terrifying vendors, and panels on horror movie filmmaking.
Off the Rails Country Music Fest | May 6 & 7 | Toyota Stadium
Miranda Lambert, Jason Aldean, Dierks Bentley, and all the other popular country musicians you can handle at this Southern-certified blowout in Frisco.
Bugs and Brews | May 6 | The Granada Theater's Parking Lot
The music (Big Ass Brass Band and Freeloaders, among others) conspires to set a New Orleans vibe, as does the spread: chow down on all the crawfish you can handle here.
Homegrown Festival | May 13 | Main Street Garden
The headline here is that Tripping Daisy is playing its first show in more than 17 years. Look past the return of the famed Dallas band that launched Tim DeLaughter (now of the Polyphonic Spree) and you'll see an all-Texas lineup also worth your while: Mutemath, White Denim, Lower Dens, and more.
Wildflower! Arts and Music Festival | May 19-21 | Galatyn Park
The family-friendly Richardson festival has The B-52s on Friday, Lynyrd Skynyrd on Saturday, and Shooter Jennings on Sunday. More live music, art displays, and tons of carnival-ish food and fun are all weekend.
Thai Culture & Food Festival | May 27 & 28 | The Buddhist Center of Dallas
Visit the inspiring Buddhist temple, watch Thai dancers and other authentic performances, and feast to your heart's content after selecting a mix of eats from the food bazaar.
Dallas Margarita Meltdown | May 28 | West End
North Texas' best purveyors of the margarita sling their beverages in the most important competition of the summer. Tequila lovers are the default winners.
Index Festival | June 3 | Panther Island Pavilion
The Fort Worth edition (Dallas this fall) of the festival formerly known as Untapped looks an awful lot like it used to. The live music, with Dawes headlining, is nice, but the main attraction remains the beer. Dozens of craft brewers with hundreds of craft beers, all up for the sampling.
A-Kon | June 8-11 | Fort Worth Convention Center
The 28th edition of this storied anime convention, billed as the oldest in the U.S., moves out to Fort Worth, where you'll find just as many cosplayers, anime nuts, and celebrity guests as ever.
In This Post