Plano Figure Skater Represents U.S. at 2017 Special Olympics
Ian Rawn, competing this week in the Winter World Games in Austria, is fulfilling a lifelong dream.
Dressed in a red and blue costume reminiscent of Spider-Man, Ian Rawn sashays across an ice rink, bends into a graceful arabesque, and completes a spiral jump.
He helped choreograph the routine set to the theme of the superhero movie, creating a web of spins, jumps, and graceful lines while balanced on knife-thin blades. His rhinestone-studded shirt adds dazzle to each elegant move. Like every athlete, Rawn works hard to be his best.
"If I fall down, I get back up," he says.
But this athlete is defying odds.
On Thursday in Austria, the 34-year-old Plano man with Down syndrome is gliding across the ice as a global favorite, the only figure skater from Texas in the 2017 Special Olympics World Winter Games.
"My biggest dream has been to compete at the World Games," he says. "To represent Texas and my country is totally amazing."
Despite facing challenges with balance and coordination common for someone with Down syndrome, Rawn's motto has always been to embrace life. He learned to ride a bicycle as a young boy, plays several sports, performed in theater, works at a financial company, and became a volunteer firefighter.
Rawn first became interested in ice skating while watching Tara Lipinski's gold-winning televised performance at the 1998 Winter Olympics in Japan.
"In awe, he turned to us and said 'I want to do that,'" says his mother, Cinde. "At first we brushed it off as a nice dream, a passing fantasy. We didn't even know there was such a thing as Special Olympics ice skating."
Just 21 states have Special Olympics figure skating programs. Seven Special Olympics figure skaters are in the Dallas area. Hesitant to try it at first, Rawn's mother recalls what a friend once told her: "Don't be the 'no' for the world. Let him try, and if the answer is no, he will learn and grow from the no as well as the yes."
"If I fall down, I get back up."
Rawn is always looking for opportunities. While living in Sewickley, Pennsylvania, he answered a flyer in the library calling for volunteer firefighters. Although numerous heart surgeries made him wary of anyone with a mask, he learned to crawl through smoky buildings wearing a full-face breathing apparatus.
He wasn't able to pass the math section of the final test. But he became such a part of the team that he was made a permanent probationary firefighter.
"Every time the emergency horn sounded Ian was out the door like a bolt of lightning, the first at the station, " his mother recalls. "His truck would roll down our street and there he was, wearing a smile as big as Dallas."
At his going-away party, one of the firefighters took him up on a tall hook and ladder.
"For a minute, I really was Spider-Man," Rawn says.
It makes sense that fire and ice have played such big roles in his story, he explains.
"When you think about it, you need both to realize your dreams: the passion to follow your heart and the ability in your brain to stay calm and cool," he writes in an essay for ESPN The Magazine.
Shortly after moving to Plano, Rawn was drawn to the stage with the Plano Youth Theatre, where he performed in productions like Joseph and the Amazing Technicolor Dreamcoat. After his last performance, he reminded his parents of his dream to skate. They began asking around about ice rinks. A barista at a local coffee shop led them to a skating coach, and it took off from there.
Rawn's theater experience has helped him express emotions in his ice skating performances, says Jayne Marshall, his figure skating coach. The sport's physical, creative, and intellectual demands help mold him as a person.
"It builds confidence and endurance," Marshall says. "And a great group of friends."
Rawn started taking figure skating lessons in 2008 and spends up to three hours on the ice, three days a week, working on his lunges, spirals, and jumps. Rawn's parents are his biggest supporters. His father, Jeff, is a priest at Christ Church Anglican in Plano, and his mother is executive director of Threads of Hope, a nonprofit economic development program that helps indigenous women and disabled adults in South America.
The middle of three children, Rawn can often be heard cheering on the Dallas Cowboys and won't let a word pass unchallenged if someone suggests other than that they are the greatest team in the NFL—now and forever. He wants to someday meet "Dak, Zeke, and Jason." He loves cooking, working out, walking in his neighborhood and going to the theater. His favorite is Les Miserables.
He also competes in volleyball and is a certified basketball coach for the Richardson Roadrunners. A volunteer at heart, Rawn enjoys serving at his church and helping young children learn to skate with the Dallas Figure Skating Club. Although he spends most of his time on ice now, Rawn hasn't forgotten about his other dream, to save lives through fire rescue, which has given him the opportunity to ride out with the Dallas Fire Rescue's Explorers program.
Rawn recently trained as a Global Messenger for Special Olympics Texas. He completed governance training and joined the Board of Special Olympics Texas, an organization to which he feels he owes a debt of gratitude.
Training for a sport with special needs may take a little more time and patience, but every athlete has their own hurdles, Marshall says.
"It can be slippery at first for anyone," she says. "Some stand and skate the first day, others hug the wall or me for months. It's about trust. Some just need more practice than others."
They also learn resilience. Four years ago, after skating for more than six years, Rawn took a break after he wasn't chosen to skate in the Special Olympics in Korea. He needed time to process and decide if he had four more years in him, to try again.
Two months later, he was back at the rink.
Rawn is emotional when he talks about his time on the ice.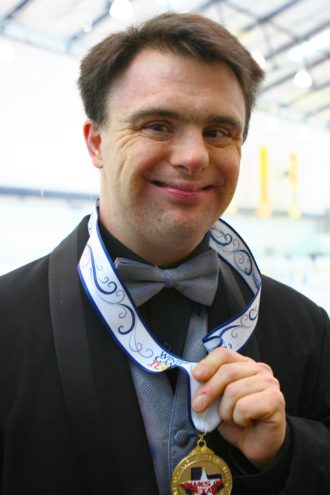 "It's where I have a personal engagement with God who has given me a lot in life," he says. "I want to show God's beauty and grace through skating."
Learning about such grace takes time. To teach intricate routines and instill self esteem, coaches have to be specially trained and certified. About 210 U.S. athletes in Austria will compete this week in nine winter sports including skiing, snowboarding, ice skating, and more—over 2,700 from 107 nations.
Those numbers have been dwindling over the years, officials say, as coaches and rinks and equipment become more expensive and hard to find. The programs often rely on volunteers for help.
"The rewards are immeasurable," Marshall says. "I've learned even more from the athletes."
In his two minutes, 10 seconds on the ice in Austria, Rawn does a spiral waltz jump, a toe loop, a scratch spin, a salchow, a cross-Chinese arabesque, a shoot-the-duck, a backward spiral, another waltz jump, then a salchow spin to stop and bow.
"It's been amazing to see him come so far," his mother says. "He's living out his dream. And it's truly remarkable."
Tune in to ESPN2 nightly this week to watch the Special Olympics World Games in Austria. Watch Ian Rawn compete March 23. For more information about Special Olympics and to volunteer locally, log on to sotx.org.