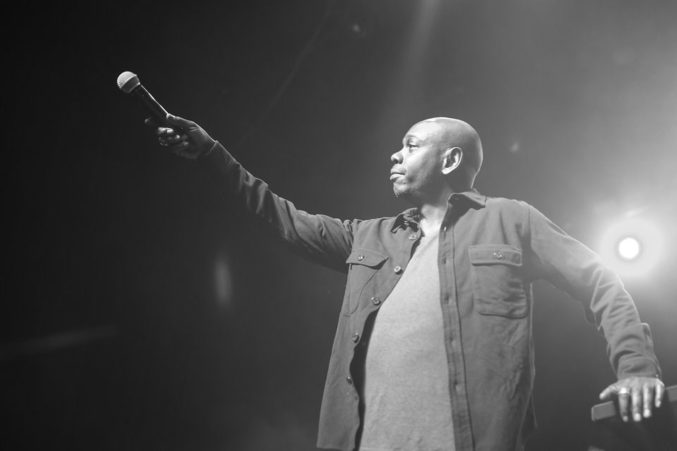 Here's the Irving Music Factory's Opening Lineup
Dave Chappelle and Brad Paisley will help break in the massive new entertainment complex opening Labor Day weekend.
The Irving Music Factory, Las Colinas' super-venue and entertainment mega-mall opening this September, will be inaugurated in style with opening weekend performances by Dave Chappelle, Brad Paisley, and others.
The rest of the early lineup announced today by Live Nation includes big names in comedy—Jeff Foxworthy and Larry the Cable Guy on Sept. 3 and, in November, The Daily Show's Trevor Noah—and music: Goo Goo Dolls, Megadeth, and Matchbox Twenty are among the bands breaking in the complex's 8,000-seat amphitheater.
The Optimus Prime of performance venues, that 8,000-seat amphitheater is a "boutique open-air pavilion" that can also be a 4,000-seat "indoor theater experience," or a 2,500-seat "intimate theater setting," depending on circumstances and, we imagine, ticket sales. Elsewhere on the 250,000 square-foot Music Factory campus, you'll find an Alamo Drafthouse theater, dining (Gloria's and Kabuki Japanese are among the restaurants announced so far), and shopping.
That three-in-one venue is, for now, being called "The Pavilion," a name that's likely to change once Live Nation locks up a corporate sponsorship. (See, also: Starplex Pavilion.) The sprawling campus is between 114 and Las Colinas Boulevard, north of O'Connor, in Irving.
Tickets for all the shows announced so far, listed below, go on sale Friday at 10 a.m. 
Dave Chappelle – Sept. 1

Brad Paisley with Dustin Lynch, Chase Bryant, and Lindsay Ell – Sept. 2

Jeff and Larry's Backyard BBQ Festival featuring Jeff Foxworthy and Larry the Cable Guy with Eddie Money, the Marshall Tucker Band – Sept. 3

Goo Goo Dolls with Phillip Phillips – Sept. 6

Sin Bandera – Sept. 23

Young The Giant with Cold War Kids and Joywave – Sept. 29

Matchbox Twenty and Counting Crows – Oct. 1

Scorpions with Megadeth – Oct. 12

2Cellos – Nov. 4

Trevor Noah – Nov. 11