There are two buoyantly colored Stanley Whitney paintings hung behind the couch where Dee Mitchell sits. His cat, Lewis, circles a sculpture by the artist David Adamo, who made a site-specific installation underneath Mitchell's staircase: an open magician's box.
He has an eye for art. Mitchell's collection is mostly works on paper, but also includes painting, photography, and sculpture, with works by Patti Smith, Sedrick Huckaby, and Thomas Nozkowski. His house
is itself a work of art
.
Mitchell has used his diverse background to help turn a Dallas-based nonprofit literature and poetry organization, WordSpace, into a major force in Dallas' revitalized literary scene, booking big names without losing sight of the importance of the small community-based showcases that help the scene. In the past, Mitchell was a writer for the
Dallas Observer
and before that, an early book buyer for the Half Price Book chains starting in the 70's.
"I was one of the hippies in the front desk with their dog running up and down the aisles," he says. "As the business grew I began to work with the publishers' reps who came in to sell the remainders and bargains."
After cashing out his stocks 30 years later, Mitchell moved into a new role, overseeing the division which dealt with distributors and publishers and bought software, video, and wholesale for the company on trips to Frankfurt, London, and New York book fairs.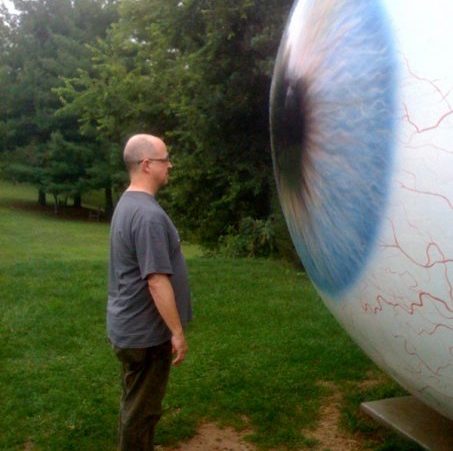 "People always wanted to glamorize what I was buying, art books and University Press books, which we were, but I was also buying 1,500 copies of
Barbie's Jamaican Adventure
," he says.
Six years ago Mitchell was curating and writing about art when he became interested in WordSpace, where he now serves as president of the board. WordSpace was founded in 1994 by the Dallas poet Robert Trammell. After Trammel died in 2006, WordSpace became interested in expanding its board and programming.
"What initially got me interested was Karen X. Minzer, our executive director. One of the first projects she proposed was to bring Dan Savage to the Kessler Theater," Mitchell says. "I thought that would be interesting."
At this point the organization was organizing small poetry readings across town, supplemented by educational endeavors, but had yet to cement a foothold in the artistic community.
"In 2011, we put together the underwriting and package and brought Dan Savage to the Kessler Theater and sold it out," Mitchell says. "That kicked us up a notch."
Savage's trip to Oak Cliff was the first of what is now called the Headliners Series, under which WordSpace has brought to town Sandra Bernhardt, Laurie Anderson, Nikki Giovanni, Karen Finley, and the king of filth, John Waters. With over 50 smaller programs a year, the twice-a-year headliner events are a way to attract underwriting and raise money. Almost all of the smaller WordSpace events are free and take place across Dallas and Fort Worth, with readings at The Wild Detectives and other literary redoubts.
The next headliner is Meredith Monk, a legendary avant-garde composer on par with Steve Reich and Philip Glass, appearing March 16 at City Performance Hall.
"To bring Meredith Monk back to Dallas after almost 20 years, at a point in her career where she is a national treasure, that's very important to us," Mitchell says. "But we also still do small poetry readings and book launch parties for local authors."
Monk's storied artistic history as a composer and director active since the 1960's is in lineage with WordSpace's particular interest in bringing in progressive artists, creating a niche within the Dallas programming marketplace.
"We had one salon evening on the history of punk zines in Texas and another salon evening on Chinese poetry from the eighthꃎntury.
"We had one salon evening on the history of punk zines in Texas and another salon evening on Chinese poetry from the eighth century. Those don't attract the crowd that Dan Savage does, but they are very much at the heart of what we do," he says.
Mitchell notes that WordSpace is a membership organization, ranging from $35 to $60 and benefits that include from 10 to 100 percent off ticketed events. For more information,
go here
.
Get the FrontRow Newsletter
Get a front row seat to the best shows, arts, and things to do across North Texas. Never miss a beat.