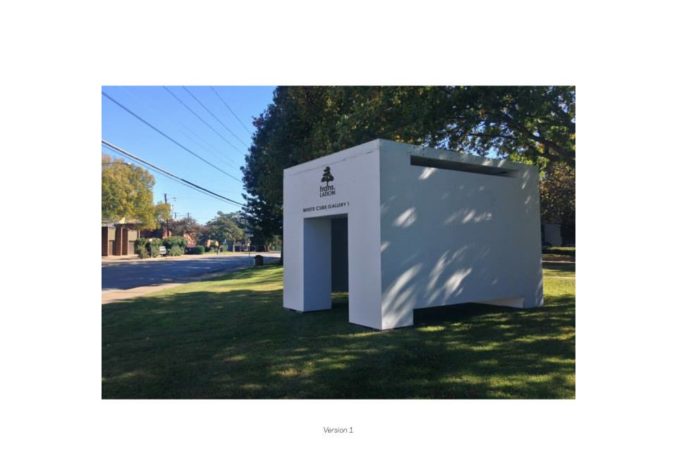 Evicted Refugee Dies in Outdoor Gallery
The story of Mohammad "Turkey" Adam offers a stark reminder of the plight of refugees living in Dallas
Here's a sad story coming out of Dallas' Vickery Meadow neighborhood that offers a human perspective on the news that has dominated the national headlines in recent weeks.
On January 15, Mohammad "Turkey" Adam, a homeless Sudanese refugee, died while sleeping inside one of the Trans.lation Vickery Meadows white cubes galleries. Adam had previously been living at The Ivy Apartments — the same complex where Liberian national Thomas Duncan was staying before he was diagnosed with Ebola in 2015 — before rising rents led to an eviction. Adam was found by his friend and fellow Sudanese refugee David Mbusa, who had also been recently evicted and was living homeless in the Vickery Meadow area.
Vickery Meadow is home to a large population of resettled refugees from countries all over the world. As Zac wrote in 2011, how Vickery Meadow became the center of Dallas' refugee population was less the result of urban planning than urban opportunism:
Why they get resettled in Vickery Meadow—why so many families from other countries wind up in the area, refugee or otherwise—is not a mystery. There are lots of apartments, rent is cheap, public transportation is nearby, and, as much as anything else, other immigrants live here. It's a beachhead. But it wasn't supposed to be.

Vickery Meadow was born as a sort of twin to The Village, a product of Dallas' building boom in the 1970s. Bordered, more or less, by Northwest Highway, Royal Lane, Skillman Street, Abrams Road, and Central Expressway, it was built—overbuilt, really—as a community for young people living young lives. No kids, not many married couples. But things changed. An amendment to the Fair Housing Act in 1988 meant families with kids could no longer be discriminated against, and a depressed rental market meant the property owners no longer cared to.

Within a few years, the demographics of the area had completely flipped. It became, and remains, a jumble of races and cultures.
Now, Vickery Meadow's character looks ready to flip once again. Last summer, KERA reported on how Vickery Meadow's prime location and depressed real estate values have made the neighborhood a target for redevelopment. That, in turn, has led to fear that many of the current Vickery Meadow residents will be pushed out of their community. In the case of Mohammad "Turkey" Adam, shifting economic forces didn't force him out of Vickery Meadow, they forced him onto the streets.
The site of Adam's tragic death is also particularly tragic. The white cubes in Vickery Meadow were the cornerstones of a public art installation called Trans.lation Vickery Meadow by renowned artist Rick Lowe that was commissioned in 2013 by the Nasher Sculpture Center. I wrote about Lowe's project at the time, and highlighted how his idea of creating a series of outdoor gallery spaces for Vickery Meadow's artists offered a way to both raise the public's awareness and appreciation of Dallas' most diverse and eclectic neighborhood, while also offering the neighborhood both a spacial and metaphoric locus around which they could organize their community and express their community identity and pride.
As it turned out, the history of those white cubes was less Pollyannaish. At first, the cubes hosted regular art installations, featuring both community artists and artwork by artists living in other parts of Dallas. After awhile, landowners complained about the structures, and the cubes were moved from their locations along Ridgecrest Road to their their current home: a large vacant lot on Park Lane that will be the site of the future Vickery Meadow "mixed-use" library, a public investment that is designed to kick-start apartment redevelopment in the area.
There, the enclosed structures became something of a public nuisance, offering convenient shelter for drug deals and prostitution. Locked gates were placed on the entry of the galleries. When Carol Zou, a social practice artist, became Trans.lation's new project manager in 2014, she shifted the focus of the project towards a tireless torrent of community programs, engagement, and activism. Zou considered scrapping the the cubes altogether, but more recently, she says she hoped to use the spaces to display work by children participating in a community art classes run by Trans.lation.
However, now the cubes are marked by a new history — the site of the death of a homeless refugee. It comes at a moment in which the United States government attempts to enforce unprecedented new restrictions on refugee resettlement amidst a climate of rising xenophobia.
Adam's passing is deeply saddening in its own right. The setting and context of his passing — found dead in a gallery commissioned by a wealthy cultural institution, forced into the streets by the undertow of economic forces, in a neighborhood beset by dozens of non-profits whose mission it is to help refugees — only serves to symbolical amplify the reality of personal suffering that is the true stakes of a national crisis. Mohammad "Turkey" Adam slipped through the cracks. He came to this country with a dream of a new life only to have the promise of the America Dream fail him.
Here's a release from Trans.lastion that offers more information about Mohammad "Turkey" Adam. Trans.lastion Vickery Meadow has also organized a vigil for Adam this Saturday and created a fund to collect donations to cover funeral expenses. Details below:
Homeless Sudanese Refugee Dies in Location of Future Vickery Meadow Library
FOR IMMEDIATE RELEASE:
Mohammad "Turkey" Adam, a homeless Sudanese refugee, died in his sleep on the evening of January 15, 2017, while seeking sanctuary inside the Trans.lation White Cubes located on the site of the future Vickery Meadow library.
Adam was found by his friend and fellow Sudanese refugee, David Mbusa. According to Mbusa, Adam died peacefully in his sleep. He was known as a quiet man to his friends. Adam suffered from mental health challenges, most likely related to trauma suffered as a refugee. Prior to becoming homeless, a head injury severely affected his ability to maintain stable work and housing.
Trans.lation Vickery Meadow is deeply saddened by this loss. Our cubes have served as a vital community anchor for pop-up exhibitions, youth-generated public art, and unfortunately, as sanctuary for those who are struggling without adequate support services. We will continue to work to strengthen community resources in Vickery Meadow through free and public cultural programming.
Trans.lation Vickery Meadow calls upon Councilwoman Jennifer Staubach-Gates, Mayor Rawlings, Judge Jenkins, and the City of Dallas to stand by their statements welcoming refugees from Latin America, Southeast Asia, the Middle East, and Africa; strengthening tenant protections; and supporting local community-based organizations that provide a myriad of support services for those in need. We call upon Councilwoman Jennifer Staubach-Gates and Vickery Meadow Improvement District to immediate assemble a task force to increase availability of affordable housing and support services for refugees.
A vigil will be held Saturday, February 11 from 5:30pm-6:30pm at 8255 Park Ln, Dallas, TX 75231.
A fund has been created to cover funeral expenses. To contribute, please visit: https://www.gofundme.com/funeral-costs-for-mohammad-adam