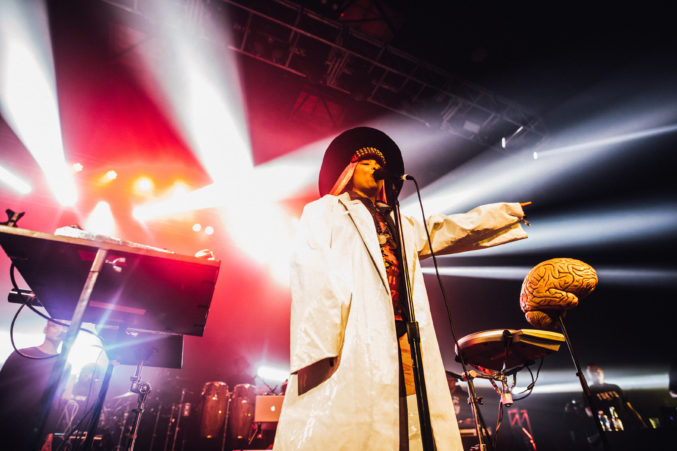 Erykah Badu Celebrates Her Birthday With an Adoring Dallas
Badu was joined by Pete Rock, Leon Bridges, Dave Chappelle, Cedric The Entertainer, and half of Dallas for her annual birthday bounce at the Bomb Factory.
Dallas celebrated 20 years of Baduizm and 46 years of Badu Sunday night at the Bomb Factory's sold-out concert in honor of the neo-soul queen's birthday. Plenty of Badu's friends and fellow Dallas musicians came out to support her, including DJ Sober, Sam Lao, Bobby Sessions, and Leon Bridges—whose short but sweet set included only "Coming Home" and Ginuwine's "Pony."
Badu's performance was preceded by a DJ set from legendary producer Pete Rock, who was then joined on stage by rapper Talib Kweli for an energetic performance. After Kweli left the stage, Houston-bred rapper Scarface took it over and gave a solo performance before a jam session ensued. Following a long pause, Badu's excellent band took the stage and the birthday girl joined them after several minutes of the Cannabinoids singing, "Badu, Badu, Badu" to a funky rhythm. Badu knows how to command a room, and the performance was a testament to her legendary status and the dedicated following in her home town.
She welcomed the audience with a breezy rendition of "Hello," before warning first-timers that they would leave neurologically recalibrated. Her performance did not disappoint, giving the crowd nearly two hours of her soulful, powerhouse sound. More than just a concert, the party truly was a celebration of Badu and her momentous career, not just for the audience, but for the artists, too, and this shone through in all of their joyful performances.