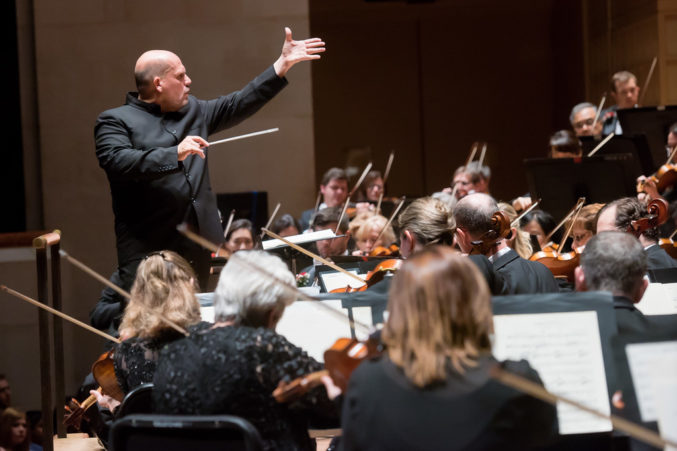 The Dallas Symphony Announces Its Final Season with Jaap van Zweden
The Dutch maestro will leave after the 2017-18 season, his 10th with the DSO, to become music director of the New York Philharmonic.
After 10 seasons, Jaap van Zweden's time as music director of the Dallas Symphony Orchestra will end in May 2018, with the maestro conducting Beethoven's Ninth at the Meyerson before he leaves to take one of the most coveted jobs in classical music: leading the New York Philharmonic.
The DSO's 2017-2018 season, billed in part as a farewell to the Flying Dutchman who brought local and international acclaim to the symphony, is heavy on work that helped define van Zweden's tenure in Dallas.
"The orchestra and I have been on an incredible journey," van Zweden says in a press release from the DSO. "They are playing fantastically with so much flexibility. It has been an honor to work with these musicians over the past ten years."
Highlights of the season include music by Beethoven, Bruckner, and Mahler, as well as Wagner's Die Walküre, and world premieres of contemporary work by composers such as Jonathan Leshnoff. Many of the works will involve both the orchestra and chorus, for maximum bombast.
"This next season celebrates the real accomplishments of this organization and showcases Jaap, the chorus, the orchestra and the strong artistry that has been developed over the last decade," Jonathan Martin, Dallas Symphony Orchestra President & CEO, says in the press release.
Along with 10 seasons of van Zweden, the DSO is celebrating anniversaries of the Lay Family Concert Organ (25), the Dallas Symphony Chorus (40), and ReMix (5).
As usual, Dallas audiences can also expect appearances from an international cast of acclaimed guest conductors and artists. Per the release:
The DSO will welcome a number of world-renowned guest conductors to the Morton H. Meyerson Symphony Center during the 2017/18 season including Fabio Luisi, Cristian Măcelaru (DSO debut), Donald Runnicles, James Gaffigan, Jun Märkl and Pablo Heras-Casado.

Guest soloists for the season will include Hilary Hahn, Jean-Yves Thibaudet, Stephen Hough, Alisa Weilerstein, Behzod Abduraimov and Nicola Benedetti, among others. Making their DSO debuts this season will be organist Vincent Dubois, cellist Harriet Krijgh, trombonist Jörgen van Rijen, soprano Dorothea Röschmann and pianist Beatrice Rana.
We have a little more than a year to reckon with van Zweden's considerably legacy here, and less than that to speculate about who his successor will be. For now, here's a link to the full 2017-2018 season calendar. Below, we've copied a DSO-supplied timeline of van Zweden's 10-plus years in North Texas, starting with his first appearance in February 2016. Season subscriptions and more information are available here.