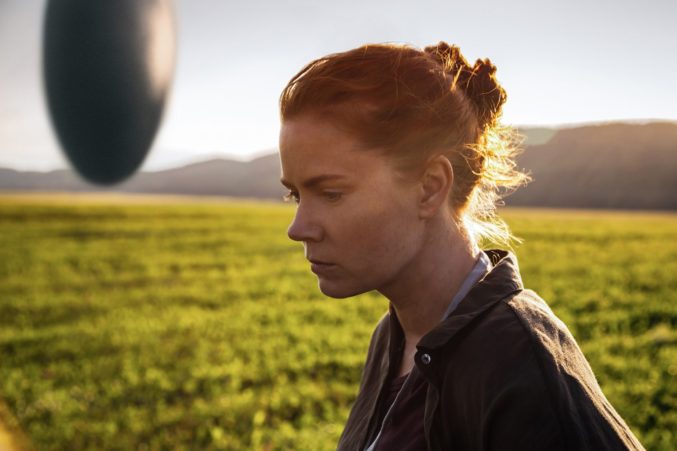 Arrival Is a Close Encounter With the Profound
The thoughtful science fiction drama delivers big thrills and asks big questions.
Aliens in movies rarely feel as alien as they do in Arrival, director Denis Villeneuve's absorbing and contemplative sci-fi thriller about humanity's attempts to communicate with extraterrestrial visitors who appear, uninvited, on Earth's doorstep.
The close encounters of Arrival are filled with awe and mystery, befitting confrontations with the unknowable. They — these creatures so far outside the realm of our experience — don't seem to want to be taken to our leader, and they don't want to phone home. Finding out what they do want requires bridging an unimaginable gap in a universe with no universal language, on a planet with a long history of violence over failures to communicate.
The film, adapted from an award-winning short story by Ted Chiang, begins with 12 monolithic spacecraft appearing around the globe. Their intent is unclear, and remains so even after world governments, sharing updates with each other via a United Nations Skype channel, begin sending teams into the obelisks. The visitors, lacking the cuddly appearance of E.T.'s stranded hero and the aid of Star Trek's universal translator, are strikingly original creations with very, very few human characteristics.
A U.S. Army colonel (Forest Whitaker) overseeing incursions into the spacecraft hovering over a valley in Montana recruits a linguist (Amy Adams) and a physicist (Jeremy Renner) to try and ask the aliens that most important of questions: What do you want?
Adams, who is excellent here, lends curiosity, wonder, and compassion to the academic who finds herself taking point on the most important diplomatic mission in history. Describing much more of the plot would dampen the wild sense of discovery that animates much of the film, but like the best science fiction, it forces its audience to dream what if? without losing sight of what is.
Arrival's optimistic conclusions about the capacity for human understanding and sympathy may appear overly rosy in a world that seems so irreparably divided. Regardless, we can at least view the film as aspirational. If we can think imaginatively enough to learn to converse with aliens, surely we can learn to listen to each other.