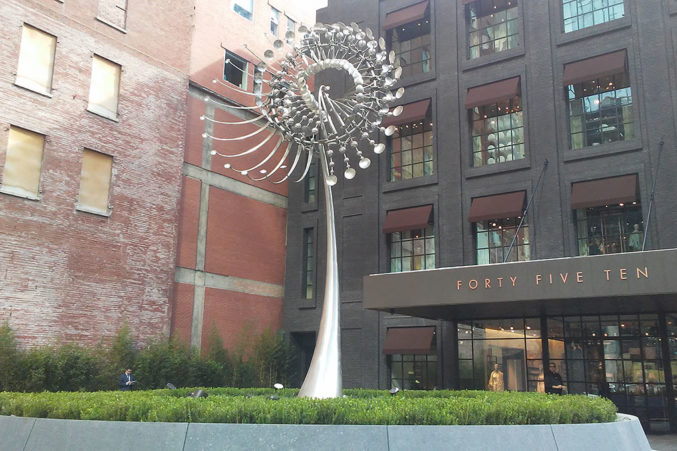 A Wind-Powered Sculpture Is Downtown Dallas' Newest Art Installation
The kinetic, pinwheel-like work is slightly less imposing than the giant eyeball next door.
Another large art installation has joined Tony Tasset's 30-foot lidless Eye in downtown Dallas' Main Street District. Lucea stands near the Elm Street entrance of the new Forty Five Ten, where several historic buildings were torn down to clear room for the development from Headington Companies, which also owns the Joule and commissioned the new work.
The kinetic sculpture, 25 feet tall and made of stainless steel, will rotate something like an elaborate, undulating pinwheel in the wind. It's the creation of Washington artist Anthony Howe, who is known for this kind of thing — a similar wind-powered installation served as the Olympic cauldron for the 2016 Games in Rio de Janeiro.
"Public art heightens the experience when exploring vibrant neighborhoods like the Main Street District," Howe says in a press release. "I hope Lucea becomes a unique fixture in the city and brings energy to an outdoor space enjoyed by Dallas visitors and its residents."