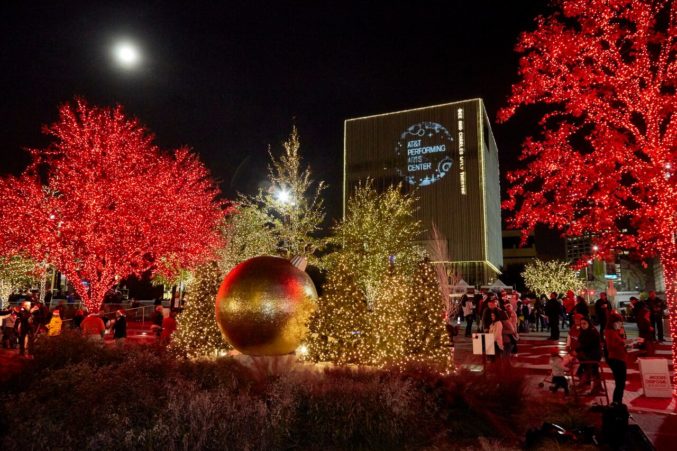 100 Things To Do For Christmas in Dallas
Your guide to Santa sightings, parades, holiday concerts, tree lighting festivals, and more seasonal fun throughout North Texas.
Go Here For Our 2017 List of Things To Do For Christmas In Dallas
Love Christmas lights, displays, and holiday wonderlands? What about tree lightings, parades, and festivals? The Nutcracker? A Christmas Carol? Christmas carols? Christmas movies?
Well, you're in the right place.
Lights, Displays, and Winter Wonderlands
Last year's guide to the best neighborhoods for free drive-through Christmas light viewing, which you can see here, holds up. We recommend:
The drive-through Prairie Lights at Grand Prairie's Lynn Creek Park is like entering a magnificent tunnel of light. Halfway through the drive, guests can exit and walk through the Holiday Village for more impressive Christmas decorations and a holiday laser light show. The cost is $25 to $35 per car, and more for limos or shuttle vans. Through Jan. 1.
Downtown Dallas is transformed into a "Downtown Wanderland" every Thursday through Saturday from Dec. 1-17, with pop-up shops, live music, Santa Claus photo opportunities, gift wrapping stations, movie screenings and more. The entire area will be decorated in its holiday best.
Grapevine calls itself the "Christmas capital of Texas," and it puts in a lot of work to live up to such a lofty title. Downtown Grapevine is already lighted for the holidays, with a nightly "Christmas Light Show Spectacular" and a number of other events — like the Parade of Lights on Dec. 1 — on the schedule through December.
The Gaylord Texan Resort and Convention Center is in full Lone Star Christmas swing, with tons of decorations and special events. Its biggest attraction is ICE!, a large exhibit of colorful ice sculptures that this year corresponds with a "Santa Claus Is Coming To Town" theme. Through Jan. 1.
The minor miracle of an outdoor ice rink in Texas can be seen and skated at Fort Worth's Panther Island Ice through Jan. 16.
If indoor ice rinks are more your speed, do laps around the giant Christmas tree at the Galleria Ice Skating Center.
Celebrate 12 Days of Christmas at the Arboretum, as the botanical gardens are transformed by displays keeping with the "12 Days" theme, as well as more general holiday decorations that turn one of the city's most beautiful places into quite the wintry sight — looks even better at night. Through Dec. 29.
Texas Motor Speedway gives the Gift of Lights with a drive-through light display on the tracks. After the rolling show, hop out for a visit to Santa's village. The cost is about $15 to $20 per car. Through Dec. 30.
Addison's Vitruvian Park gets lit up in gorgeous, colorful hues with the Vitruvian Lights. Live entertainment and special events are scheduled throughout December, but a stroll through the gorgeous display is well worth your while any time. Through Jan. 1.
Two reasons to bring the kids to NorthPark: The beloved Scrooge Puppet Theatre returns, and so does The Trains at NorthPark, the miniature train exhibit boasting tiny locomotive action on more than 1,600 feet of tracks.
Six Flags in Arlington will have costumed Clauses, light shows, and other cheerful decorations through the holiday season.
The tree lighting and parade of lights in Fort Worth's Sundance Square have already passed, but the city's downtown is still looking mighty fine for Christmas.
Christmas in the Frisco Square includes light shows, snow machines, carriage rides, ice skating and other holiday fun on weekends.
Downtown McKinney remains a holly, jolly place throughout December.
A special exhibit at the Bush Center at SMU re-creates the White House's holiday theme circa 2004, with other Christmas events scheduled throughout the season.
Tree Lightings, Parades, and Festivals
Dec. 3 will be a busy day for holiday cheer in downtown Dallas. The Children's Health Holiday Parade, one of the largest Christmas parades in the country, is that morning. Spend the afternoon and early evening at Klyde Warren Park to Celebrate The Holidays with Christmas music, face painting, apperances by the Clauses, arts and culture activities, and a climactic tree lighting. From there, head further into the Arts District for Reliant Lights Your Holidays, including a fireworks show, plenty of LED lights on the ground, and live music. Update (12/02/2016): Due to a gloomy weather forecast, the parade has been cancelled, and Reliant Lights Your Holidays has been postponed. The Klyde Warren Park tree lighting will continue rain or shine.
Hot chocolate and Christmas music for all as Dallas gets ready to Light Up Lee Park in Oak Lawn on Nov. 29.
Highland Park's Christmas Tree Lighting Ceremony is on Dec. 1.
The Dec. 10 and 11 Candlelight Celebration at Dallas Heritage Village lets guests learn how Dallas' earliest settlers celebrated Christmas by embracing some of those old traditions while enjoying a few perks of modern life (food trucks, amplified live music, etc.)
The Galleria will light its big Christmas tree — supposedly the biggest indoor tree in the country — with several celebrations featuring Olympic skaters, a "pyrotechnic Santa," and more on Dec. 3, 10, and 17. (Johnny Weir will be at the Dec. 3 lighting.)
Even cowboys celebrate the holidays, as evidenced by Christmas in the Stockyards in Fort Worth on Dec. 3, with a Christmas tree lighting, pony rides, a petting zoo, a holiday parade, and much more.
Arlington's Holiday Lights Parade on Dec. 3 ends at Levitt Pavilion, where the fesitivites continue.
Jingle Bells on Bishop celebrates the holidays in Oak Cliff's Bishop Arts District on Dec. 2 and 3.
The Denton Holiday Lighting Festival is in the downtown square on Dec. 2.
The Allen Christmas Tree Lighting is on Dec. 2.
Christmas on the Garland Square features a tree lighting ceremony, snow sledding, fireworks, a visit from Father Christmas, and more.
The Plano Lions Christmas Parade is Dec. 10.
Richardson's Christmas Parade is Dec. 3.
Farmers Branch lights its Christmas tree on Dec. 3.
Take a carriage ride, mingle with the Clauses and their reindeer, and bring some unwrapped toys for Toys For Tots for this Winter Wonderland at Dr Pepper Ballpark in Frisco on Dec. 9.
The Dallas Krampus Walk encourages people to dress up as the villainous Krampus, a folkloric character who serves the role of a hairier, more evil Santa Claus, and carouse through Deep Ellum.
Theater, The Nutcracker, and Other Performances
For a full guide to the many North Texas productions of The Nutcracker, go here. Texas Ballet Theater's production, the best professional Nutcracker in town, is at the Winspear through Dec. 4, and at Bass Performance Hall from Dec. 9-24.
For the first time, a woman will play Ebenezer Scrooge in Dallas Theater Center's traditional (but recently updated) production of A Christmas Carol, running through Dec. 28 at the Wyly.
Cara Mia Theatre Co.'s Nuestra Pastorela is a light-hearted take on Mexican holiday traditions, running through Dec. 10 at the Latino Cultural Center.
Theatre Three's A Christmas Carol: The Radio Show is a funny one-man production of the Dickens classic by an overworked radio host who must perform the entire play as a solo act. It runs through Dec. 11.
Dallas Children's Theater's A Charlie Brown Christmas adapts the classic Peanuts holiday special for the stage. The production runs through Dec. 21.
A Rockefeller Christmas at the Majestic Theatre, with two performances on Dec. 4, is a Radio-City style song-and-dance extravaganza with some Nutcracker thrown in.
Kicking chorus girls and Christmas songs get the Broadway treatment in Broadway Christmas Wonderland from Dec. 6-18 at the Music Hall at Fair Park.
John Waters, the gleefully deranged mind behind cult films like Pink Flamingoes and Hairspray celebrates Christmas as only he can with a show at the Kessler Theater.
The Cirque Musica Holiday Spectacular at Frisco's Dr Pepper Ballpark on Dec. 17 combines the spectacle of the circus with Christmas cheer. Holiday music, acrobats, and other family-friendly performers dazzle with some help from the Dallas Pops orchestra.
TeCo's production of Langston Hughes' Black Nativity runs from Dec. 8-18 at the Bishop Arts Theatre Center.
Soul Rep Theatre's Naughty But Nice is a Christmas cabaret, an original show set at a "South Dallas hole in the wall," running from Dec. 9-18 at the South Dallas Cultural Center.
WaterTower's Catholic comedy, Sister's Christmas Catechism: The Mystery of the Magi's Gold, runs from Dec. 2-20 at the Addison Theatre Centre.
A kid-friendly production of Santa Claus: A New Musical is at Fort Worth's Casa Manana through Dec. 23.
Pocket Sandwich Theatre's musical christmas carol, Ebenezer Scrooge, runs through Dec. 23.
Concerts
The Polyphonic Spree's traditional holiday extravaganza returns to the Majestic on Dec. 10, with two performances — a "holiday set" and a "rock set" — from the Dallas band, and lots of other family-friendly activities to go along with the charity-benefiting show.
The annual How The Edge Stole Christmas concert seems particularly appropriate now that 102.1 The Edge has abandoned its alternative rock format and become a holiday music radio station. The lineup at Verizon Theatre on Dec. 6 — with Weezer, Awolnation, Kongos, and others — is still more alt rock than "Jingle Bells."
The Dallas Symphony Orchestra and Chorus' fantastic Christmas Pops concerts are at the Meyerson, with shows running from Dec. 2-18. Matinee performances also feature the Children's Chorus of Dallas.
KISS FM's Jingle Ball brings the ghosts of pop music past (The Backstreet Boys!), present (Meghan Trainor), and future (Alessia Cara), plus many more, to the American Airlines Center on Nov. 29.
The Women's Chorus of Dallas and the Metropolitan Winds bring holiday cheer to City Performance Hall on Dec. 3.
The Turtle Creek Chorale is joined by the Lone Star Wind Orchestra for a Not So Silent Night of old and new Christmas favorites at City Performance Hall. There are several performances between Dec. 8-11.
The swinging retro jazz of the Singapore Slingers takes on a Christmas tint for the big band's winter revue at Pocket Sandwich Theatre on Dec. 13.
Trans-Siberian Orchestra brings its bombastic take on Christmas music to the American Airlines Center for two performances on Dec. 22.
Mannheim Steamroller carols, as only Mannheim Steamroller can, at Bass Performance Hall in Fort Worth on Dec. 29.
Texas country star Kacey Musgraves, who dazzled at the State Fair earlier this year, brings her special holiday tour to Billy Bob's for a "Very Kacey Christmas" on Dec. 21.
He's more of a Sinatra for 11 months of the year, but lounge singer Ricki Derek embraces the spirit of Bing Crosby for his "Merry Little Christmas" show at the Granada on Dec. 16.
Lovers of the tuba will appreciate Merry TubaChristmas, a tuba-driven performance of holiday tunes at Thanks-giving Square at noon Dec. 23.
A heavy metal show headlined by Drowning Pool benefits Toys For Tots at Trees on Dec. 23.
Local musicians perform holiday tunes for Local Honey's 10th Annual Holiday Mix at the Granada on Dec. 18.
The Dallas Symphony Orchestra's biggest-sounding instruments, including the largest of them all — the Meyerson's Lay Family Organ — blast their holiday spirit for the Big Brassy Christmas & Organ Extravaganza at the Meyerson on Dec. 5.
Grammy-winning jazz singer Dianne Reeves performs Christmas standards on Dec. 8 at the Meyerson.
The Midtown Men and the Buckinghams perform Christmas Hits Live at the Allen Event Center on Dec. 9.
The Irving Symphony Orchestra is Home For The Holidays at the Irving Arts Center on Dec. 10.
It's Christmas comedy with Ha-Ha Holidays at the Addison Improv on Dec. 10.
The Garland Symphony Orchestra takes its audience on a "Holiday Safari" at the Granville Arts Center on Dec. 16.
The acoustic duo Jackopierce plays its traditional Christmas show at SMU's McFarlin Auditorium.
The Dallas Pops join MercyMe for a holiday concert at American Airlines Center on Dec. 16.
It's a Hair Metal Holiday at the Bomb Factory as Slaughter, Kix, King's X, and more pretend the '80s never ended on Dec. 10.
Grammy winner Michael W. Smith is joined by Amy Grant and the Plano Symphony Orchestra for a Christmas concert at Verizon Theatre on Dec. 2.
Keith Sweat and KEM bring "The Smooth Holiday Groove" to Verizon Theatre on Dec. 17.
On Dec. 10, Bruce Robison and Kelly Willis perform two shows (one and two) for their traditional "Holiday Shindig" at the Kessler Theater.
It's a TexMex Holiday Fiesta at the Kessler Theater with performances by Los TexManiacs with Flaco Jimenez and Augie Meyers on Dec. 17.
An "Electric Christmas" comes to the Kessler with John Holiday and Friends performing holiday tunes at the Oak Cliff theater on Dec. 23.
It's a Drag Queen Christmas at the House of Blues on Dec. 21.
The Dallas Bach Society presents a performance of Handel's Messiah at the Meyerson on Dec. 19.
Movies
The Texas Theatre kicks off a holiday series with Gremlins on Dec. 11.
The historic Majestic Theatre screens A Christmas Story on Dec. 18 and It's A Wonderful Life on Dec. 22.
The Angelika is showing The Polar Express in a special pajama party screening for kids on Dec. 10.
The Magnolia Theatre screens the Bing Crosby classic Holiday Inn on Dec. 20.
Arlington's Levitt Pavilion will play Will Ferrell's Elf as part of its Dec. 3 holiday celebration.
Downtown Dallas' Wanderland fun includes three free movie screenings in Pegasus Plaza through December: Elf on Dec. 2, National Lampoon's Christmas Vacation on Dec. 9, and The Polar Express on Dec. 16. Each movie begins at 6 p.m.
The Alamo Drafthouse outposts in Richardson and the Cedars have a whole feast of holiday movies on the schedule for December, with (usually several) screenings of the following movies: