Others have, only half-joking, called NorthPark mall the best art museum in Dallas.
At the very least, it's a contender. As the Dallas Morning News reported last month, an exhibition of portraits by renowned photographer Bruce Weber, now running concurrently with a show at the Contemporary, is among the latest evidence that the upscale shopping center is also a premier "art destination."
NorthPark has mixed art and retail since the Nashers opened the mall more than 50 years ago, and that remains the case more than ever. Its collection, which deserves its own map and tour, includes work by Joel Shapiro and Frank Stella, Andy Warhol and Mark DiSuvero. And it's not just visual art. On Saturday, the NorthPark central garden will host a free performance by the Dallas Symphony Orchestra.
The latest eye-catching addition to NorthPark's collection is a sculpture by the Brooklyn artist KAWS, who has an exhibition opening at the Modern Art Museum of Fort Worth on Oct. 20. Clean Slate, which can be found near the Macy's on Level One, depicts the artist's most famous figure, a junkie cartoon mouse with x-ed out eyes, in this case carrying two smaller skeletal Mickey Mice.
KAWS, whose work skates across the divisions between high-brow and low-brow, culture and commerce, fits neatly into a shopping mall that doubles as an art museum. KAWS also has the kind of popular appeal — past collaborators include Kanye West and MTV — to draw even more attention to NorthPark's impressive art collection. And, if you can resist the lure of the storefronts at Dallas' Central Park, it's completely free.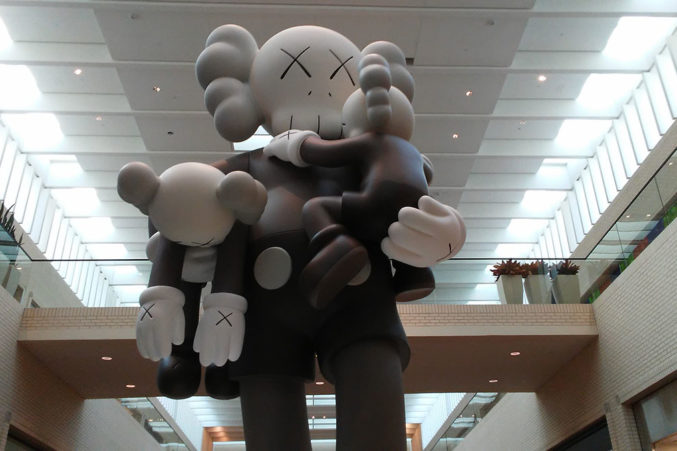 Get the FrontRow Newsletter
Get a front row seat to the best shows, arts, and things to do across North Texas. Never miss a beat.