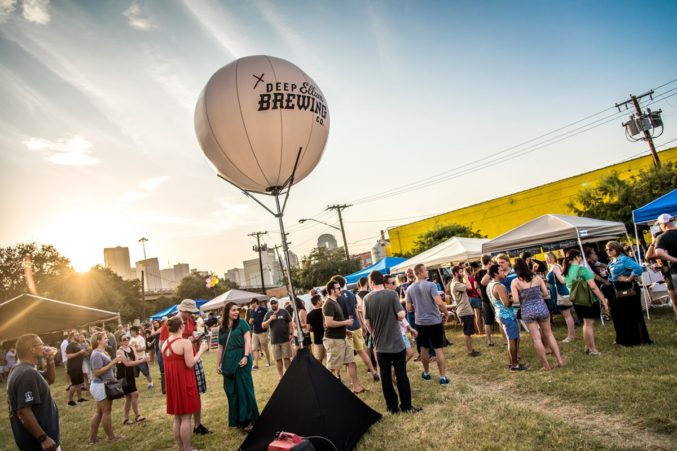 Things To Do In Dallas This Labor Day Weekend
Enjoy the fruits of your labor.
The summer comes to an unofficial close with Labor Day, a holiday that is whatever you want it to be. Most want it to be a day of barbecue, sunshine, and outdoor relaxation. It can also involve blues, beer, and comedy. As long as you're not working — and if you are, sorry — Labor Day can be one of the grandest days of the year.
You've worked hard for this one. Enjoy the three-day weekend.
Friday (09/02)
Dance companies from around the world, and from right here at home, are featured in Dallas DanceFest at City Performance Hall, which continues Saturday. Expect to encounter a whirlwind blend of styles, from ballet to hip-hop to classical Indian forms and more.
Irving's Lake Carolyn becomes something of an outdoor comedy club for Laughs by the Lake, a stand-up showcase with performers including Matthew Broussard, Wendy Liebman, and more. Guests are encouraged to bring seating, but food and drinks will be available on site.
The Bedford Blues and BBQ Festival, whose title aptly describes its purpose and location, kicks off Friday night and runs through Sunday.
The Dallas Symphony Orchestra is joined by the University of Texas at Arlington's a capella choir for two nights of a program featuring music from the popular video game series "Final Fantasy."
The great heavy metal band Baroness plays the Granada.
Saturday (09/03)
Free yoga and a "healing village" of yoga and health vendors will be found at the Latino Cultural Center for the DFW Free Day of Yoga Kick-Off.
The No Pants Party at Truck Yard invites guest to arrive sans pants — but with underwear, we're not savages — and donate clothes to flood victims in Baton Rouge. Dropping your trousers also gets you a free drink, which we guess makes this less uncomfortable for everyone.
FC Dallas, the Frisco-based sports team that is presently doing very well at the game of soccer and would reward your support with exciting play and the chance of a championship, plays the Portland Timbers in a home game at Toyota Stadium.
The Buck Pets, one of Dallas' great bands that was unjustly denied greater fame in its late '80s, early '90s heyday, plays the Kessler. Slobberbone, another one of North Texas' best acts, opens.
Vintage hot rods invade Deep Ellum for the annual Labor Day weekend Invasion Car Show.
Sunday (09/04)
The Labor Day Blues and Jazz Festival is a family-friendly bash on the lawn of the African-American Museum at Fair Park. Bring your own coolers, lawn chairs, and blankets — the live music and food vendors will be on site.
Music from Casey Daniels, food from trucks, and beer from more than 40 homebrewers competing for hearts and minds at the Labor of Love Homebrew Competition and Festival at Deep Ellum Brewing Co.
The Dallas Zine Party will celebrate small, local publications at CentralTrak.
At the Texas Theatre: Four rooms and four artists, each performing electronic music without being able to here each other. In a fifth room, guests hear all the sounds at once.
Monday (09/05)
Go to the nearby lake of your choice, find a friend with a swimming pool, go to the movie theater, enjoy the company of friends and family or the bliss of solitude, barbecue or prepare a vegan meal, or just sleep in. Whatever you do, do not labor.
For more to do this holiday weekend, go here.