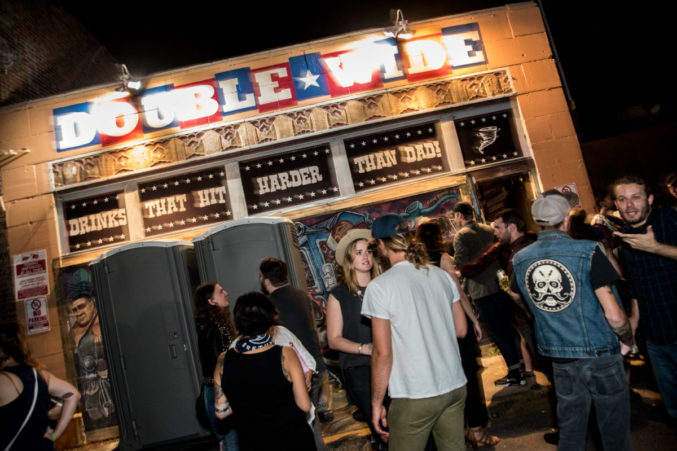 A Harbor for 'Neo-Nazi Scum' or One of Dallas' Most Inclusive Bars?
Double Wide has seen an outpouring of both condemnation and support following an incident involving a man wearing a patch associated with white supremacists.
Usually when someone gets kicked out of her bar, Kim Finch, the owner of Double Wide, can expect one bad review online the next day. But this time they were flooding Yelp and Facebook. Some said the Deep Ellum bar and music venue should be burned down or bulldozed. The phone was ringing off the hook, sometimes with out-of-state area codes. People demanded to know why Nazis were allowed in the bar.
"We did what we are supposed to do," Finch says. "We want to keep our patrons safe. We kicked out a disturbance. That should have been the end of it."
Double Wide has been embroiled in controversy for the last week, after two men who objected to another customer's vest bearing images commonly associated with Nazism and white supremacists — most prominently, the "SS" insignia of the Nazi paramilitary force — were ejected from the bar. In several online posts, Antifa Dallas, the local chapter of an international organization opposed to fascism, accused the bar of harboring "neo-Nazi scum," calling for a boycott and demanding the bar institute an "anti-Nazi dress code." Some of the incident was recorded on a video that's been widely shared on social media. (See it below.)
Meanwhile, longtime patrons and defenders of Double Wide have spoken up to describe the bar as a diverse, inclusive place. A message on the bar's Facebook page summed up the sentiment: "At Double Wide, we strive to provide a safe and enjoyable experience for our patrons. When a customer's experience becomes threatened on our property, regardless of their race, creed, or their beliefs, we take appropriate action in order to protect all of our patrons. No hate is welcome in these trailers. We do not discriminate and we DO NOT tolerate violence."
According to interviews with bar staff and online accounts of the night in question, the man wearing the SS badge on his vest walked into Double Wide at about 10:30 p.m. Sept. 22. He ordered a drink and headed outside to the patio. Within about five minutes he returned.
Corey Howe, one of the bar managers, was on duty. Howe, who has been on the job for about a year and a half, says he remembers seeing the man at Double Wide two or three times before without incident.
"(The customer) pulled me aside and told me there were some kids who were kind of drunk and giving him (grief) for his patches," Howe says.
Howe went outside to check with Anthony DeAlcuaz, who was working the door at the patio entrance. DeAlcuaz confirmed that the two men in their twenties had approached the customer in the vest.
Before heading into the venue, Howe told DeAlcuaz to keep an eye on the situation. A few minutes later, Howe walked back out to the patio. DeAlcuaz was talking to the two young men because they had taunted the customer in the vest and were getting loud, Howe says.
"They were giving the whole spiel about how we're supporting neo-Nazis," Howe says.
They wanted the man in the vest removed from the bar. Howe says he told them the man was not bothering anyone, and that they would be asked to leave if they kept harassing him. The two young men then accused Howe of supporting neo-Nazis, he says. Howe advised them to stay away from the other customer and told them this was their last chance.
"We get all walks of life," Howe says. "I am not going to kick someone out because of what they are wearing."
He went back into the bar. A few minutes later, he walked back out to help DeAlcuaz escort the two young men outside. They had continued yelling at the man in the vest, calling him a Nazi and causing a disturbance, Howe says. Once outside, one of the young men started screaming and banging on the patio gate. Howe says that this could have caused the plant boxes on top of the gate to fall—perhaps on a patron's head—and he blocked the gate.
"At that point he threatened to knock over the man's motorcycle," Howe says. "That's when the biker came out of the gate."
Travis Huse, one of the two men ejected from the bar, filmed the exchange. In the footage, his friend can be heard calling the man in the vest a Nazi. The man in the vest at one point asks, "What makes you think I'm a white supremacist?" Double Wide staff members are seen threatening to call the police.
After the video ends, Howe got the man in the vest back to the patio, and, without calling the police, eventually convinced Huse and his friend to leave.
"The issue we had was with the symbols," Huse says. "This morphed into something beyond what happened, and we don't want to associate with that. I am only for people fighting with their dollars. After days of dealing with this, I'm kind of disgusted with both sides. And I think everyone is."
His friend declined to comment for this story.
DeAlcuaz, a member of Double Wide's staff, says he sees the man in the vest at Double Wide every three or four months.
"It's not something for me to determine as inappropriate," DeAlcuaz says about the patches. "Other bikers come in and have patches. (The SS badge) is not something I specifically identify as a neo-Nazi patch. It's more about rebellion. Why should I be able to dictate whether you stay or not if I'm offended by what you're wearing? (He) wasn't being a problem and he was minding his own business."
The man in the vest did not respond to requests for comment.
Huse says, after he posted the video on his Facebook, it received less than a hundred shares. An account accusing the bar of hosting white supremacists went wide after it was posted on the Antifa Dallas website. Another Antifa Dallas post called for a Double Wide boycott until an "anti-hate dress code" is adopted.
People took sides on the emotionally charged issue, resulting in some particularly nasty exchanges online. Confusion seemed to inform all parties and unsubstantiated claims were billed as facts.
Gavin Mulloy, creative director at the Bomb Factory and Trees in Deep Ellum, was one of those who vocally supported Double Wide after the incident.
"Kim is not a supporter of white supremacy," Mulloy says. "I know that Kim would not condone that type of behavior."
Choosing not to patronize a business over a difference of opinion is one thing. But this could be construed as a vendetta against Double Wide, Mulloy says. Over the weekend, he passed out Double Wide stickers in Deep Ellum to show support.
"I used to get thrown out of Trees all the time," Mulloy says. "I never once yelled at the bouncer or said my dad's a lawyer. But this is what I see all the time now. It's a level of entitlement that's ridiculous. The opposite side of the issue could have been anything and the bar is getting attacked. There are three sides, not two. And the Double Wide is getting lumped in with the SS patch. That's an assumption that people are making."
Finch, the Double Wide's owner, also defended the decision to allow the man wearing the vest with the SS badge to remain in the bar.
"I don't think we are here to be the fashion police," Finch says. "We're here to create a safe and fun environment for people to drink responsibly. Who am I to judge? I would never agree with that kind of hateful stuff. If (the man in the vest) was in here spewing hateful things out of his mouth we would have asked him to leave. My grandmother is offended by a pentagram. Do I have to tell everyone not to wear a pentagram? If I start checking their clothes, do I have to strip-search them and check their tattoos? Once you start censoring, where do you stop? We refuse service to people who are acting like assholes."
The Trinity River Lookout, a local watchdog affiliated with Antifa Dallas, had called for a rally today, but later canceled.