Saturday night, 7:05 p.m.
It's weird when the basement at the pizza shop is quiet and the ground floor is busy. Every footstep above your head sounds like it's getting closer. The person — or pizza — you're waiting for is on the way down the stairs, you think, but then you wait. After I guess wrong a few times, Eric Michener appears at the bottom of the steps to talk, on an hour's notice.
Bands have played all-ages shows in this dusty, wooden, dimly-lit basement for donations-only covers under an open booking policy for more than 20 years. I called Michener because an announcement appeared on the J&J's Facebook page, the only avenue of promotion used by the DIY venue: the final show is Saturday, following a penultimate Friday show set up by a 13-year-old aspiring talent buyer. After that, J&J's will no longer have control of the basement. It will be renovated as owner Jaime Ham and his wife, booking coordinator Jessie Ham, had hoped, but those renovations will serve another business unrelated to the pizza place upstairs. This news is historic. It's not quite unbelievable, and that is its own layer of disappointment.
[d-embed][/d-embed]
Michener and I look at each other and the occasion feels strange to me, as if we'd already rehearsed this conversation. He sets down a boxy suitcase covered in stickers.
"Someone in an 'Only in Denton' t-shirt asked, 'What is this?'" he tells me, motioning upstairs, and then to the carrier, "and I'm like, records."
He's restocking this vinyl he made as Fishboy at shops downtown. Michener has played music under that name since he performed for the first time in this basement almost two decades ago. Back then the space was underneath Mr. Gatti's. His brother booked the show.
"Where that brown wall is — it stopped right there and the rest was storage. And I think it might not have been a real wall. Half of it was a sheet, or something. It was a lot smaller," Michener says. "I was in high school — a freshman or an 8th grader, possibly, about to be a high school freshman. So '98 or '99. I had a song called 'Go Away, Make Me A Sandwich.' The only lyrics were, like, 'hey / I think you better go away,' for the first verse, and the rest was like, 'make me a sandwich,' he laughs.
Michener is 33 now. He owns a home in Denton with his wife, Carleen, who's an art teacher, and he makes a living doing commercial videography. What he really has to show for these years is an extensive color-coded past-shows archive on the Fishboy website. It happens to be very useful tonight. Scrolling the tiny cells on his phone screen, he figures out the first show he booked at the space, for an out-of-town band called Cars Can Be Blue, from Athens, was in November 2005. The band's van broke down and they stayed at Michener's house through Christmas.
His empathy for that stage in a musician's life — a person's life — makes him a champion of young bands, performers who are still learning to play their instruments and gaining confidence, who set out on tours and sleep on couches. J&J's is where he's booked those acts with local openers and the built-in crowd free shows afford. Sometimes donations are taken up, with no overhead costs taken out before the bands are paid. Plus, the musicians get free pizza — and Schlitz if they're 21. And no one has to clean up their living room.
"J&J's has been a very consistent thing in the ebb and flow of house venues," he says. When hosts move on to other houses during times of transition, "it really filled that void."
"And a lot of times when people have a house show they only invite their group of friends, and it's not inviting to everyone. That was also a big plus. A lot of people feel intimidated, walking into a stranger's house."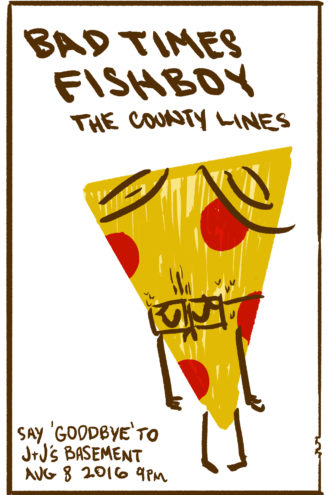 Still, he points to Gatsby's Mansion, a current favorite house venue of his, and the adventurous noise bills at Sprockets bike shop. This reminder feels hopeful, even to me. Michener is known to brightside. But he's measured. He giggles a bit at the music-note bike racks around town and the welcome center that opened on the square recently and plays only music by Denton artists inside. But, volleying with my cynical comments on its commercial, heavy-handed feel, he wonders if shows might have a place there.
"The Greater Denton Arts Council sponsored a Sofar Sounds show last night. The city, whether it's a business or a city, they have something to gain from the music culture. And they are actively trying to, I don't know what the word is. Whether it's capitalize or brand themselves on Denton being a music city," he says.
"A DIY show can happen literally anywhere. The reason why J&J's had these shows and why they've been a success is because Jessie and Jaime [Ham] are open to having people play here without a high barrier for entry, so any of these businesses or the city could do the same thing," he says.
Michener laughs, working the circle in his head. "There's not a direct gain, as far as monetary. Unless they start selling pizza."
8:13 p.m.
On the way to my car I stop by Barley and Board. For a while it was known as "the Midlake restaurant on the Square" because guitarist Eric Pulido co-owns it; then, drummer McKenzie Smith opened 940s, another spot downtown that started serving brunch this summer. People just use the names of the places, now. Tonight I'm underdressed and underfunded for both.
A woman with two-toned electric blue hair greets me warmly. Another hostess with glassy blonde hair waits behind the stand.
"How long is the wait?" I ask.
"For how many?" the hostess with blonde hair asks.
I pause. "Two."
"Forty-five minutes or so.".
"Ah, ok, we'll have to commisserate," I make up, and push back through the doors.
Sunday, 4:03 p.m.
Meg Zeasez of Eat Avery's Bones is someone I've never met in person, which makes me all the more eager to talk to her. I call from the road and we talk about how it felt to be an unapologetic force in the male-steered Denton music scene at 16 years old, in 2005. She says J&J's put her in a sphere of people who appreciated the wildly melodic, prog-influenced music she made while her peers were listening to screamo.
"We were meeting people in their mid-to-late twenties who wanted us to do well. We had a lot of help from bands like Nouns Group, The Undoing of David Wright, Teenage Symphony. I feel very lucky to have been included in that scene in Denton at such a young age, especially as a girl," she says.
"I had experiences at places like Rubber Gloves where I was heckled, where guys would like touch me, when I didn't want to be picked up or hugged or touched, that never happened at J&J's," she says.
Zeasez is in Austin, now. She saw the formative Trailer Space close in October. "They let anyone book a show," she says. Even larger venues are struggling, she reminds me. It doesn't make it less sad to lose a space she came up in. Not every kid has someone older who can help them through, that can give them the chance J&J's gave her to do whatever she wanted.
"We set up, like, a camping tent and played inside this tent, and no one told us that we couldn't do that," she says. "You could play loud down there. I liked that you could be loud down there, and no one ever told you to turn it down."
Sunday night, 8:40 p.m.
Jessie Ham just put her three and five-year-old daughters to bed. We were supposed to talk last night but she fell asleep, exhausted from sharp turns. She and her husband found out Thursday that a year's worth of work they'd planned for the basement would not be happening, that they were losing something that had been a part of their business from the beginning. Tasked with delivering this news to a community that would be heartbroken, they invited close family friend and former employee of eight years, Beth Van Allen, over for dinner on Friday, and asked her to write the Facebook post.
"So this really happened so fast," I say.
"Oh my god, yeah, my husband just found out on Thursday. And that's really why she wrote it for us. Because we were like, in shock. It's not just explaining it to Denton. We had this whole new plan, we had everything mapped out perfectly," she says.
Jessie's voice is bell-clear on the phone.
"We had so many things we wanted to do to make the place more accommodating for the bands," she says, like putting a new sound system in and updating the A/C.
"The whole next year of our life was planned out around this renovation. And Jaime, when he moved J&J's to the square, he wasn't expecting to have a built-in music venue. And that's exactly what it was, we've never not had it. We're so used to having the shows, having a staff for the shows. Everything — we always had the shows in mind when doing inventory. This just changes things…the space needed updates and we were ready to do it. And now we're not."
Her husband isn't ready to talk, yet. Despite this blow, Jessie is optimistic that people will figure out how to do what she did, how to make sure there are places for young musicians to cut their teeth in town. There have been low-key solo shows at J&J's upstairs before, and Jessie is sure those will continue.
But for now there is a feeling of loss, and deep nostalgia for something she'd never thought she'd have to miss. The love she's felt from Facebook commenters distraught over the basement's change of hands is a feeling she wishes she could share with Joe Vulpitta, Jaime's partner for years who died in 2014. He came back to the restaurant after his day shifts sometimes for sets in the basement, on into his seventies.
"A lot of the employees that have worked there — almost all of them are in bands most of the time," Jessie says. "He just loved it. He had some local bands' CDs at his house."
That, of course, is one of so many things that makes J&J's so special and the basement so irreplaceable. Trying to define what that thing is, to use it as a template for a new venture, feels impossible. Jessie understands better than anyone. Where others might take credit, she cites history. Jaime could have stopped the shows when he acquired the space, but he didn't. All he did was let it live.
"The basement made itself. I mean, even when it was Gatti's it was not a music venue. It was a basement. People just played down there," Jessie says. "And the guys that worked in the kitchen made that happen. I think the best way to put it, is, the basement made itself."
Saturday, 10:09 pm
Matt Farmer's phone is having issues. His is the number that, as of this writing, is still handwritten on a kitchen check and posted by the counter at J&J's for people to call if they want to book a show. The phone problems are unrelated, but it's convenient timing, he says.
He confirms plans to use the upstairs during the Norah Jones-headlined Oaktopia Festival this September. J&J's offers free shows during the festival, and that won't change. It'll just be solo performances, likely, or acoustic sets. Farmer remembers the first time he saw a show on the ground floor. He was supposed to work sound for a Fishboy set; he'd lied to the owners and said he knew how to do it, figuring that the primitive PA system would be easy enough to operate.
"I totally messed it up," Farmer says. "The power supply cable for the board was really finicky, and the mic kept cutting out. So, eventually, I believe [Fishboy] just decided to stand up on a chair in the restaurant and play to the lobby. Even though I thought he hated me for the longest time, that moment still reassured me there was something special about the place."
Farmer would start a band of his own called Terrible Friends and play the basement, eventually.
As I start to think about the potential for upstairs, to consider a new era of street-level shows and all that symbolizes, I start to wonder who I'm writing this for. All I can think about is this moment in the basement yesterday, with Michener.
I asked him why he loved to play the basement so much. A softball question, but I asked it. I didn't know what else to do.
"Well, it's easy to book," he laughed. "This is kind of a low point in Denton-venue places to play, and I don't really have the contacts for those clubs. Well, that's not true, I shouldn't say that."
Michener sat back. Something disappeared from his eyes.
"I just like the room."
Get the FrontRow Newsletter
Get a front row seat to the best shows, arts, and things to do across North Texas. Never miss a beat.