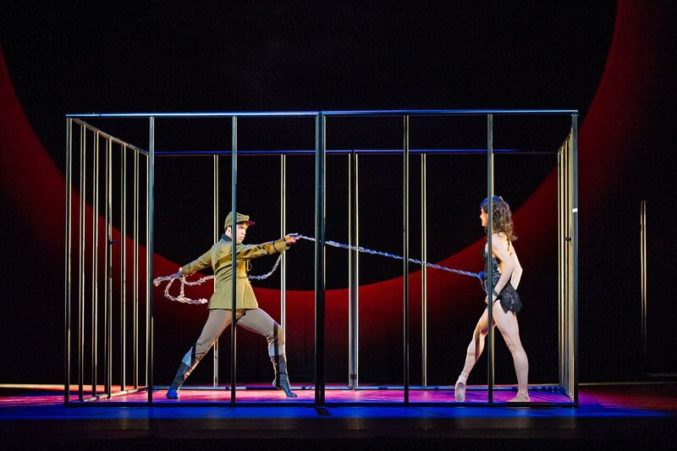 Famed Dancer Carlos Acosta Brings His Carmen to Texas Ballet Theater
The Cuban superstar talks about his retirement from the Royal Ballet and his adaptation of Carmen, making its North American premiere in Dallas.
Cuban dancer and choreographer Carlos Acosta's Carmen will make its North American premiere with the Texas Ballet Theater this September. His adaption of Bizet's and Mérimée's famous opera follows the main character Don José as he falls in love with Carmen, who eventually loses interest in him when she becomes enamored with bullfighter Escamillo. The ballet is at the Winspear Opera House Sept. 16-18, and Bass Performance Hall Oct. 7-9. We talked to Acosta about his journey from dancer to choreographer, his retirement from classical ballet, and his upcoming production of Carmen.
You originally dreamed of being a professional football player, but your father sent you to ballet school at age 9. Now we can all see he knew what he was doing, but when did you come to the realization that dance was the right path for you?
It must have been at the age of 13 when I saw the Ballet Nacional de Cuba. I was at the boarding school at the time, and the school got everyone to come out and see the ballet. And then I saw for the first time the professionals leaping and turning and all this kind of dancing that is typical for the male dancer especially, and it inspired me a lot. I was 13 at the time, and then I understood where I was going with all this dancing that my dad forced me to do. I got in touch with the real good stuff about ballet. I felt it, and I saw, particularly one dancer, named Alberto Terrero, lifting the girls with one hand. And being a very skinny 13 year-old, I could not believe that this man could do that and could jump so high. So that was a turning point for me. It was clear that day that this was a wonderful world, and it was worth giving it a big shot and trying to be the best I could be.
Could you explain, following that realization, the work that went into becoming one of the leading classical ballet dancers in the world?
We are sportsmen in the amount of exercises that we have to do every single day, and furthermore it's a lifestyle, so you have to forget about all the pressure and have the concentration so you will make goals. You have to devote everything you have to nurture your skills, and that is not just the athletic part or the physical part of what we do, but also the musicality. Training your ears to be more musical, and trying to do your own research to see the dancers that came before you. Then if it is possible, trying to put your own mark and your own trade in this ballet, and trying to make your dance effortless and believable so the audience can connect.
During your outstanding career, what is the greatest gift dance has given you?
The first thing that dance has given to me is that dance rescued me from a life of poverty, and possibly from a path of delinquency. Because at the age of 9, 10 years old, I was already hanging around crowds and going into parties, and basically, I didn't like school at all. And then my future from all these sort of activities that I was doing at the time could have developed into something really bad. In fact, some of my friends ended up in jail. It's a million dollar question, what would be my future if it weren't for dance?
Being an artist is the best thing that could happen to any human being because art is something that unifies. Art is something that enhances the power of communities. It enhances humanity because it makes it more sensible, more receptive to this. It is a collective art, which means that you have to collaborate. There are all these people with only one goal, which is to make a wonderful show for the sake of the audience. And that is something that makes you very humble, and makes you learn how to coexist with different people from different backgrounds unified in a common goal.
How did you come upon the decision to have your classical farewell?
It was quite difficult, because classical ballet was my greatest friend. You know when everything turned black on me sometimes, or when I didn't see any point, ballet was always there, always supporting me and giving me a purpose. And so to get rid of your best friend is something really hard to come to terms with, but at the same time, like anything, your career is an investment. I want the people to remember me at the top, not in the decline. It is ironic, because from 40 onwards for many people, their life begins. It's when finally you are mature and you know what solitude is, and you have all this time to live and to pass on what you learned and also experience new sensations from life. But physically, your body just doesn't follow.
I came to a time that I had to deal with pain. I had to deal with the fact that everything was old news. So to keep the emotion and to keep the whole spirit of going and doing this ballet fresh is very hard. What you really want is to keep evolving, and at this point I felt that with ballet, it was just the opposite. It kept making me repeat myself, instead of evolving into something else. So with all this in mind, I said in 2 years time I will make an exit with a big bang. And that was my creating a production of Carmen and dancing both roles.
What changes, if any, did you make to Carmen for its (North American) premiere in September?
It's going to feel more compact, and now the whole weight of the production is going to be in this triangle, so it's more focused to them. Carmen basically dances constantly; she is on the stage most of the time. It is a very tiring production for her. And concentrating more on the vocabulary of the steps, and improving the duet and the fusion of contemporary and classical. So basically the production should feel for Texas almost like a new one, hopefully a better one.
How do you use your experience to inspire the best from your two main roles, specifically (for the) male dancer?
What I am really going for with this production is to try to break the ballet stereotype. This is not a ballet. What I would really like is their personality to come through. So these are people, they are not dancers. And they are meaning to communicate everything they want to convey with dance. So for me it is very important that they understand that, and that to watch them is as normal as possible, so that it doesn't feel like a ballet stereotype. It should be more relaxed. These are just people. They just walk how you normally walk. And also it should feel more modern and fresh. But at the same time they need to be able to deliver all of the emotion that this role requires in a very subtle way. It's not exaggerated. It's almost more organic, so that the people just see that these are just human beings instead of just dancers. In dance in order to connect you need to overact or try to over project, but what I really want is the opposite, so that it feels like watching a play.
What is the most compelling quality about this ballet?
Ultimately what I would like the people to take from it is the fusion of dances — from flamenco, contemporary, Cuban movement, and of course ballet. And although the story was written so long ago, it feels fresh and feels ready for now. And at the same time it is authentic and different than any other Carmen that is out there.
This Q&A was condensed and edited for clarity and length.