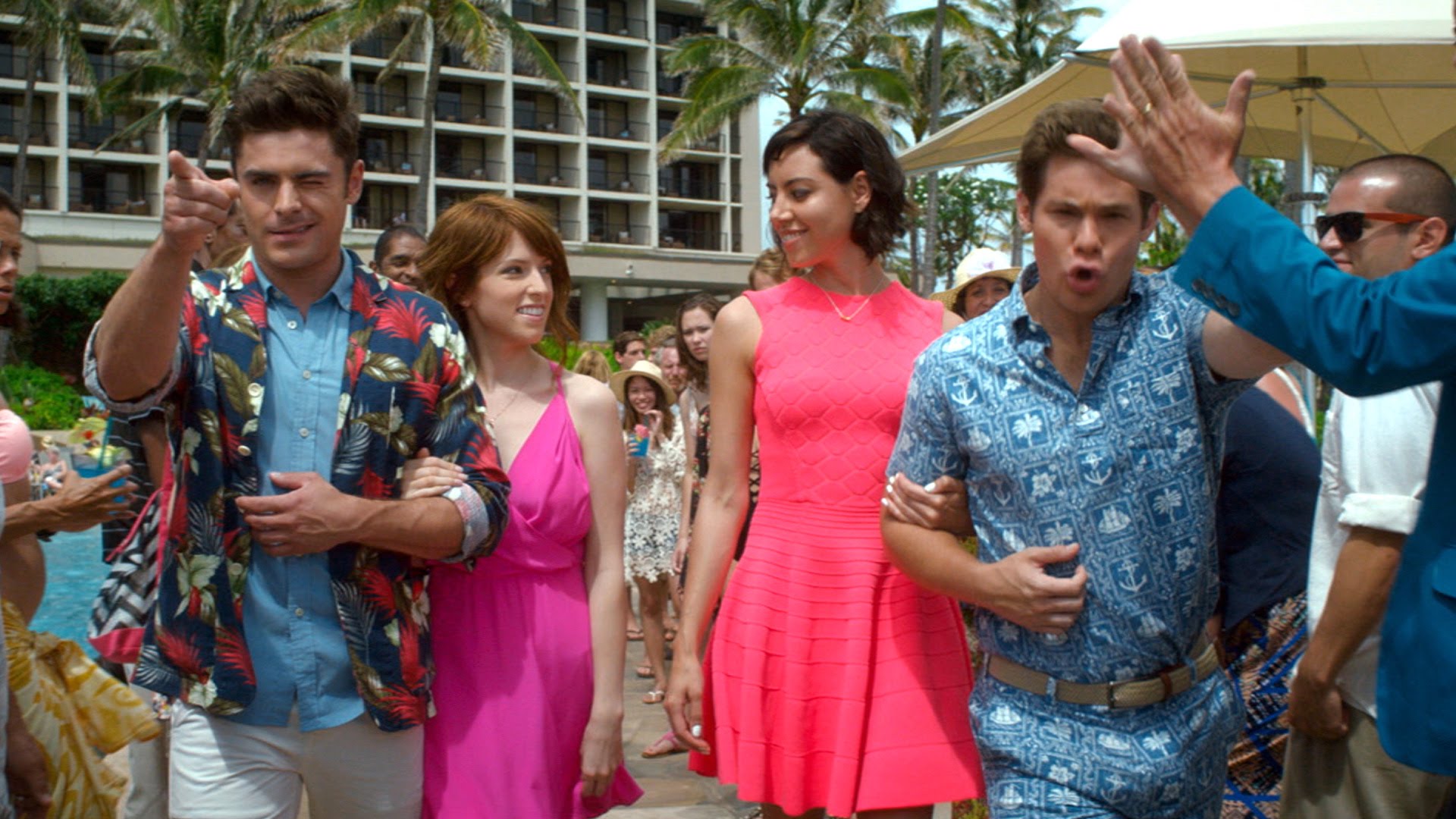 A Comedy Wedding Worth Crashing in Mike and Dave
Wedding Crashers meets Neighbors in the new comedy.
Although Mike and Dave aren't technically crashing their sister's wedding, Zac Efron and Adam DeVine's infectious comedic connection resembles the dynamic duo of Vince Vaughn and Owen Wilson in Wedding Crashers. And like that film, raunchy and cringe-worthy interactions between wedding guests and family members leave you shocked and satisfied throughout Mike and Dave Need Weeding Dates, a movie that could have been all too predictable.
The new comedy is loosely based on the story of brothers Mike and Dave Stangle, whose Craigslist ad seeking dates to their cousin's wedding went viral in 2013.
In the film, it's Mike and Dave's sister Jeanie (Sugar Lyn Beard) who requires them to bring "nice girls" as dates to her wedding in an attempt to lower the chances of chaos on her special day. But the real fun begins when wild best friends Tatiana (Aubrey Plaza) and Alice (Anna Kendrick) see an opportunity to play nice for a free vacation, making it their goal to become Mike and Dave's dates to the wedding in Hawaii.
As Tatiana woos Mike with her sexy teacher persona, and Alice wins over Dave with her lovable quirks, the brothers think they've found the perfect pair for an incident-free wedding weekend. The brothers' family, and finally Jeanie and her fiancé Eric (Sam Richardson), fall for the act as well, as anticipation for the girls' crash-and-burn plan builds.
The inevitable destruction does not disappoint. The bride's face gets run over, and that's only the start. The film continues to outdo itself by answering the question "What else could possibly go wrong?" with gross and hilarious disasters.
Where Mike and Dave truly shines is in the banter between its characters. We can thank writers Andrew Jay Cohen and Brendan O'Brien (Neighbors) for the quotable, often inappropriate jokes.
But it's thanks to Efron and DeVine's delivery that the dialogue pulls out such loud laughs. Efron plays the more responsible—and notably gorgeous—brother, while DeVine is the obnoxious wannabe lady-killer.
In one of his first major film roles, DeVine magnifies his exaggerated behavior (seen before on Comedy Central's Workaholics) to fit the big screen, but his boy-like charm makes even the most vulgar scenes more blush-worthy than revolting. And Efron melts hearts playing the brother with real goals and aspirations, far different from his immature frat boy role in Neighbors.
However, they're not the only shining duo in the film. Plaza and Kendrick also perfectly complement each other with Plaza's unapologetic bad-bitch behavior and Kendrick's awkward yet lovable strangeness.
While there are plenty of surprises, fans won't leave the theater deprived of the requisite shot of a topless Zac Efron, or a sought-after musical performance between the High School Musical alumnus and his Pitch Perfect co-star.
In Mike and Dave Need Wedding Dates, the gross-out physical hilarity of Neighbors meets the chaotic comedic genius of Wedding Crashers, proving nothing is as fun as dysfunction.