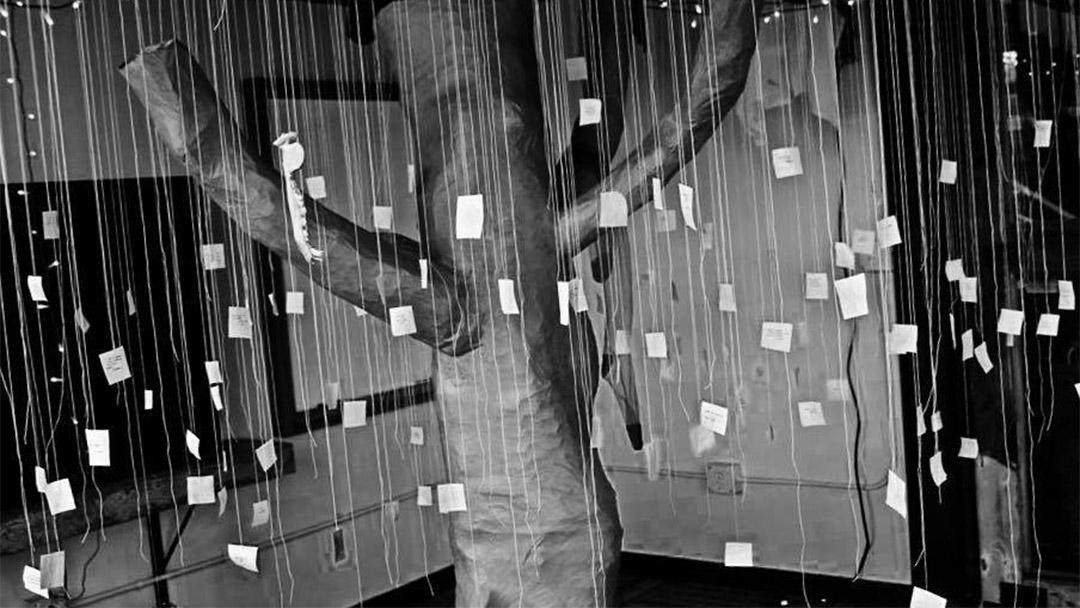 Poems, Repeating, in Literary Installation
The poetry grows on trees in Looped, an interactive spin on the traditional reading.
The poet reads. The audience listens.
It's the traditional — and fine — practice for writers hawking a new book, for local poets airing new work, and for high school literature classes. But when poetry is less popular than jazz, dance, and knitting, it can't hurt to try tweaking the formula.
Looped, a series of literary installations whose latest edition was Sunday at Wild Detectives, does just that, taking inspiration from art exhibitions, silent discos, and choose-your-own-adventure stories for a more interactive kind of poetry reading.
The visual details vary between shows, but every installation features remote broadcast headphones, each playing several short, looped recordings of poets reading their work. Listeners can change channels or switch headphones to hear a different reading. Colored lights on the headphones correspond to a particular channel, so you and a friend can coordinate, tuning in to the same poem at the same time. The poets themselves are there, not as lecturers at a podium or panelists at a table, but as people you can talk with over a beer or a cup of coffee.
And on Sunday, in an inversion of one old proverb and the manifestation of another, there is the 8-foot-tall poetry tree, whose leaves are handwritten or typed poems. Feel free to take a leaf home.
Leah Tieger, the host and co-founder (with Sebastian Paramo) of Looped, says the series helps turn a reading into a collaborative experience.
"It is essentially a co-creation between the poets and audience," she says.
At art shows and concerts, Tieger found a social element that can be missing from poetry readings, with their "stages and folding chairs arranged in rows." With Looped, she helps create an atmosphere that could be more inviting to people outside of the usual suspects (other writers) often found at poetry readings — Tieger says there were many unfamiliar faces in the audience at one of Looped's earlier installations, during Piero Golia's Chalet Dallas exhibition at the Nasher.
It seems to be further proof of Dallas' much-ballyhooed literary renaissance, which still has plenty of room to grow.
Tieger says she's interested in "taking poetry and putting it back into our daily lives." That could mean surprise readings, or scavenger hunts.
"What if there was a listening booth at your local bar?" Tieger says.
She refers to the poems spray-painted on the sidewalks of Boston, which reveal themselves in a downpour. In Chicago, poets may compose a custom verse on a typewriter while you wait in line at a festival. Closer to home, Shakespeare is just as brilliant in a bar as in a theater. And even when the world seems incomprehensibly tragic, poetry grows on trees.
Sunday's show at Wild Detectives featured work by Jennifer Whalen, Darryl Ratcliff, Courtney Marie, Christopher Hughes, Fatima Hirsi, and Edyka Chilomé. Visual installation by Courtney Marie and sound design by Christopher Hughes. To keep up with Looped and similar literary happenings, visit WordSpace Dallas online.