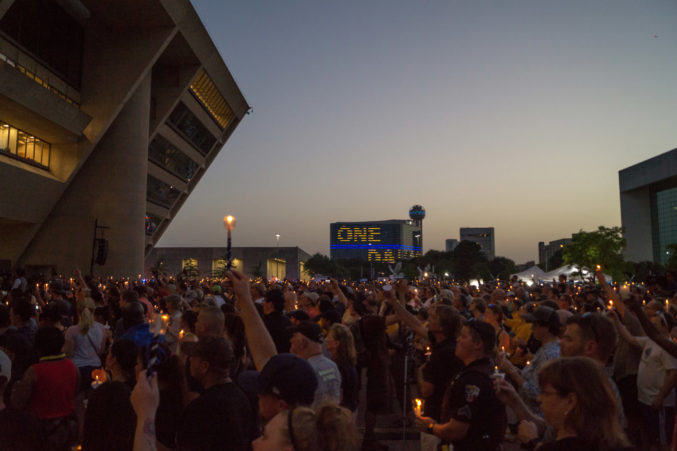 Dallas Poets Describe a City's Response to Tragedy
After a month of mourning, anger, and hope, 16 poets help capture the character of a 'city of desperate contradictions.'
In the wake of one of its worst moments, Dallas was at its best. Following the July 7 police shootings at a peaceful protest march downtown, every out-of-town eye looking at Dallas saw a diverse cosmopolitan community united in mourning, with leaders who said mostly all the right things, showing resolve and optimism while acknowledging the problems that continue to plague us. The "city of hate" epithet that dogged Dallas for more than 50 years has never been more obsolete.
What Dallas is, and will be after such incomprehensible violence, is not easily described, certainly not by any nickname — but also not by easy sentiments or soundbite generalizations about unity and progress. Capturing the character of a city of more than 1 million people, in all its complexity, almost requires the ambiguity of poetry.
Joe Milazzo may have had something like this in mind when he issued a call for Dallas writers and artists to contribute "poetic responses to the last 48 hours in the life of the city" after the July 7 attack. A portfolio of responses Milazzo received was published Thursday on the online literary magazine Entropy, where he is an editor.
The dispatches from 16 Dallas poets help reveal the range of emotions many of us felt earlier this month.
In an introduction to the collected poetry, Milazzo writes:
"From the outside, Dallas, Texas may not be an easy city to admire, much less love. It is a city that will probably always be captive to preconceptions forged by what is most gaudy, bloody, culturally conservative and football-centric about it. But, as this portfolio demonstrates, Dallas is also a city of actual citizens, people who work within and along boundaries that even before July 7th bore many very visible scars: of environmental devastation, of Jim Crow, of assassination, of widening income disparity, of forced migration, of fundamentalist theology, of ideological petulance, of magical exceptionalist thinking, of hate.
"Perhaps only now (and better now than never), Dallas' cultural class is doing the best it can to reveal the truth of this city's relationship to the private as well as the public imagination. And, in so doing, Dallas' artists are necessarily testing the capacity of the city's imaginative identity to remain open and fluid even as it preserves multiple spaces in which difference and dignity are not mutually exclusive, and in which healing is synonymous with both consolation and justice. In that regard, Dallas is more than a city of desperate contradictions. Dallas is a city of survivors: a city of earned rather than awarded possibilities: a city that is anything but a utopia yet a city in which poets know they have a voice, and a place."