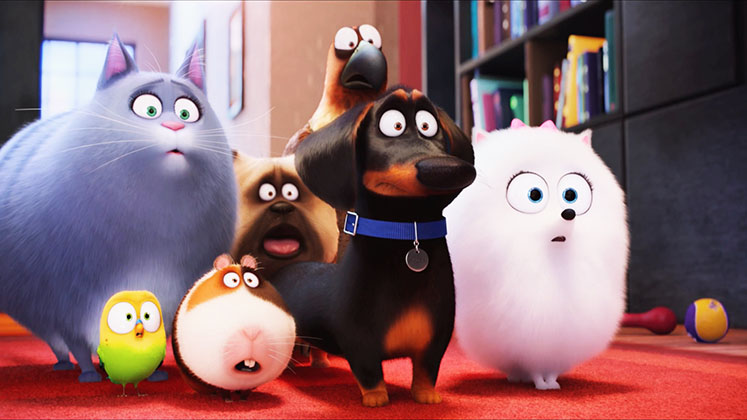 As You Might Expect, The Secret Life of Pets is Cute and Cuddly
While you don't need to be a "pet parent" to appreciate this modestly clever and charming animated adventure, it certainly doesn't hurt.
As they whisper sweet nothings and pamper with soothing baby talk, pet owners everywhere wonder what their four-legged friends think in response. Do they appreciate the love and the attention, or do they resent the domestication?
Perhaps biologists have the scientific answers, but it's more fun to enjoy the comic speculation in The Secret Life of Pets, a modestly clever and charming animated adventure from director Chris Renaud (Despicable Me).
The "secret life" in the title sees pets of all shapes and sizes barking, chirping, and meowing at their owners while they're home. But once the oblivious humans are away, they form a sophisticated English-speaking society complete with heroes and villains.
And it's even more exaggerated in a big city like New York, which is where Max (voiced by Louis C.K.) is a terrier who adores Katie, a single apartment dweller. But problems arise when she decides to adopt Duke (Eric Stonestreet), a gigantic rescue dog who causes jealousy issues.
That eventually results in a scenario where both of them become lost in the big city and encounter some seedy characters, including a rabbit (Kevin Hart) who acts as a crime boss for his gang of unloved creatures.
So as the unlikely allies team up to find their way home (before Katie returns from work and notices they're missing), the caper attracts the attention of some furry neighbors including an overweight house cat, a Pomeranian with a crush on Max, a hyperactive bulldog, a tiny bird, and a wayward gerbil.
The film has some amusing moments of gentle observational humor, poking fun at the relationship idiosyncrasies of people and animals alike — from canine ball-chasing obsessions to the cuddling habits of their owners. Yet as a poignant closing sequence indicates, it's all in good fun.
Meanwhile, the animal antics (plus the nonstop mayhem crammed into every frame) are likely to please children, while some of the sight gags and one-liners will satisfy their accompanying adults. The animated urban cityscape is colorful and crisply detailed, and the voice cast is endearing.
There aren't quite enough laughs to make you forget that we've essentially seen some of these characters before, and the various subplots wrap up in predictably heartwarming fashion. Yet while you don't need to be a "pet parent" to appreciate The Secret Life of Pets, it certainly doesn't hurt.