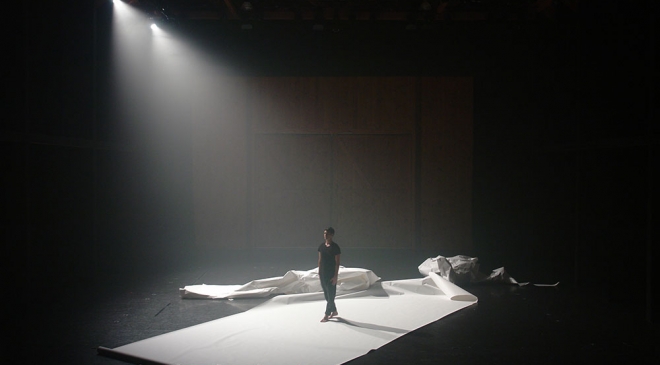 What to See During the Dallas Symphony's Soluna Festival
The Dallas Symphony's Soluna Festival, opening May 16, encompasses a number of performances — dance, music, and more — throughout Dallas. Rules of the Game, a collaborative work involving Pharrell Williams, choreograper Jonah Baker, artist Daniel Arsham, is likely to draw a good deal of attention. It's this year's St. Vincent-DSO team-up, a splashy show pairing a nationally recognized artist (or artists) with your hometown orchestra. The production, which debuts at the Winspear on May 17, is getting plenty of press in the days leading up to Soluna, and should certainly be worth seeing. Pharrell himself described the show as a "brand-new medium." We're going to highlight a few other shows to see during the festival, and you can peruse the full schedule at your leisure right here.
Britten: Noah's Flood (May 31-June 1) — Karina Callenakis conducts the Young Strings, members of the DSO, and a long list of other groups including the Texas A&M Commerce Buglers and the Dallas Recorder Society, in a performance of the one-act opera, whose subject matter is very in keeping with Soluna's theme of "Myth & Legend." Both shows at the Cathedral Shrine of the Virgin of Guadalupe are free.
Paola Pivi: Ma'am (throughout the festival) — The Dallas Contemporary's ongoing exhibition of the work of Paola Pivi, including her colorful feathered polar bears, will fall under Soluna's broad umbrella.
Mai-Thu Perret: Figures (June 2) — The performance artist, whose Sightings exhibition is currently at the Nasher, has two shows during Soluna.
Jaap van Zweden Conducts Mahler (May 27-28) — It's always an event when the future director of the New York Philharmonic does Mahler. As Catherine Womack puts it: "…if Jaap van Zweden and the Dallas Symphony are performing music by Mahler at the Meyerson, change your evening plans, splurge on good seats and treat yourself to an hour of orchestral bliss."
Music and the Brain: The Healing Power of Music (May 21) — Need scientific proof that music is good for you? Four medical experts will appear at a seminar at City Performance Hall to explain the science.