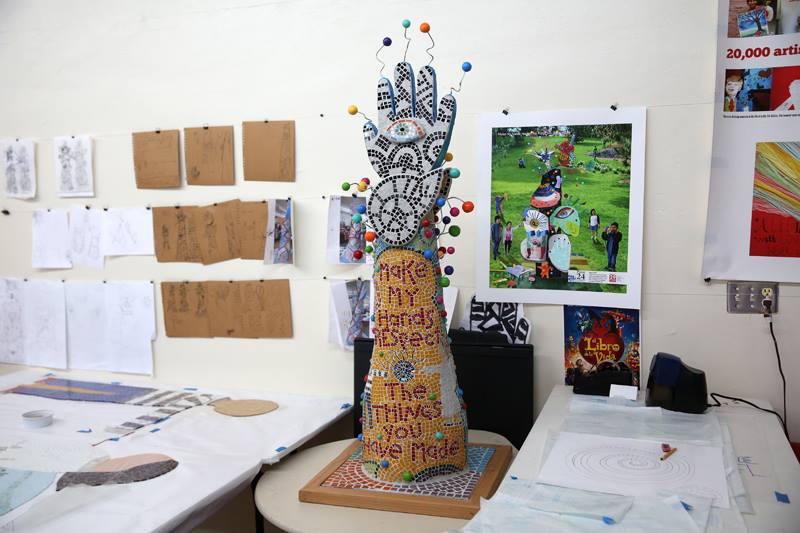 Karen Blessen's 29 Pieces Helps Students Bring Peace, Love, Art to Oak Cliff
It would be impossible to quantify the physical, emotional, and financial toll of a violent crime on a family, a community, and a nation, yet Pulitzer Prize-winning illustrator Karen Blessen set out to do that after a 26-year-old man was murdered in front of her home in Lakewood more than 15 years ago.
The ordeal took an enormous toll on her. In trying to process it, she spent three years interviewing the victim's friends and family, the perpetrator and his family, the homicide detective, and others involved, and eventually she wrote an editorial called "One Bullet" for the Dallas Morning News. 
"It changed the path of my life and my work," Blessen says. "I couldn't shake it. I couldn't let it go because I was witnessing the impact of this one senseless crime on so many people, including myself and our neighborhood."
Out of that experience she created 29 Pieces, a nonprofit dedicated to spreading peace and love through art. She says she couldn't go back to her daily routine as an artist and writer, and decided to focus instead on education to prevent violent crimes.
"I had this fire burning. I just couldn't sit back and do nothing," she says. "I wanted to work with young people before they enter that vulnerable stage where they're tempted to go off and make those impulsive decisions that wreck their lives forever."
Since 2007, 29 Pieces has awarded more than $19,500 in scholarships, and Blessen says the organization's education outreach has impacted up to 40,000 young people. To be selected for the program, kids have to fill out an application, write an essay, and go through an interview. They're paid $250 per 30 hours worked.
"It's way beyond just learning about art. They've learned about design, how to promote your own work, they learned how to do zines, they worked with a filmmaker and wrote their own scripts for short films to talk about the project," Blessen says. "We worked with them a lot on their speaking skills to be able to articulate their thoughts and to be able to speak to adults about what they're doing."
For the past year, the kids, under the direction of professional mosaic artists Nancy Pollack and Julie Richey, have been assembling swaths of mosaic tiles for Piece 24, a 17-foot brightly colored monument that's slated for installation on Jefferson Boulevard near the Oak Cliff Cultural Center.
Blessen said there are a lot of moving pieces to assembling and installing public art including working with the city, a structural engineering firm, and local developers to find an appropriate location.
"It's very complicated, and it's great because the kids are part of all of that too, so they are getting the picture of all of the details that have to go into building a piece of public art," says Blessen.
The sculpture, which is two to three months from completion, will be the first 29 Pieces monument to be realized in full-scale form. It is, in part, inspired by a sacred text from a world tradition. The inspiration for Piece 24 is the quote, "Make my hands respect the things you have made," from the Native American passage, "Let Me Walk In Beauty."
Recently, the nonprofit, which is collaborating with Craig Schenkel Real Estate on Piece 24, hosted an open house to showcase how far the sculpture had come.  The team is more than halfway through finalizing the mosaic elements — building them in the 29 Pieces workshop on Jefferson Boulevard, and then they will be applied to the structure once it has been finalized.
Blessen says the idea behind Piece 24 is that "We're all contagions, and we can be contagions of compassion and respect and beauty rather than harmful things."
The full impact of David McNulty's murder can never be defined. "That was one of my lessons learned: when there is a crime, and somebody's life is lost, there is no end to it," Blessen says. But she's found a way to transform the tragedy into something, and she has at least one number worth holding on to: the 40,000 young people who have been affected by 29 Pieces.